In a world where the internet reigns supreme, it's obvious you come across dozens of different videos every day. It doesn't matter if you have seen them on YouTube, social media platforms, or those annoying ad pop-ups. You have definitely seen them. People use these videos for various reasons, such as product promotion, brand awareness, or just trying to increase the popularity of their blog or YouTube channel.
In order for these to be successful, they need to be a scroll-stopper. You know that your video is useful if you stop scrolling to see what it's about, and the best way to make eye-catching videos is by making them animated. However, the thought of making animated videos can be a little intimidating.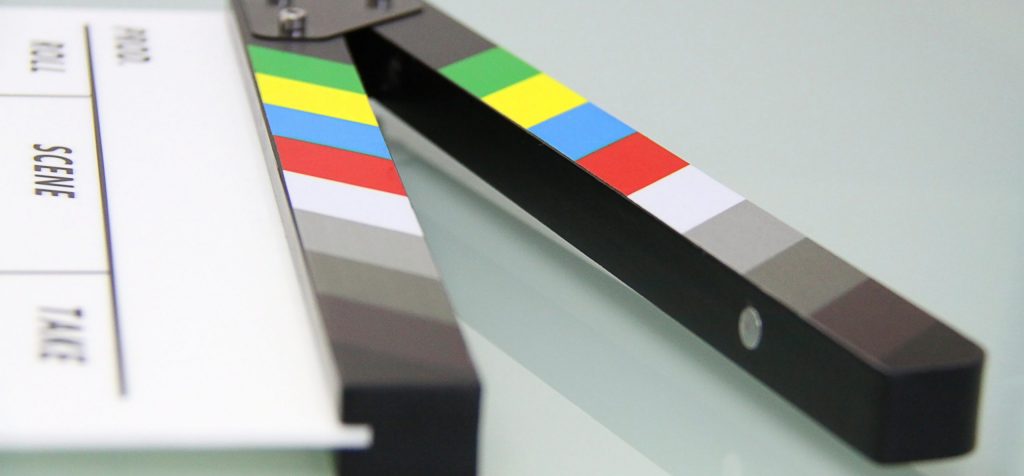 Designing every character and scenery, the movements of the characters, and lip-syncing every word can be quite a frightening thought for beginners. Please do not worry, because today we will be talking about the best tools for making your own animated videos for beginners and experienced video animators. It is easier than ever to make these types of videos for anything because of the amazing tools for animated videos that are currently available on the market. You could say that animated video software is now in the same range as explainer videos software.
Please keep in mind that being a video editor or animator takes some real skill and dedication, but with these tools, you will get the hang of it in no time. It will take some practice and dedication, but we are sure that you will be making your own animated videos in a short period of time. Practice makes perfect.
Now that we got that out of the way let us jump right into our list of the 12 best DIY tools to make your own animated videos.
1. VidToon 2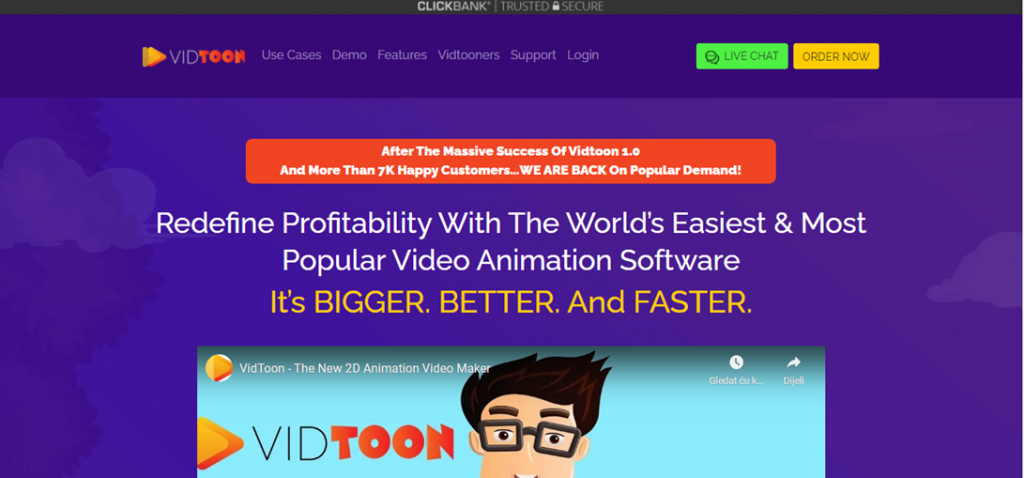 The first one on our list is definitely VidToon 2. VidToon 2 is an excellent 2D animation tool where you can animate your own videos in any way you want. It's straightforward to use and to navigate. Besides that, it is perfect for beginners because of its simplicity and even for experienced video animators because it has so much to offer. You can save so much time with their pre-built texture packs, animations, and transitions.
VidToon 2 also supports many languages such as Hebrew, Arabic, Russian, Chinese, Hindi, etc. Besides that, they have Microsoft's Text to Speech options, which give your animated videos a touch of reality. It is definitely a must-try, and that is why we put it in the first place.
Pricing: Lifetime deal at $49.00
2. Toon Boom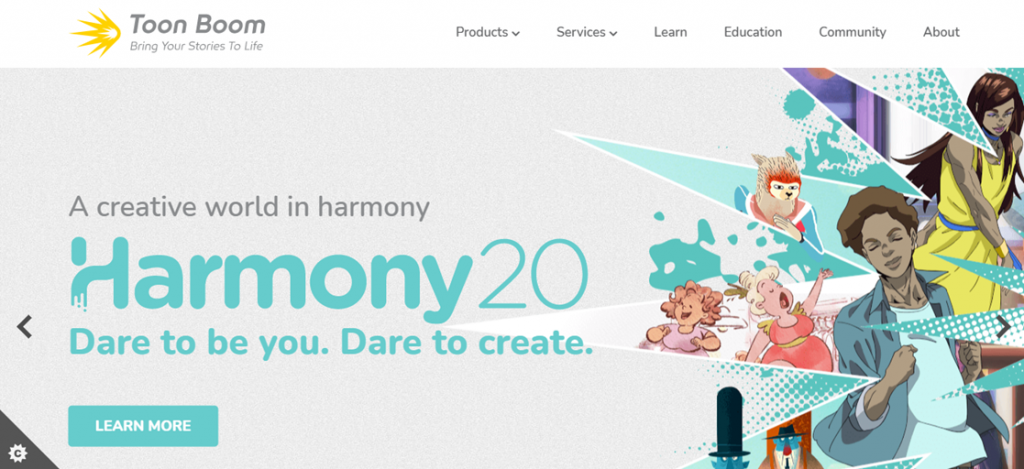 Toon Boom is a well-known software for animated videos. It is used worldwide, and a lot of popular brands have used it too. Some of them are CoMix Wave Films, Mighty Animation, and even Fox. It is really versatile, and it has a lot of options for you to choose from. Plus the export process is really simple.
Another big plus is that, for the variety of options it offers, it is really affordable. On the other hand, we do not recommend it for beginners since it can be hard to understand and maneuver if you don't have any experience. Another thing that could present a problem is that you can't edit any audio type within the program.
Pricing: $23.00 per month
3. VideoScribe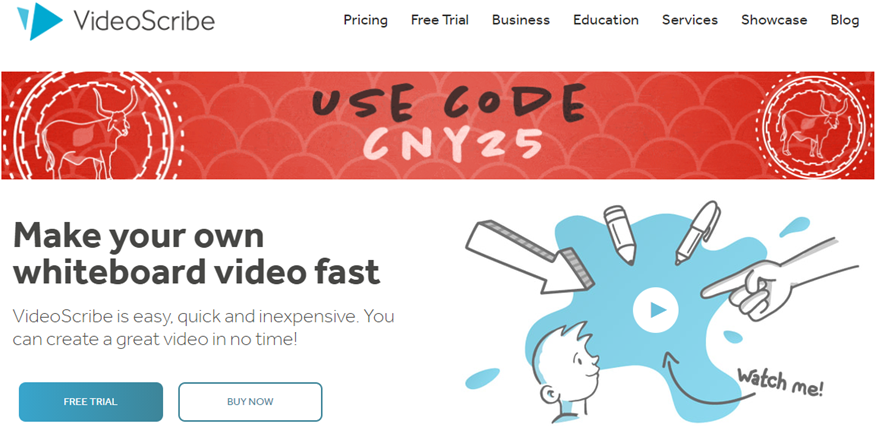 Another great video animation tool is VideoScribe. It can be considered different than the others since it uses a "whiteboard-style." People usually use tools like these for tutorials or classes. The best thing about VideoScribe is that it is really easy to use, and you don't need to have any type of experience to get the hang of this tool.
It uses a drag-and-drop system to make your job easier. If you have any complications, please do not worry since there are many educational videos specifically for Video Scribe. On the downside, there aren't that many customization options, and it can sometimes have really blurry graphics.
Pricing: Starts at only $12.00 per month.
4. RenderForest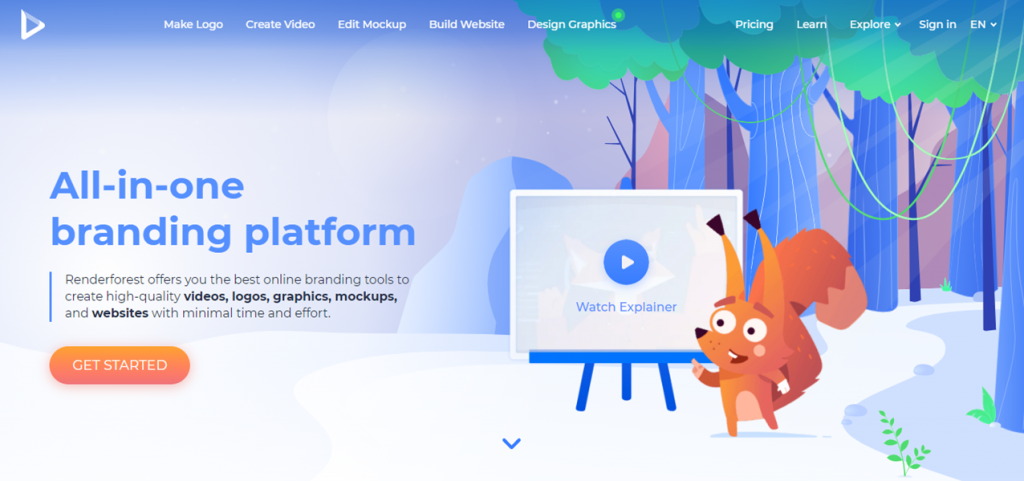 Besides video animation, RenderForest has a lot more to offer. You don't necessarily need to animate videos with this tool. You can also make logos, build websites and edit mockups. A great thing about RenderForest is that you can try it for free with limited options, and if you decide to stick with it, it comes at a relatively cheap price (maximum price is $49.99).
You don't need to be experienced to use this, you can start using it right now, and if you run into some problems, there are plenty of videos on the internet that can guide you. You don't have that many options on the free version of this video animator since you are limited with almost everything. If you want to unlock the full potential of RenderForest, you have to be subscribed.
Pricing: Free
5. Powtoon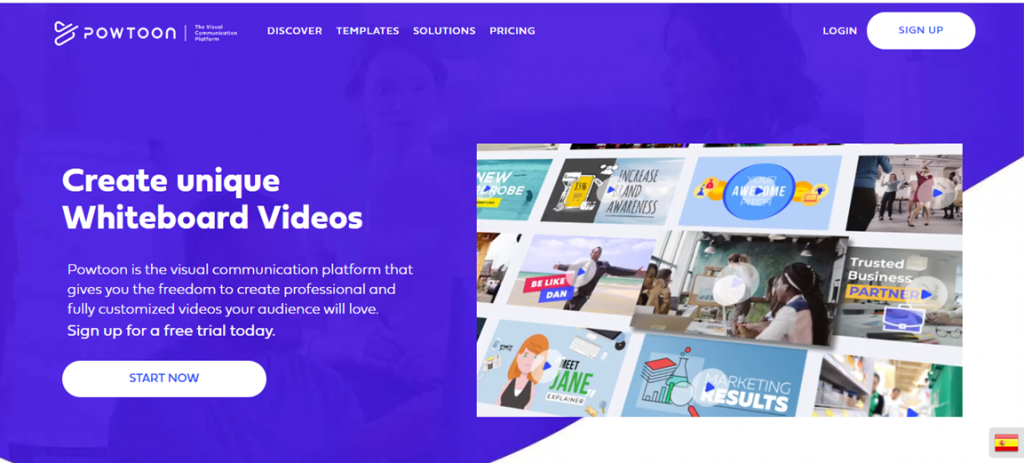 Powtoon is a popular video animation tool since it is used by around 96% of the Fortune 500 Companies. Some of the companies using Powtoon are Microsoft, Google, Dell, Adobe, and many more. It is a fantastic tool with great visuals, and it's no wonder why these companies use them.
They are great for training videos, attention-grabbing presentations, and office explanations. It can be fairly simple to use because of its drag-and-drop editor, and we think you could learn to use this in a short period of time. It is a bit pricier than the others, but you can lower the cost if you want to pay for it annually.
Pricing: 19$,59$ or 99$ per month if you choose to be billed annually.
6. Wideo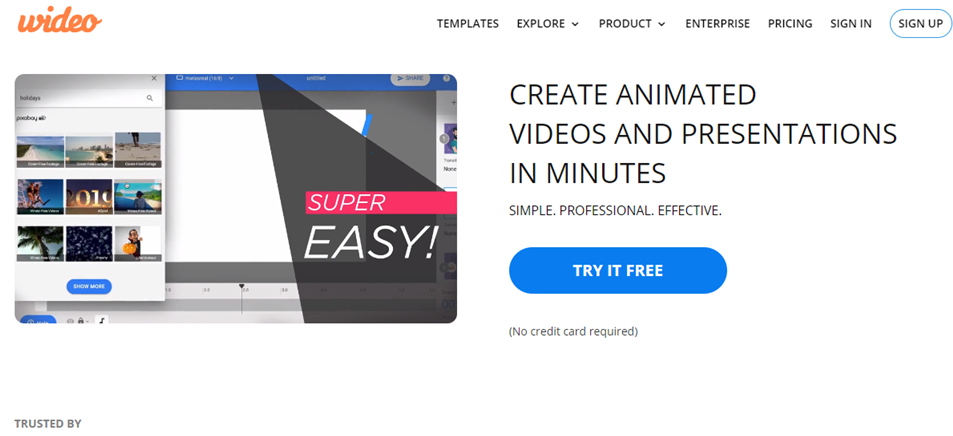 Wideo is a popular and simple-to-use video animator. It is great for beginners and even experienced video editors can have a great time while using this app. It lets you choose from a variety of pre-built templates for every occasion. You can use it for digital marketing, social media posts, and even for internal communications with your colleagues. It offers a fair amount of options, free stock footage, and even a drag-and-drop editor.
Pricing: Basic Package $19.00/month (billed annually).
7. Raw Shorts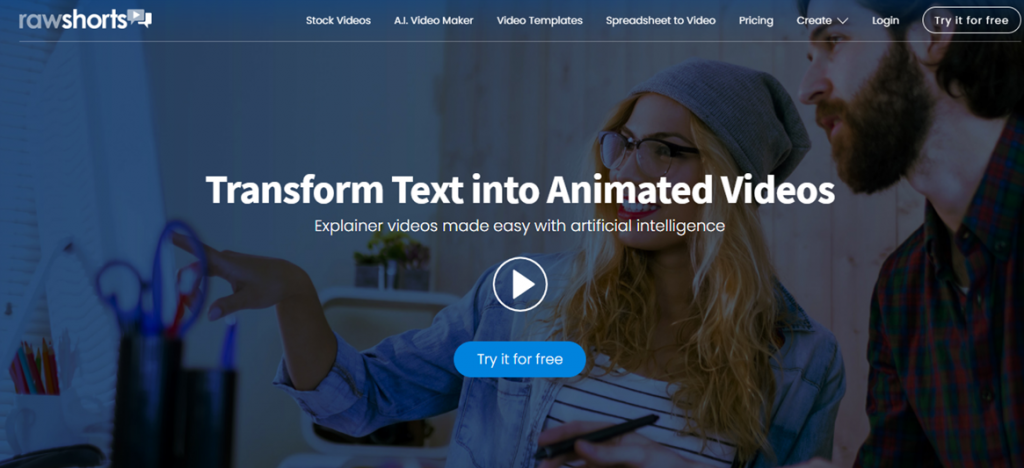 Raw Shorts is a well-known video animation and editing tool trusted by many popular brands such as Sony, IBM, and Coca-Cola. By using it you can actually make different types of animations just with text. For example, you can use your own blog post and make an awesome-looking animation just from that.
It is a bit more expensive, and sadly, it has limited templates and options for animations. On the other hand, you don't need to be experienced to use it, and you have a lot of royalty-free media that you can import to your animated videos.
Pricing: $39.99/month
8. Mixamo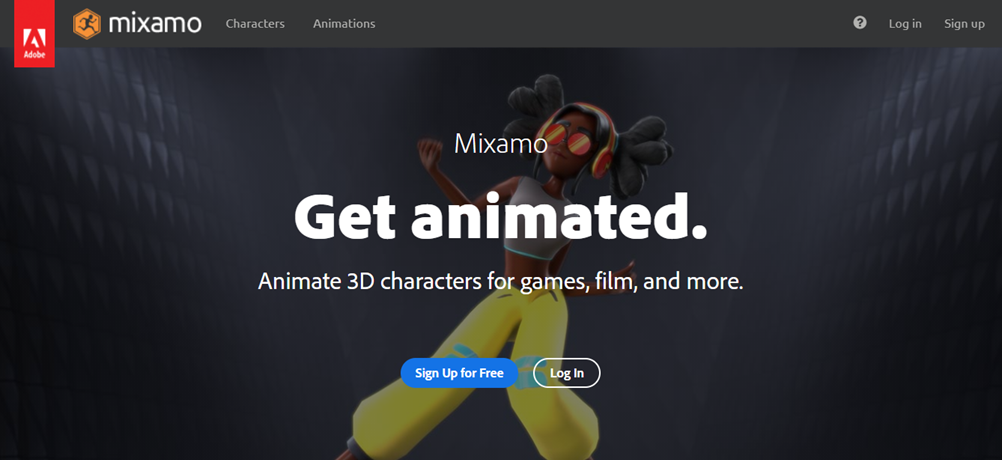 Mixamo is a video animating tool from Adobe. It's popular because it has high-quality characters that can be realistic, cartoonish, and from outer-space. It isn't only used by video editors. It is also used by game developers because it is so powerful.
This tool has many 3D animations and plenty of characters to choose from, a lot of options for customization, and people often use it to test their own animations. Sadly, the community that uses Mixamo often reports lags, bugs, and crashes, but on the bright side, if you have an Adobe ID, it is completely free for you to use.
Pricing: Free with an Adobe ID.
9. Moovly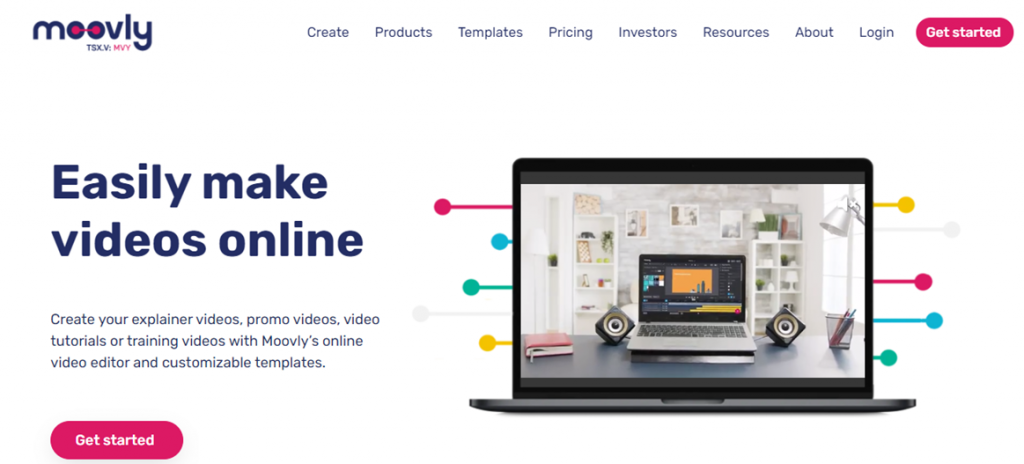 Another popular animated video editor is Moovly. People like to use Moovly because it is really easy to use, and it lets you import your own media to play around with. It has a large number of free stock animations, which can come in handy. Besides that, this tool features a library of millions of images, videos, and sound samples.
When you finish making your video, you can immediately publish it on YouTube or Facebook, or you can simply just download it to your computer. The best part about Moovly is that it is completely free. If you like Moovly and decide to use it in the future, you can also upgrade to the paid packages.
Pricing: Free with the option of upgrading to the paid versions.
10. Lumen5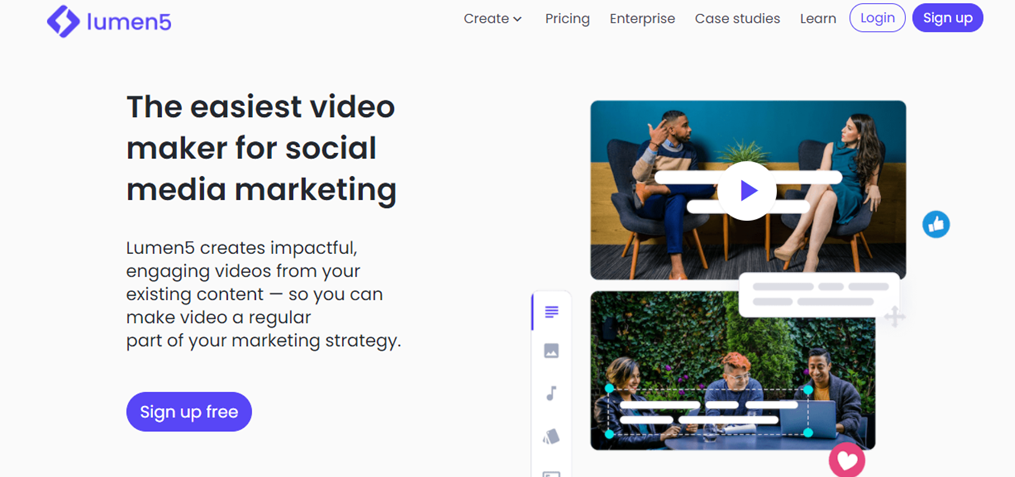 If you need an animated video for social media marketing, we definitely recommend Lumen5 . It is a video animation tool that is built for businesses to promote their products or services. It is also perfect for people with zero or minimal experience because of its simplicity. This tool isn't time-consuming, and it isn't complicated to use.
Lumen5 allows you to import your own media if you don't like those in their libraries. This animation app is free to use, and you can always upgrade to the paid versions if you decide to keep working in this app. On the downside, it doesn't have many customization options, and its media is mostly for marketing purposes, so keep that in mind.
Pricing: Free with the option of upgrading to the paid versions.
11. Animatron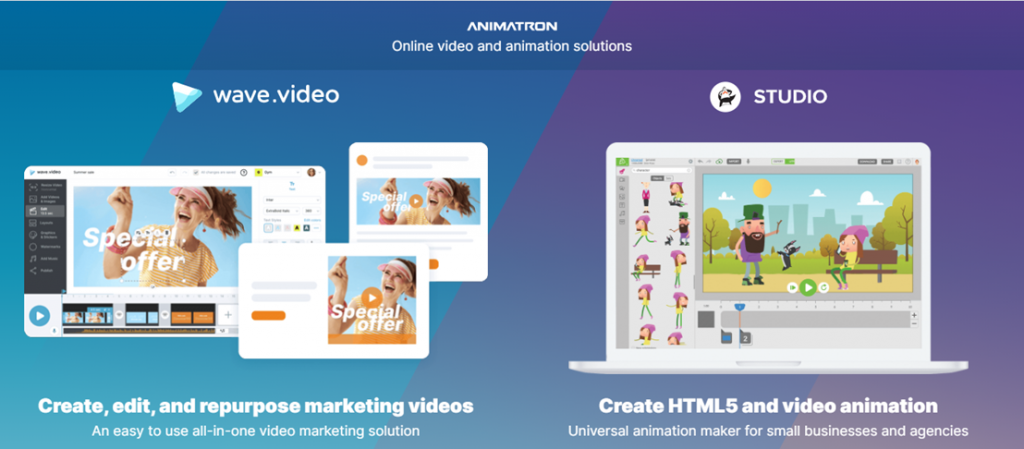 Another great video animation tool with great graphics is Animatron. It doesn't require any experience, and if you get confused, they have a lot of tutorials to help you out. It is a great option since it is free for you to try out. It doesn't have that many options regarding different types of customizations, and the community reported that the interface could sometimes be a headache.
Pricing: Free.
12. Muvizu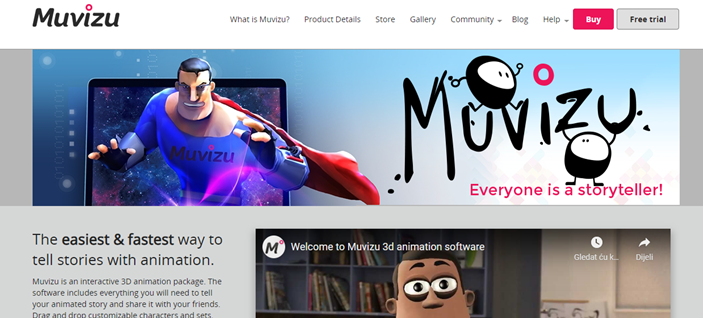 Muvizu is a great 3D animation tool for experienced animators. We don't recommend it to beginners since it can be difficult to understand all of the different options and customizations, but if you think you can operate within this app, why not give it a go.
It uses the drag-and-drop system and has an amazing lip-syncing feature, making your video look more realistic. You can try it out for free with limited features, and you can also get the paid version with way more options that can definitely come in handy.
Pricing: Free or $69.99.
Frequently Asked Questions (FAQ)
1. How long does it take to make an animated video?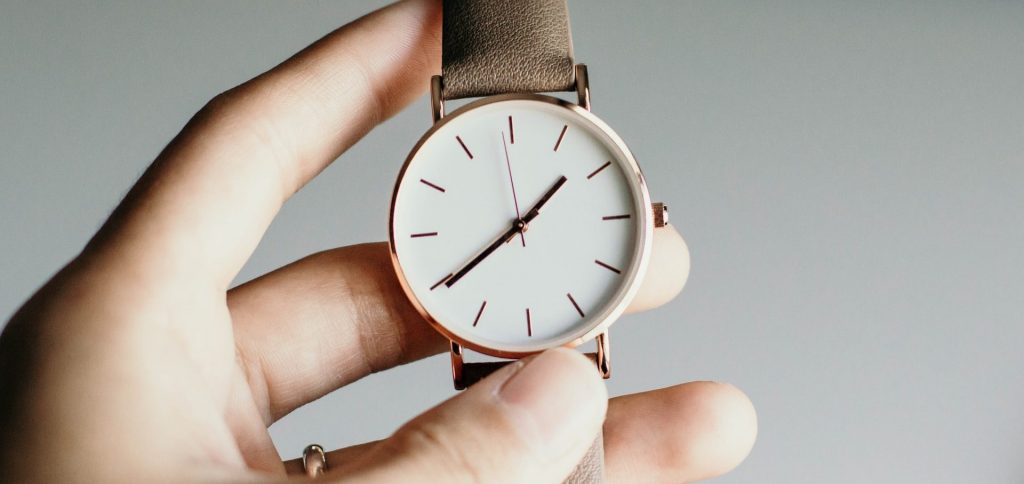 Professionals say that you can make a simple animated video in just one week, or sometimes even less than that. On the other hand, considering the complexity of the video, it can take weeks, or sometimes months, to complete a 90-second video. It depends on the style and the quality of the video.
2. How much does it cost for someone to make you an animated video?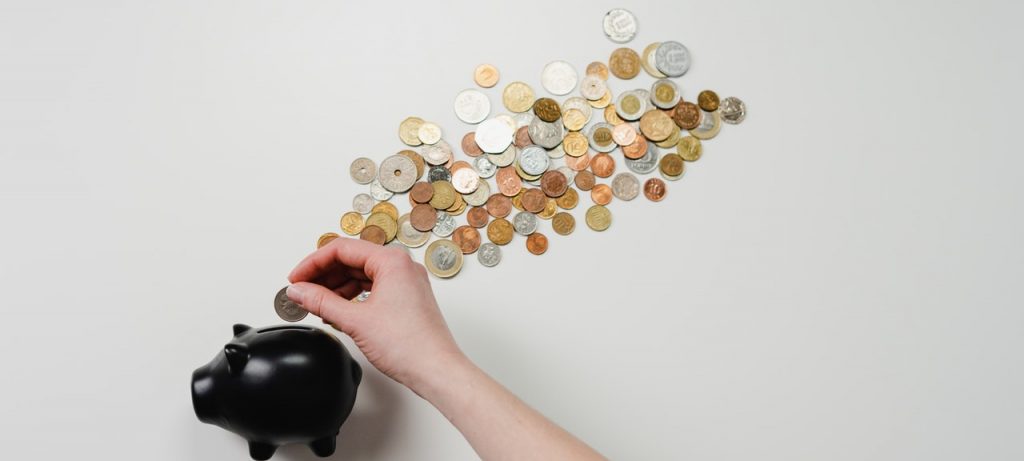 Let's say you want to make an Explainer video. If you want to use online video makers, like the ones we talked about, it usually costs between $50 to $500, but you need to do all of the work. You can also hire a freelancer. They can sometimes be really cheap, but you can also find more expensive ones.
It all depends on what you need. The best option you have (if you don't have any experience with making animated videos) is hiring a professional or an explainer video company. They are expensive with the prices usually varying between $2000 and $15,000, depending on hourly fees, length… Lastly, you can hire an agency dedicated to making these, and their price is often between $15,000 and $100,000.
3. How many FPS (Frames Per Second) are there in the animations?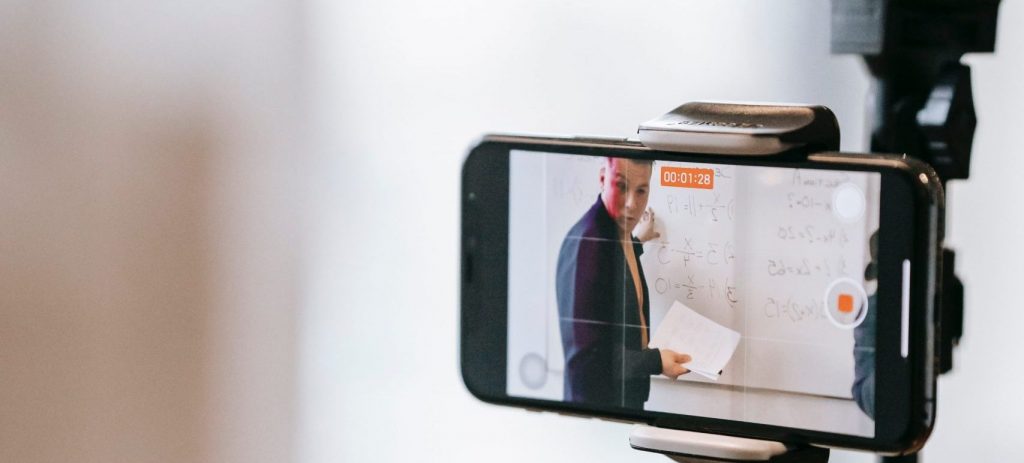 Usually, they are shot "on twos." That basically means that one drawing is shown every two frames of the film, which means there are only 12 drawings per second. Because of this, sometimes animated videos don't look as fluid as they should. These types of videos usually run on 24 frames per second.
Conclusion
Now that we have concluded the list and the FAQ, we would once again like to recommend VidToon 2. It is definitely the best tool for beginners and even for experienced animators. VidToon 2 is simple to use, cheap for the quality you get, fun, and most importantly, it is the best overall, considering the features it offers.
With all of these available, which one are you going to use, and why? Let us know in the comments below.