URL and link shorteners are useful tools for converting lengthy URLs into manageable links of less than 20 characters. They may help with link management, collecting click statistics, promoting sharing on social media sites, and even making money online. However, there are several choices. We've evaluated and reviewed the leading and finest link shorteners to help you pick the best one.
Before we get started on the tools, in order to use link shortener tools to promote your website you'll first be needing a good one. WPMU DEV's all-in-one WordPress platform gives you everything you need to manage, update, optimize and secure a site – all under one roof. Get 20% off any of their plans here.
What is a URL shortener, and what are its benefits?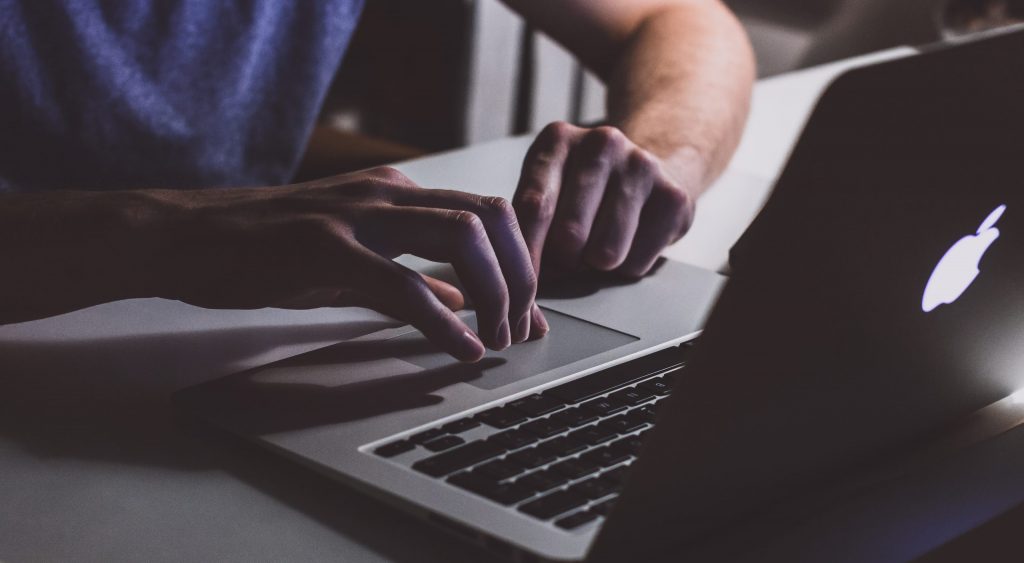 Long, complex, and difficult-to-follow links are common. A URL shortener is a tool that may personalize your URL by including your brand. Many URL shorteners can also tell you who is clicking on your links and why they are doing so. Keeping track of this data is one strategy to boost the number of visits to your website.
You may believe that reducing your URL is an unnecessary step, yet it is crucial. URL shorteners are useful because they may make a link more aesthetically appealing, allow you to showcase your brand, and allow you to use shortened URLs in areas where you only have a restricted amount of characters.
A URL shortener can also help visitors relax while clicking. Links can be spam at times, but by using shorteners, your users will be more familiar with your brand. You could even receive more hits with shorter links.
Branded Link Shortener

We use links on an everyday basis. Whether it's for emails, sharing blog posts, spreading your portfolio, it is important to have your link shortened and optimized because, in that way, they will surely bring more traffic.
This program now has all of the functionality that a link shortener needs. When shortening a link, you are not slowed down by unnecessary parameters. However, if you want extra functionality, there are no restrictions. A dream for marketing and user segmentation.
Lifetime access to Branded Link Shortener, all future updates, unlimited links, reseller options are just a part of what you get with this tool.
Branded Link Shortener is much more than a URL shortening tool; it's a low-cost, feature-rich marketing solution for companies looking to optimize their marketing campaign links to generate leads and income. With Branded link Shortener, you purchase an amazing plan for just $14, and you will get all the features.
BL.INK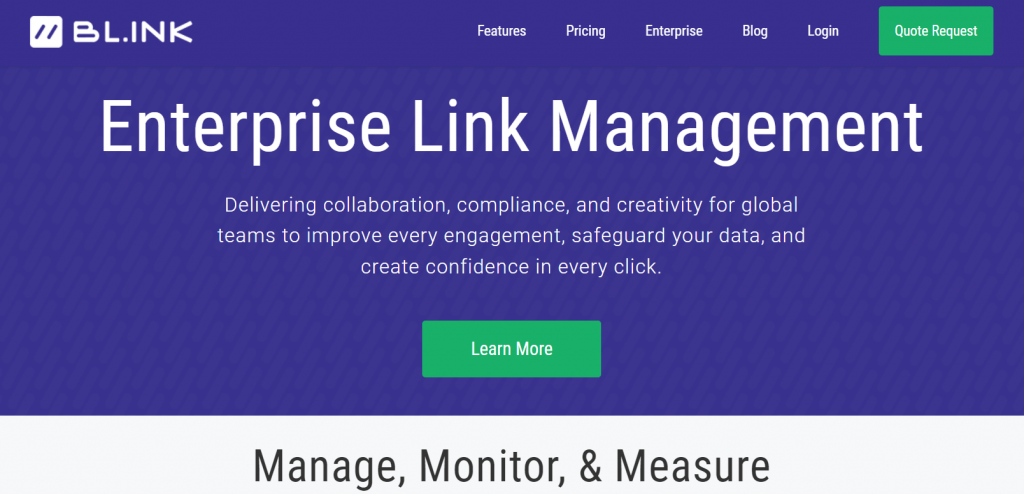 BL.INK is a link management tool that allows companies to "link smarter" by producing custom-branded short links that use actual words to improve their brand identity and increase consumer engagement and trust wherever they connect online.
To manage and maximize their branded connections, businesses want a flexible, scalable, secure platform that stresses cooperation, compliance, and creativity. BL.INK is a proven platform that has been eagerly accepted by the world's most demanding brands. It was founded in 2008 to address the particular demands of the enterprise.
BL.INK offers a free plan with 1,000 active links and with limited analytics; an Expert+ plan with 10,000 active links, 7,500 tracked clicks per link, and three users cost $48 per month.
Bitly

Bitly is a URL shortening service that is extensively used on the internet. Links, even if you don't realize it, might have an influence on the client experience. It can contribute to a fantastic experience. Not only can it shorten links, but it may also aid in the optimization of a company's brand and the tracking of link analytics.
Bitly can help you guarantee that the links you use have a positive impact on customers by ensuring that they work properly and that the user gets to where they need to go, whether you're shortening links for social media or mobile apps.
Bitly costs $35 per month for a basic subscription that includes branded domains, additional monthly links, and support.
Ow.ly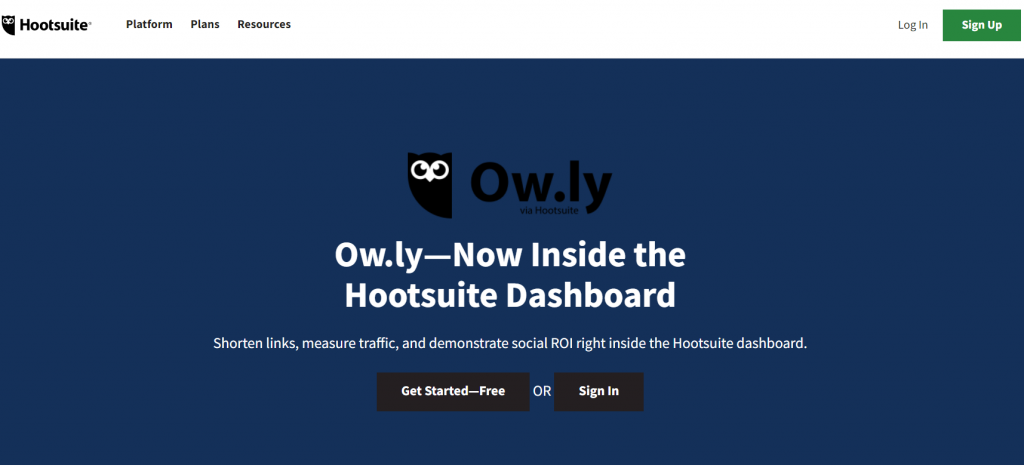 Ow.ly is a URL shortener best recognized for its integration with Hootsuite. It can be utilized directly within the HootSuite Dashboard to keep all of your data in one location.
It's also a tool that may help you track statistics about how well your links are doing and make use of that data.
You can obtain Ow.ly for free just by utilizing the free edition of HootSuite. To utilize it, you'll need a Hootsuite account. The advantage of requiring a Hootsuite account is that it makes the tool more secure than if anybody could use it. While a free account is available, you may upgrade to have access to additional services.
TinyURL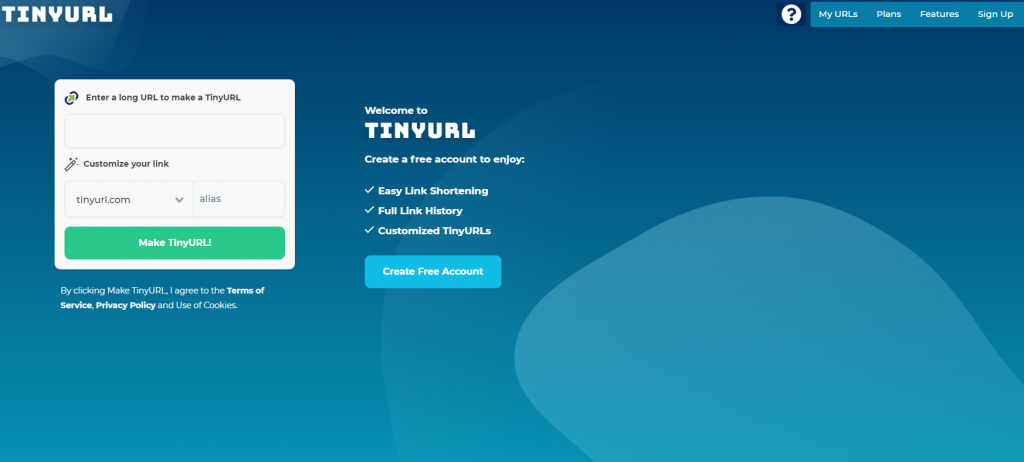 TinyURL is one of the oldest URL shorteners on this list, but that doesn't rule out the possibility that it might still be beneficial for some website owners.
To begin, this online tool is really simple to use. Simply type in the URL you wish to shorten, and it will be converted to a small version for you. To make things even simpler, TinyURL may be added to any browser for quick access and link shortening.
TinyURL costs nothing to use; Personal accounts start at $9.99 per month for monitored links and branded domains.
Adf.ly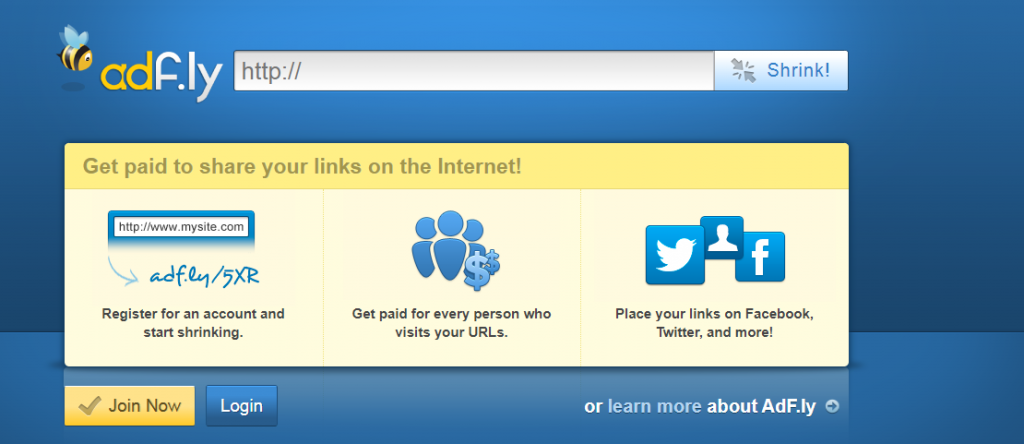 AdF.ly is a one-of-a-kind service that not only shortens URLs but also allows users to earn money just by utilizing it. When unique people click on your shortened links on your blog or social networking site, you may earn money.
To get started, all you have to do is create an account. Without the usage of pop-ups, the approach delivers secure advertising.
You can also get data on how well your links perform so you can make better decisions about which links to promote and what your audience wants.
Rates vary per geography; however, AdFly offers some of the greatest rates for US visitors, with raw visitor rates exceeding $4 CPM, and respectable rates for users from the UK, Canada, Australia, and Western Europe, with rates ranging from $1.50 to $2.20 CPM.
Final Thoughts
A URL shortener service may assist you in creating a cleaner, more user-friendly URLs as well as tracking and analyzing their performance.
Get the finest URL shortener for your site if you're sharing content. We would recommend you to try Branded Link Shortener since it gives you a whole lot of features at a low lifetime price.