LinkedIn is a business social network where you can introduce yourself to potential employers, partners, and clients and act as an employer. You can also build your own branding and look for employees and B2B partners. Launched in 2003, the number of users in 2022 reached 800 million in more than 200 countries.
LinkedIn is known as a practical and popular tool. However, the size and range of features of LinkedIn can confuse you in terms of not knowing where to put your focus. But the good news is that with some help, you will be able to meet potential customers, introduce yourself to a broad audience, find sources, and much more.
You must be wondering what that little help is. The answer is simple – LinkedIn Chrome extensions. We have curated a small list of the best LinkedIn Chrome extensions that can be of great help to you, so keep on reading.
What Is a LinkedIn Chrome Extension?
B2B retailers have many choices of Chrome extensions. Their basic purpose is to help the user with LinkedIn automation. The catch is in picking the right one that suits your needs.
Best of all, there is no wasting time – everything happens very quickly. If you are in a dilemma about which extension to choose, there is something you should know. Most extensions offer a wide range of options and functions but at a high price.
On the other hand, we also have free extensions that should not be underestimated. So, let's take a peek at the best ones.
Octopus CRM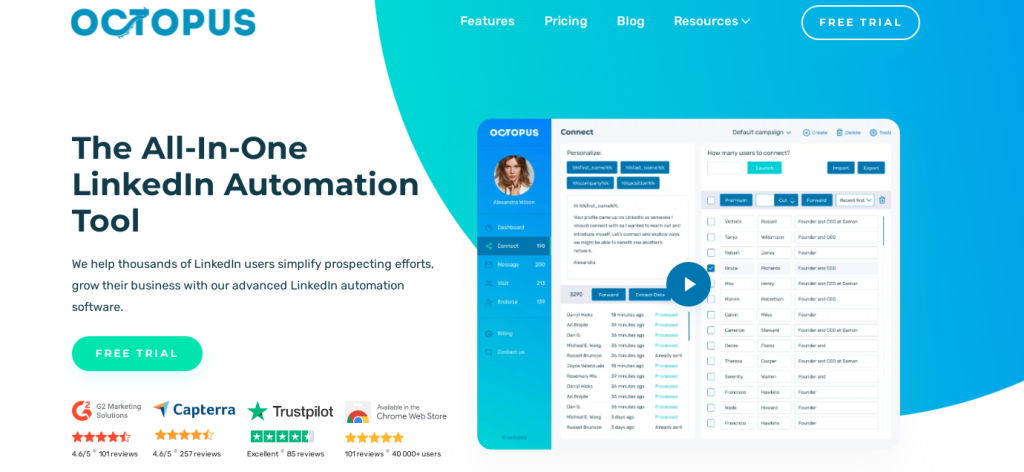 Octopus CRM is one of the more popular LinkedIn Chrome extensions. Want to save time? No problem. Octopus CRM enables you to save as much as 90 percent of the time spent searching on LinkedIn. It is ideal for sellers. This is one of the extensions that offers two versions: free and paid.
Key features:
It sends personalized connection requests automatically
Lets you export information about your prospects
You can create highly enveloping sales streams for LinkedIn
Statistics that will seriously help you in making decisions are available
For premium LinkedIn profiles, there is an option to send invitations automatically
Ability to automate skills validation and profile review
Price:
Free version
Paid version (Annually): Starter – $6.99 per month
Pro – $9.99 per month
Advanced – $14.99 per month
Unlimited – $24.99 per month
Dux-Soup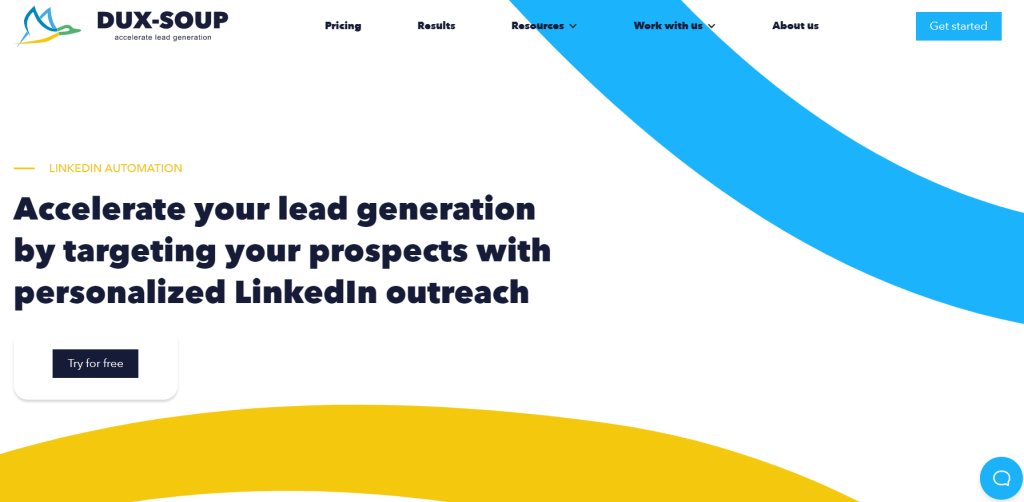 Dux-Soup is considered to be one of the most dominant tools for LinkedIn. As we know, selling is never easy. But, looking for a new job is also a hard part of everyone's life. What Dux-Soup offers us is fascinating. With just one click, you can visit thousands of LinkedIn profiles. Is that possible? With Dux-Soup, it is. Using auto-follow, you can automate your profile.
Key features:
Free and easy to get started
You can sell to more customers
Qualify leads more efficiently for higher conversion rates
Boost your profile with more endorsements
LinkedIn automation
Prospect management
Download profile details
Price:
Free version
Paid version: Pro Dux – $14.99 per month
Turbo Dux – $55.00 per month
Lusha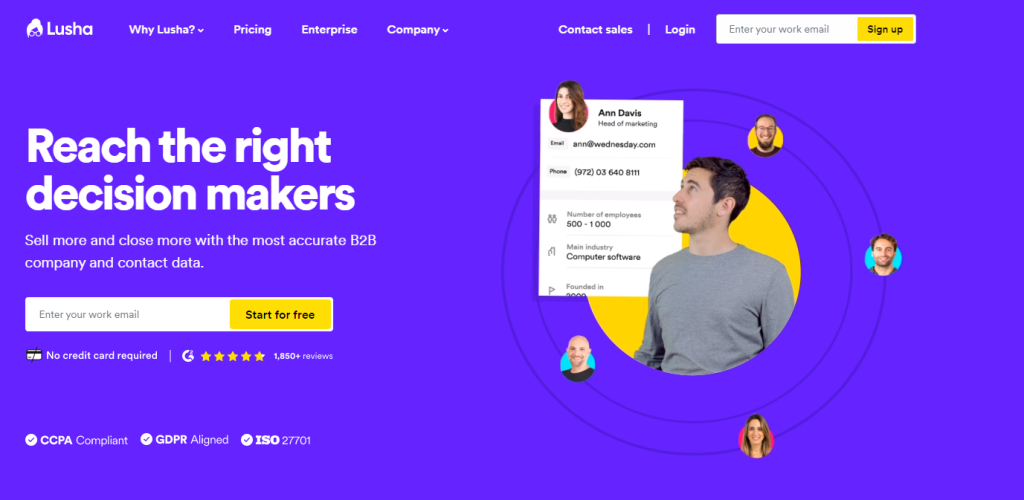 Lusha is a tool that does many things at the same time. Need someone's phone number, email address, personal information, and business information? With a single click, Lusha will provide it to you. Lusha also has an extension for Google Chrome. This extension works every time you view someone's profile on LinkedIn.
Key features:
Offers a LinkedIn email extension
Easily determine the target group
Ability to find different contacts
Maximize your connectivity rates
Target results are quickly filtered
The target is set in seconds
Price:
Starter – free
Professional, 1-5 users – $29/mo/user
Premium, 2-5 users – $44/mo/user
Enterprise – Custom
Crystal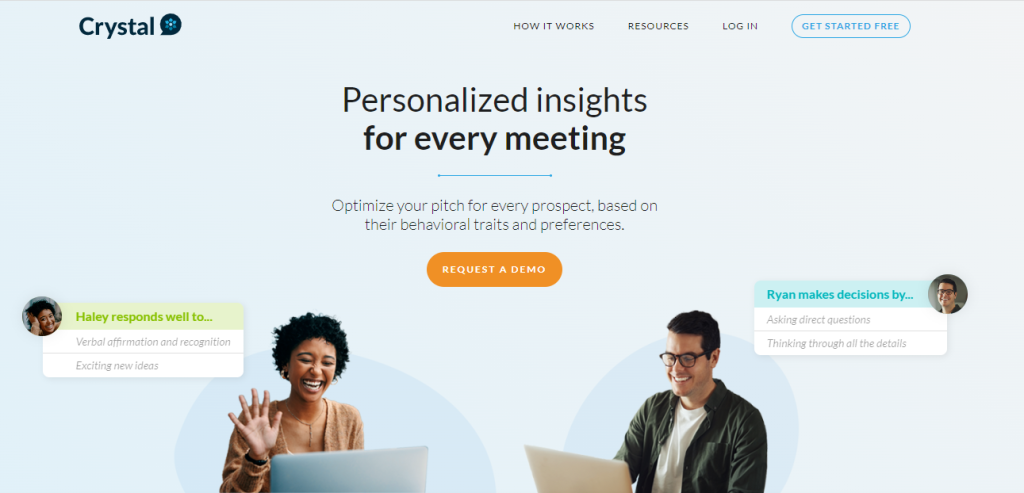 Crystal is also one of the more popular extensions. It allows you to stand out from the competition by seeing a report on your prospects. You can find such reports in other extensions, but users claim that none of them can be compared to the ones provided by Crystal. You can see everything about potential customers and work on the best approach.
Key features
Personality insights on LinkedIn profiles
Email, calls, meetings – real-time suggestions
Find the right style of communication for different people
Remove speculation from a cold call
Price:
The paid version starts at $19 per month
Final Words
This list of the best LinkedIn Chrome extensions should help you improve your scalability and save time. If you are offered a little help, why refuse it? We are sure that some extension from this list completely suits your needs.
As we pointed out at the beginning, do not run away from the free versions. To determine which extension suits you best, do additional research. Good luck, and enjoy the time saved.