Social media, the evergrowing abominable giant that seems to be overtaking our lives with every passing second. Some fear it, justifiably so, while others see in it a potential profit. If you're one of these profit-seeking individuals, don't worry.
Since making social media content's becoming easier with each passing day, especially if you want to focus on creating video content, which with the rise of YouTube in the past 10 years and more recently TikTok, whose popularity skyrocketed in the few years since its conception has become the main way of earning your spot in the hall of social media fame.
But making good content requires the utilization of proper tools. That's where these social media video making tools come in handy as they help you create your perfect content and boost your engagement at the same time.
1. Adobe Spark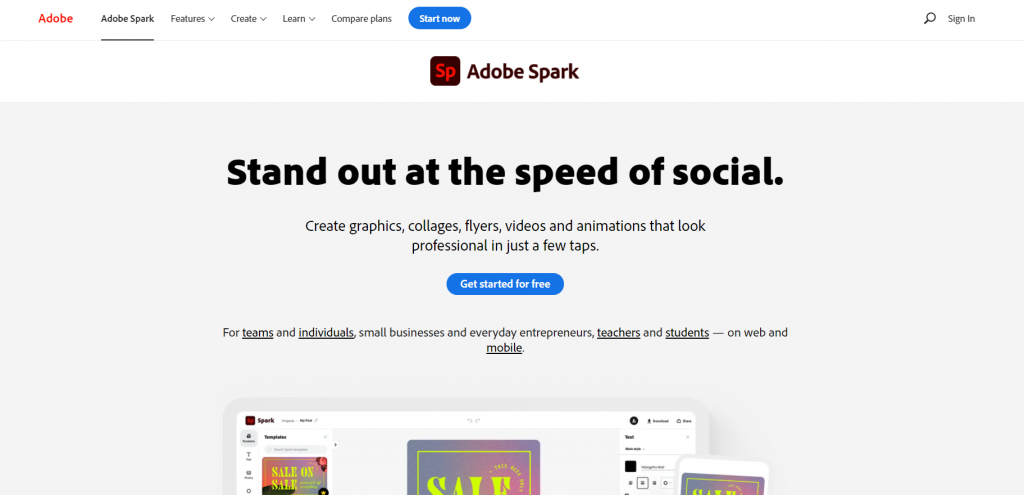 Adobe dominates the world of editing, from audio to video, so it's no wonder that Adobe Spark offers a perfect social media video creation system. From creating videos to editing, rearranging, and even sharing, Adobe Spark covers all your bases.
Not only is it featureful, but it also offers good cross-platform compatibility between desktops and mobile devices that can give you the opportunity to work on the go with up-to-date data. In Adobe Spark, you'll be able to create not only videos but also animations and image compositions to enhance your videos with further visual aids.
Speaking of Adobe, one of the main positive talking points that reach across their entire platform is for sure their user-friendly capabilities. While it does require some expertise to master, after you get a firm handle on it, you'll be creating professional videos in no time.
Considering there's no fee on the starting plan, you should most definitely try it out and see how it feels to use professional Adobe products.
2. Canva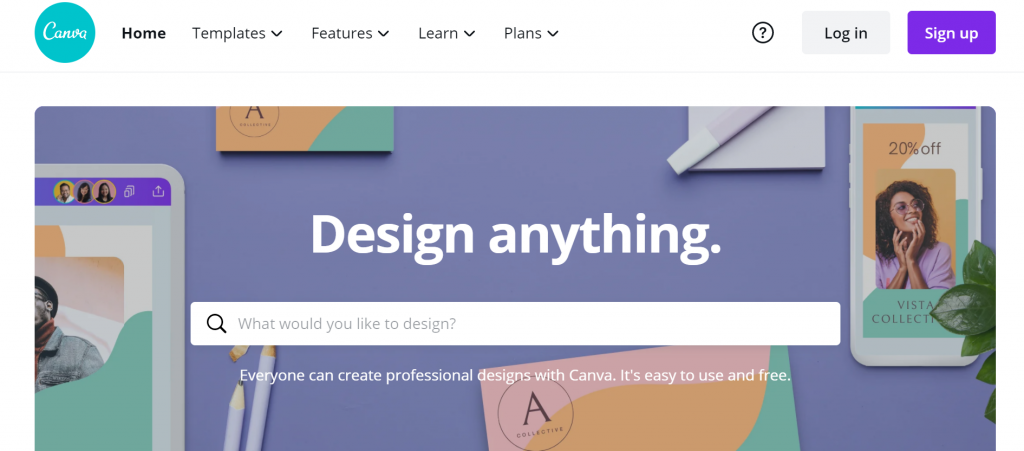 Just like success within social media hinges on popularity, so does popularity impact the quality of a social video-making tool. That's why you should utilize Canva, as it's one of the best tools on the market when it comes to creating and managing social media content.
With it, you can create and format videos so that they seem tailor-made for your designated social media platform by the end. After all, each and every platform has its niche formatting idea, and utilizing such specialization may be key to your rise as the next social media icon.
And if you're having issues handling all the data by yourself, don't worry; with Canvas, you can easily collaborate with your team so that you can create the perfect replica of your vision. With the, quite frankly, insane amount of themes Canvas offers, the ability to create stunning social media content is only a click away.
After all, you can't be popular if no one finds your videos visually appealing, and with Canva your popularity will skyrocket.
3.  InShot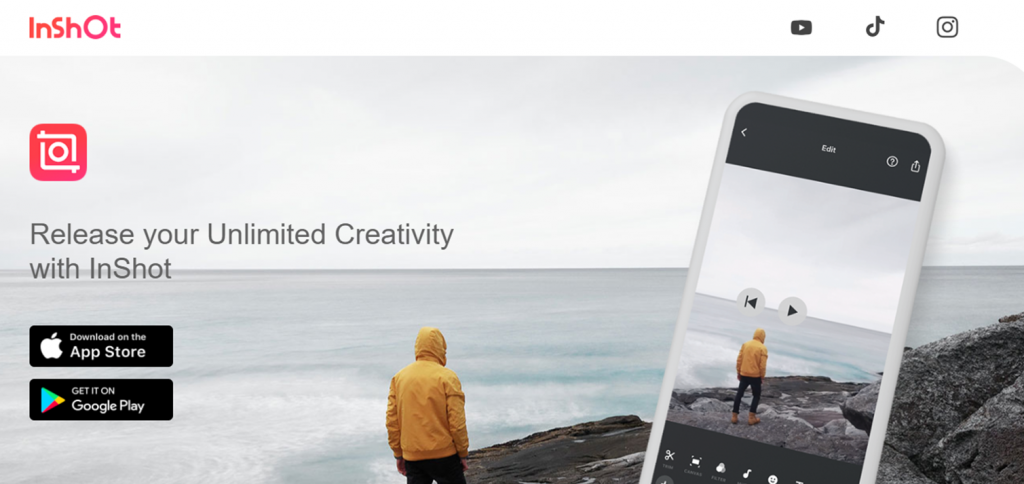 With the rise of social media accessibility, everyone wants to become a star, but that seemed quite impossible when you could not work on your content without professional equipment. That all changed when InShot came to the market, which allowed anyone with a smartphone to edit their content, both photo, and video, with ease.
No longer is social media creation chained to massive desktop computers straddled with expensive editing software. Instead, you can edit your content online anywhere you want. With InShot, you can customize almost any aspect of your content, trim it down, add musical numbers, and even add texts and images to your videos.
And while sure, the free version has the negative of only producing watermarked content. But if you want to be serious about working your way up the savage and competitive social media hierarchy, you need to be prepared with top-notch tools and that can indeed cost a bit of money.
4. Animaker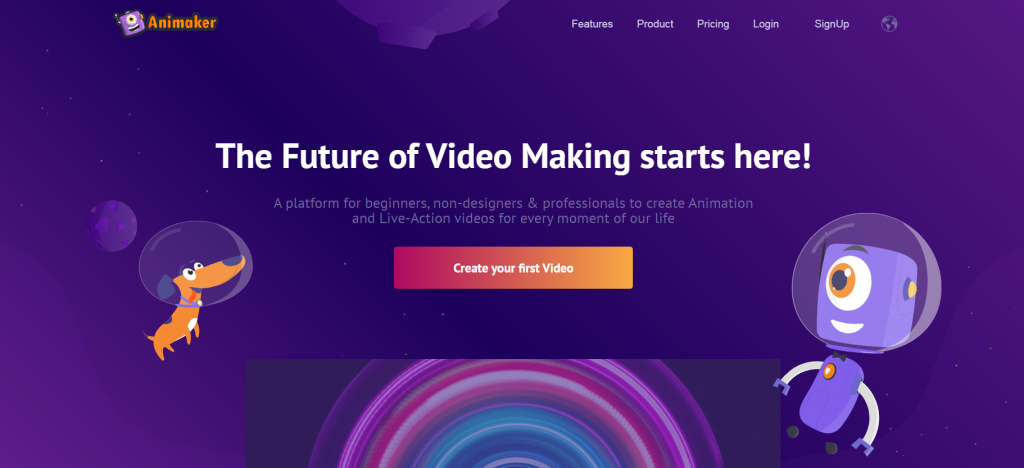 There's probably no video more captivating than eye-catching animated infographics that were hand-crafted with the love and respect of their creators. And if you're inclined to create such content, maybe you should check out Animaker. You can create and edit visual elements as well as manage the audio components with which it syncs up.
such a highly customized piece of art will take significant effort, but Animaker may make that job a lot easier. Especially if you're creating something as a team, its in-app messenger would significantly streamline your communication and thus increase workflow. Let's be real every animation studio cuts corners where they can.
After all, that's the only way they can stay in business during production. With Animaker, you receive a plethora of templates that you can utilize to further your vision formation. Not only that, but you may utilize their specialized icons, maps, and even images. So take up their free trial and see what you can do with Animaker.
5. Ripl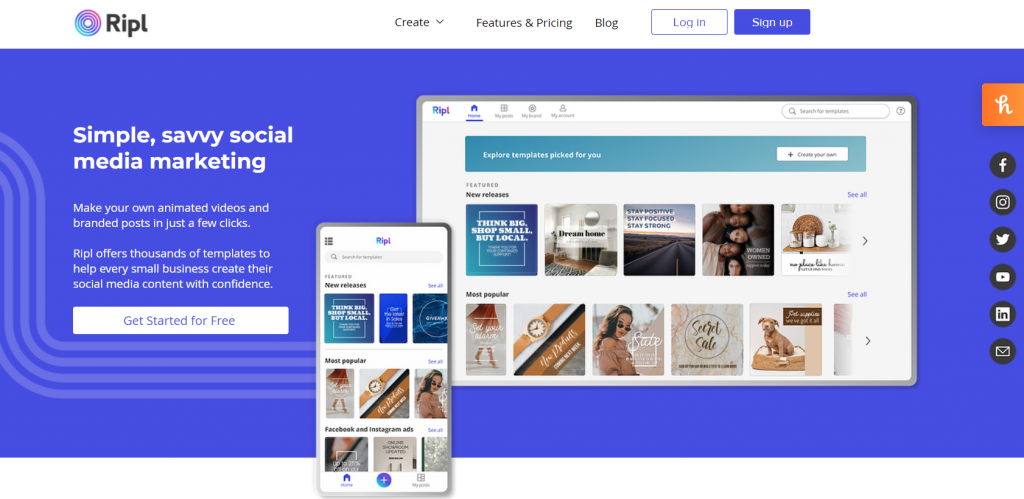 Continuously improving your content is key in having a successful career in social media. That's why you should use Ripl, as it is the premier tool for creating animated video visuals. Ripl's extremely intuitive to use, too, as all you need to do is plug in your additions to the content into the app, and voila, everything's in and waiting for you to edit it to perfection.
And if you don't have the time to tinker with every detail, Ripl offers you quality templates as shortcuts for creating popular video formats. Want your videos on your social media platform? Well, you can have them uploaded with just a single tap.
With this feature, you can save an incredible amount of time from independently uploading each video onto your preferred platform, especially if you use its automated scheduling tool, which can make posting content an absolute breeze, especially if you know your local peak posting times.
6. Promo
http://Promo.com/ is an online video maker that gives you everything you need to make high-performing videos that will boost your business. They have ready-to-use templates for any kind of business type and it fits to all types of content. With Promo, you can also make commercials and video advertisements freely and easily.
Promo helps you to promote your business or products, improves brand awareness, widen your reach, and engaged your costumers.
Wrapping Up
While it's true that social media's consuming more and more of our daily lives, that doesn't mean we shouldn't utilize it in creating content. And with these tools, you'll be able to create outstanding videos and grow your social media brand while at the same time becoming a recognizable member of the community.
So pick your favorites and check them out. Who knows, maybe in a year's time, we'll be seeing your content on the front page of the internet.