If you're an active YouTube user and have your own channel, then the first impression of your channel counts the most. In order to achieve that, you should have an outstanding banner that will help you create epic channel art. A banner itself can help you reach more viewers and improve your channel features.
Simply put, a YouTube banner is a header image that stretches up the horizontal position on a page (similar to a Facebook cover photo). When someone opens your channel, the first thing they'll see is a banner. The usage of banners is a great opportunity to show off your brand. So, let's dig into some of the best YouTube banner makers.
1. Bannersnack (Creatopy)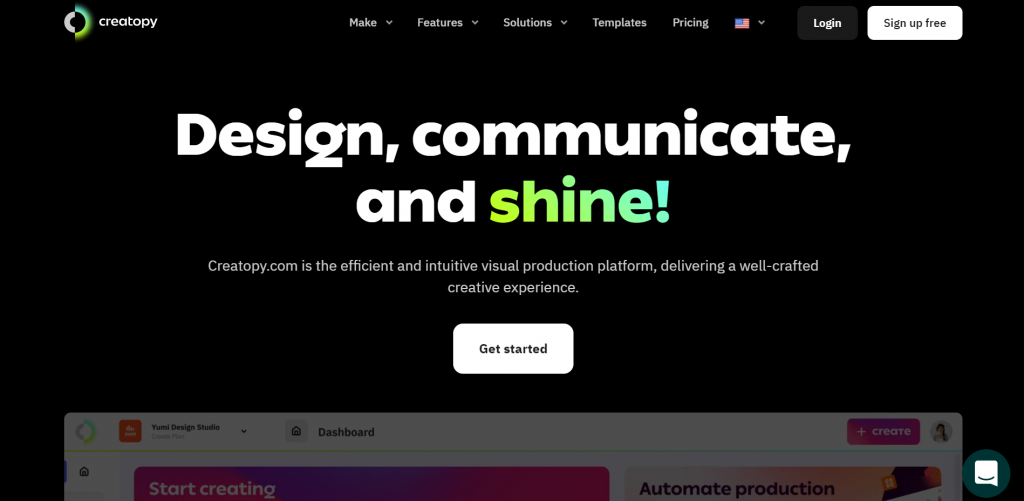 Bannersnack (now known as Creatopy) is currently the most popular user-friendly software for making banners. It comes with lots of pre-built templates along with fonts, images, clipart, icons, text presets, dimensions, and much more. Besides available templates and assets, you can add your more personalized assets.
You have an option to design multiple banners where you can copy the elements and create everything you want within a few clicks. You can start off for free, but you're limited to 10 designs in this free version.
If you decide you need more designs, you'll have to switch to some of the paid plans – Create plan ($17/month), Automate plan ($35/month), or Custom plan (price depends on features you need).
2. Canva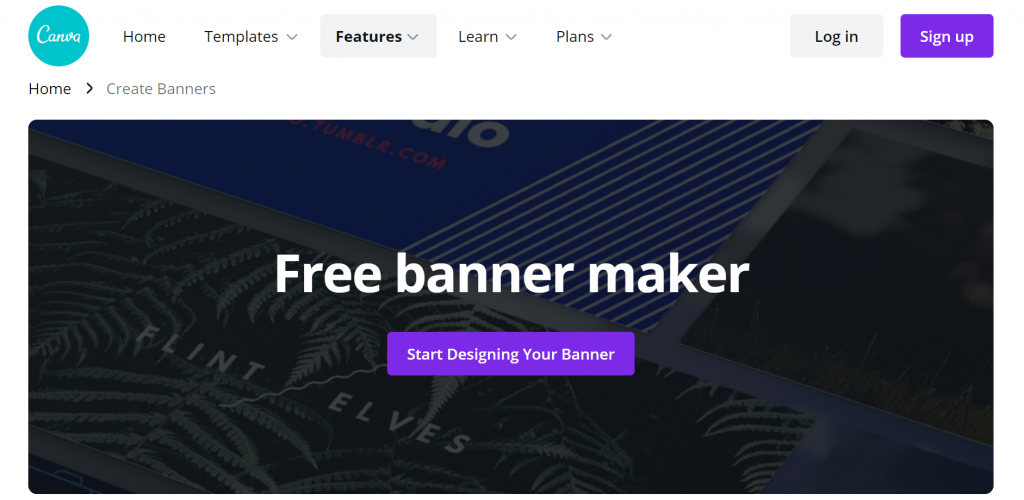 Canva is another simple yet powerful tool that will help you create any type of banner. The drag and drop graphic design tool makes it even easier to use. It offers a wide range of fonts, colors, images, templates, and more. You also have an option to upload some of your images if you don't find what you need in the image library.
There's also a choice where you can choose from premium images, but you need to pay to access them. Canva has a free version, but it also provides two paid plans – Canva Pro for collaborating with a small team ($9.99/month) or Canva Enterprise for a team over 20 members (price depends on your needs).
4. Visme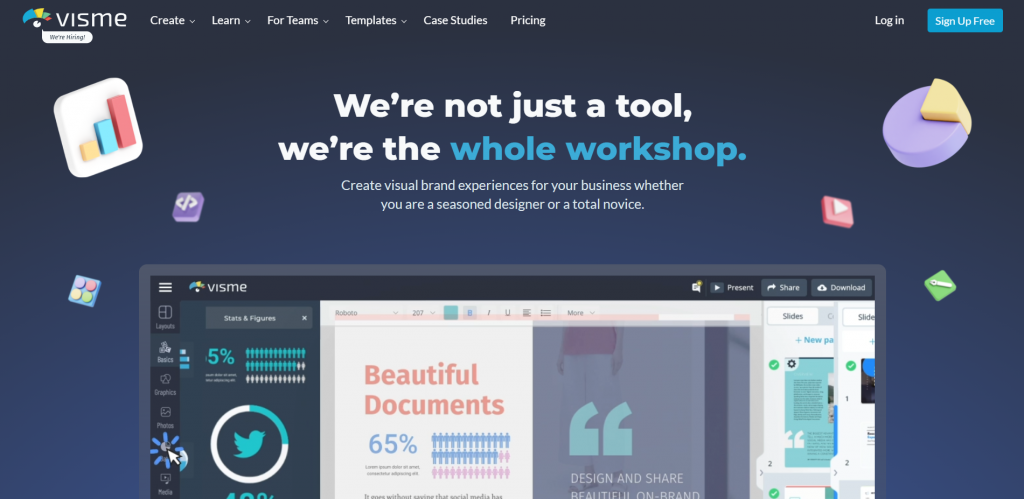 Visme is another banner creation tool that will make the process of designing so easy and simple; you won't believe it. It has a collection of over 50 templates and hundreds of colors and fonts available. In addition to that, there's also a collection of vectors, icons, images, and color schemes, as well as shapes that are fully customizable and editable.
With all of these options, you can add life to your banner and outstand your competitors. This tool offers a free plan as well as three paid plans to choose from – A standard plan ($25 per month), a Business plan ($49 per user per month), and a Custom plan (price depends on the features you want to be included).
5. Adobe Spark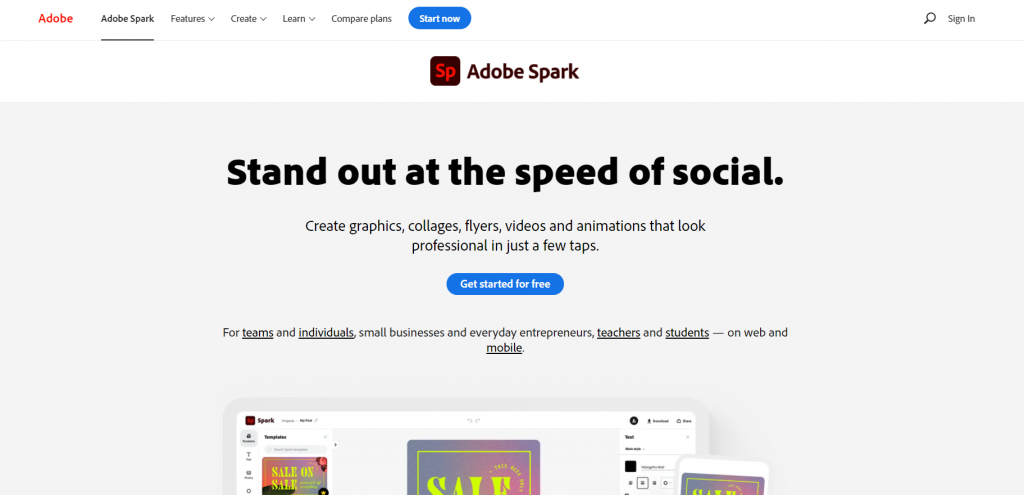 You can create an eye-catching and engaging YouTube banner using the Adobe Spark tool. It doesn't matter if you're a beginner or don't have an idea where to start. This software offers you tons of inspirations and templates to start off.
You can change fonts, images, upload your own photos, change gradients, change dimensions, add animated stickers or gifs from GIPHY, and much much more. Once you're done with your banner design, you can easily rescale it and use it on other social media platforms.
You don't have to worry about losing your project or design; Adobe Spark will save your project so you can access it anytime. This tool is available on both desktop and mobile devices (Android and iOS), and if you already use Adobe Creative Cloud services, you can use the premium banner maker for free.
All designs and projects done on a free version of this software will have an Adobe Spark watermark on them. If you want to avoid that, you'll have to subscribe to a paid plan – An individual plan (currently free for the first 30 days, after that $9.99/month), or a Team plan ($19.99/month).
6. Placeit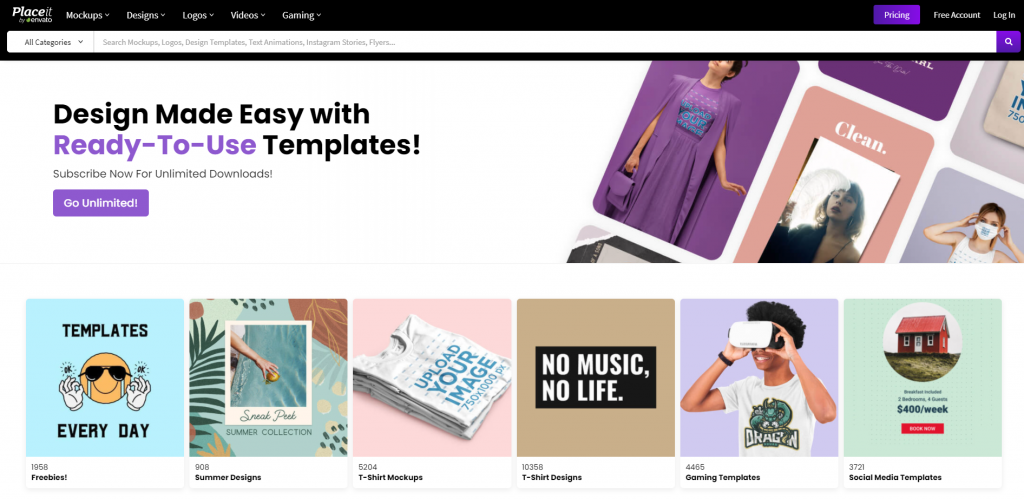 Easily create a stunning YouTube banner for your channel with Placeit software. If you're a total beginner at this, don't worry, this software has you covered! You don't need to download any programs or have any design skills to use this tool. It offers an endless number of templates through different categories, so you can find what suits you the best within minutes.
Of course, you can edit and personalize every element of a template you like, including colors, shapes, fonts, text, etc. Using this software doesn't require registration. However, the final version of your banner design comes with a Placeit watermark on it, so if you want to get rid of it, you can choose an Unlimited plan (Mockups, Designs, Videos, and Logos) for just $14.95/month.
7. Snappa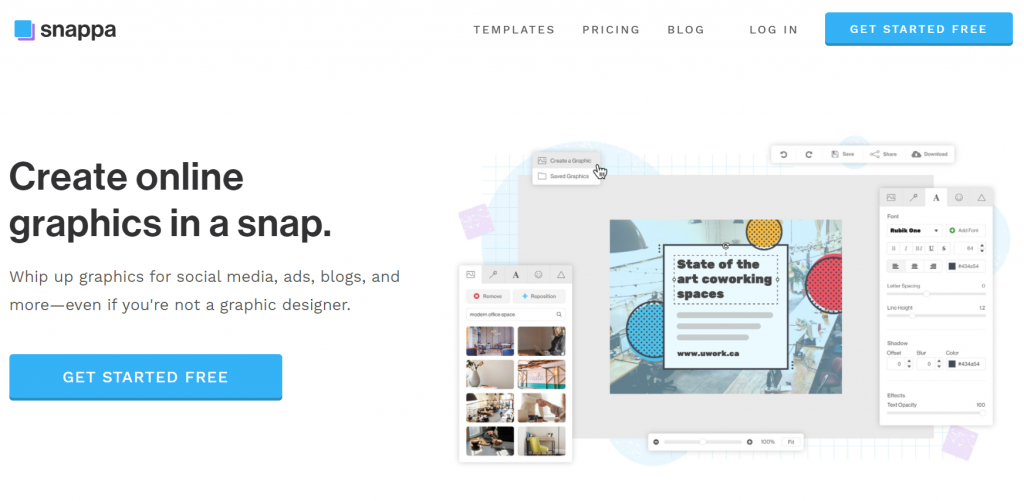 Currently, Snappa is one of the best tools for banner creation. It's user-friendly and comes with over a million HD stock images, graphics, shapes, templates, and much more. It's totally free to change any of the elements you want or even upload your own font. With a free plan, you get pretty cool features like automatic image resizing.
This means that you can reuse your design for other social media platforms. The only limitation here is that a free version allows you only 5 downloads and shares. If you want unlimited access, you should choose one of the paid plans – a Pro plan ($10/month) or a Team plan ($20/month).
Conclusion
Promoting your YouTube channel can sometimes be time-consuming and hard. However, if you want to make the promotion successful and improve your online presence, you should make great content. You need to grab your audience's attention with creative and unique design.
We truly hope that one of the tools we've listed above will help you create a more professional-looking cover as well as help you show off your channel's features.