No matter how big your business is, whether you're managing a small business or running more than one, you want to make sure you find the best tools out there that will make your work easier but also lead to great results. Investing in good management software can help you big-time, but it does take time for you to find one that will provide you with all of the features needed.
In today's article, we would like to introduce you to Dubsado and present to you some of its, in our opinion, best alternatives. Dubsado is one of the most popular business management software out there. It counts many useful features like easier booking, creating templates, so you do not miss any payments, automated workflow, managing your clients, and much more.
Even though Dubsado does offer many useful features, people often look for its alternatives. The biggest reason for that is Dubsado's pricing. Some people may not require all of the features provided in this tool and might not want to spend that much money. In exchange, they want to spend less money, using only the features they need.
Now we would like to introduce you to some of the best alternatives that we have found, in hopes of one of them being the perfect fit for you.
1. Agiled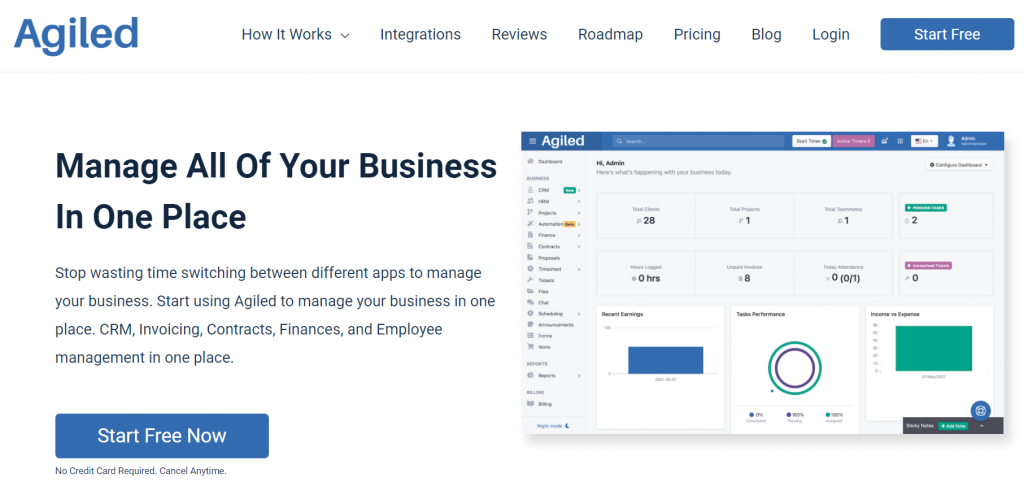 The first on our list has to be Agiled. It is an amazing tool, allowing you to run all of your processes in one place. The list of possibilities with this tool is pretty long and includes managing projects, finances, contacts, and much more. It is a great option for you to manage all of the aspects of your business, all from one place. Plus, you're paying for only one tool, as opposed to buying a tool for each of the tasks.
It works amazing with software like Freedcamp, HubSpot, Zoom, and many more. Another amazing thing about Agiled is the fact that it offers an unlimited number of custom fields for accounts and contacts. This means you can store all of your main data in one place.
When it comes to project-managing, you can manage everything from a single dashboard, making sure you do not miss a timeline on any of your projects. This dashboard also comes with progress tracking, time logging, and file sharing. This ensures great work efficiency.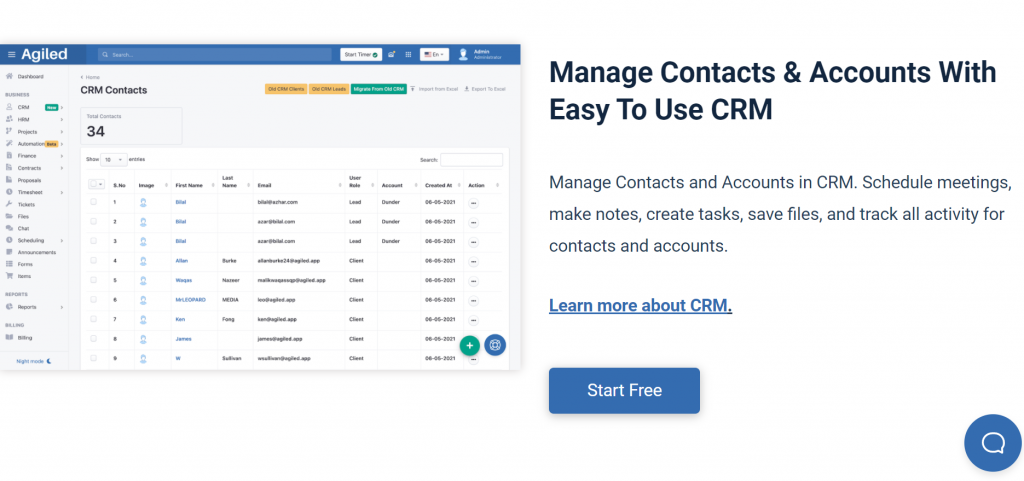 Thanks to its integrations with apps like PayPal, Stripe, and Mollie, you can easily send and receive payments. Another cool feature it includes is the ability to bill your clients using the client subscriptions. The financial dashboard keeps track of all the finances and expenses.
The contract dashboard keeps all of your contracts and keeps them organized by their categories. You can combine private notes in your contracts in the form of a link or even an email attachment. This means there won't be a big fuss when handling new signups. The appointment tool helps you schedule all of your meetings, making sure you do not miss any.
Agiled offers three price plans. The prices range from $69, $138, to $207. On their website, you can check which features are included in which plan, but also gain more information on Agiled itself.
2. HoneyBook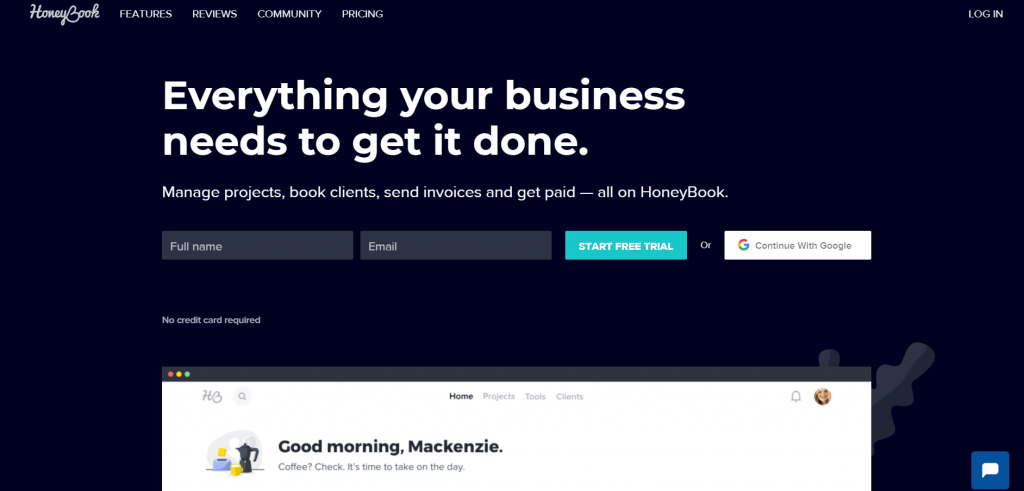 Another amazing client management software. HoneyBook allows you to keep track of all of your projects. Not just that, but also it also makes sure that all finished-up contracts are well organized. It covers many aspects, including online invoices, automation, scheduling, online payments, and much more. You can give it a try for 7 days, completely free.
To help you relive your work, integrations with apps like Zoom, Gmail, Google Calendar, and many more are at your service. Online contracts allow your customers to sign your contracts at any time, anywhere. You can also use templates to make your work a bit easier. It also allows you to create invoices in the shortest possible time, which will for sure help with your income.
Clients can pay you from any device, using any major credit card, making sure the transaction is safe. It does have everything you need to successfully run your business from a single place. You can check out any additional information and reviews on this software on their website.
The three price plans available range from $9/month to $390/month.
3. Hello Bonsai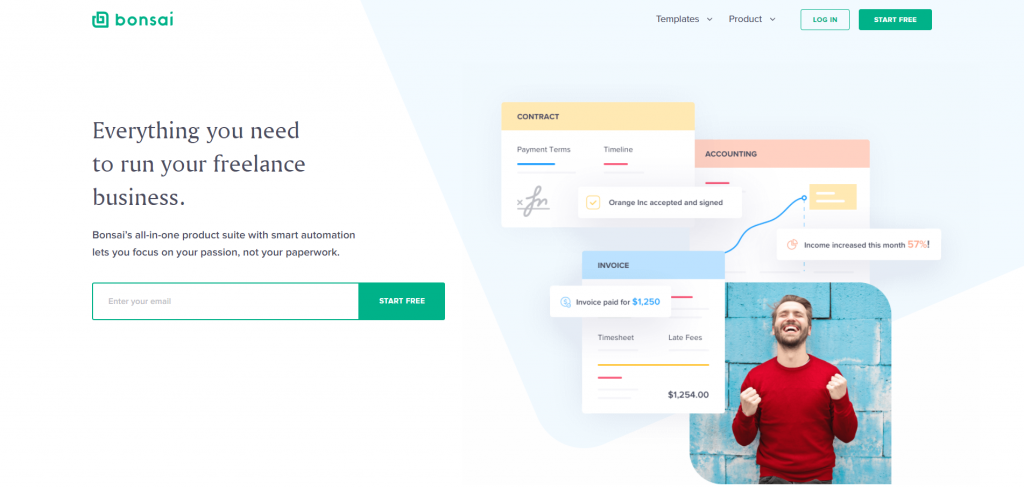 The last software we would like to mention in our today´s story is Hello Bonsai. It definitely deserves a place in our today's list. They are at your service to do the more of the "boring" part of running a company while allowing you to focus on your passion. It combines proposals, contracts, projects, accounting all at once while also keeping track of all of your tasks.
It allows you to create professional proposals, ensuring you easier business deals. You can easily fill out a contract template that will be available for use at any time. You can create your own invoices, customize them, have reminders of payments, and receive updates. You can also keep track of all of your tasks with a well-organized task manager.
The accounting and taxes feature helps you with all of your finances. Another cool thing you can do is keep track of how much time you spend on a certain project each day and skip between different projects. It offers two price plans. The first one costs $19/month and the second one $29/month. You can check out any additional information on their website.
Conclusion
In today's short article, we have given you three options if you are considering finding an alternative for Dubsado. To conclude our story, we do think Agiled is the best alternative based on all of the features it offers and taking into consideration its price point. We hope you have found this article helpful and that you will consider giving one of these alternatives a try.