Before you start building your perfect website, you'll need a way to build it. Pretty logical, isn't it. That's where Elementor comes in as one of the best drag & drop website builders on this side of the solar system. But why is it so great, you might be wondering. Well, it's mainly due to its ability to build your site live and on the frontend so that you can instantly view the changes made. And there's no need to even mention the drag & drop features as they generally make any building program rise in popularity.
So let's get into why Elementor is so great and how it actually works. Elementor essentially replaces the standard WordPress editor, which can actually be considered a straight upgrade since the classic WordPress editor lacks some quite crucial features that you need in modern website building.
As mentioned earlier, with Elementor, you get that sweet, sweet live frontend editing that can really put your work into perspective; as with the classic WordPress, you always have to jumble about saving your progress and going frontend-backend endlessly.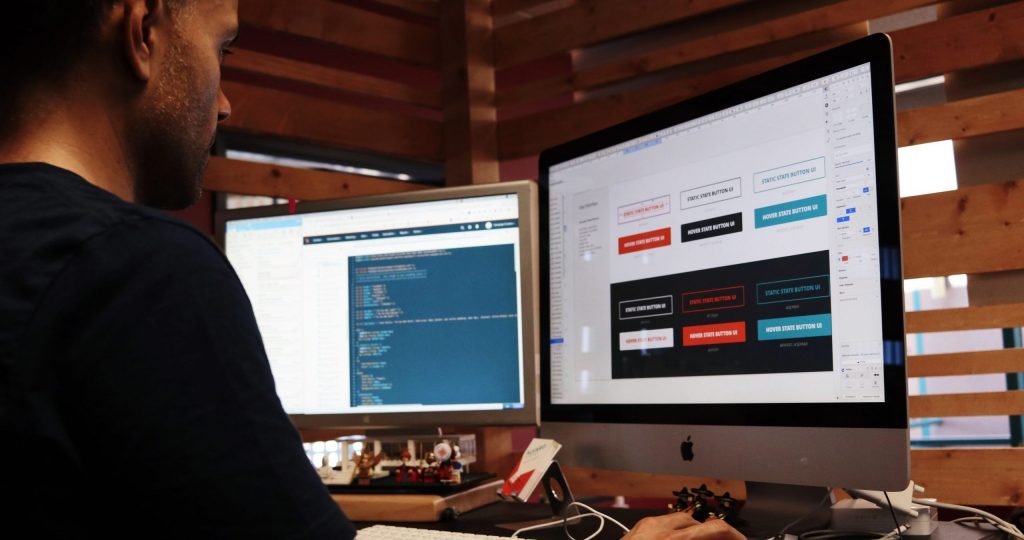 As the Elementors user interface is specially catered for ease of use, you'll have no problems navigating through the multitude of features Elementor has on offer. And considering Elementor supports almost any external plugins, it's no wonder it's widely regarded as one of the best page builders at the moment. Not only that, but it also offers a plethora of its partnered add-ons that can improve your Elementor experience.
Although it does have to be mentioned that some of these add-ons can be costly as they are hidden behind a premium paywall. But even then, if you're designing a large website, it might be worth getting them since add-ons can specialize in various tasks as well as serve a general purpose. And don't worry, there are free options too, so if you're just starting out, you won't need to invest specifically into Elementor itself, but the more you develop, the more you'll feel the strain on the free add-ons.
That's why sometimes it's better to look up quality alternatives which you can employ to do the same task as you would Elementor, and who knows, they might feel even better to use for your personal standard.
1. UnderConstructionPage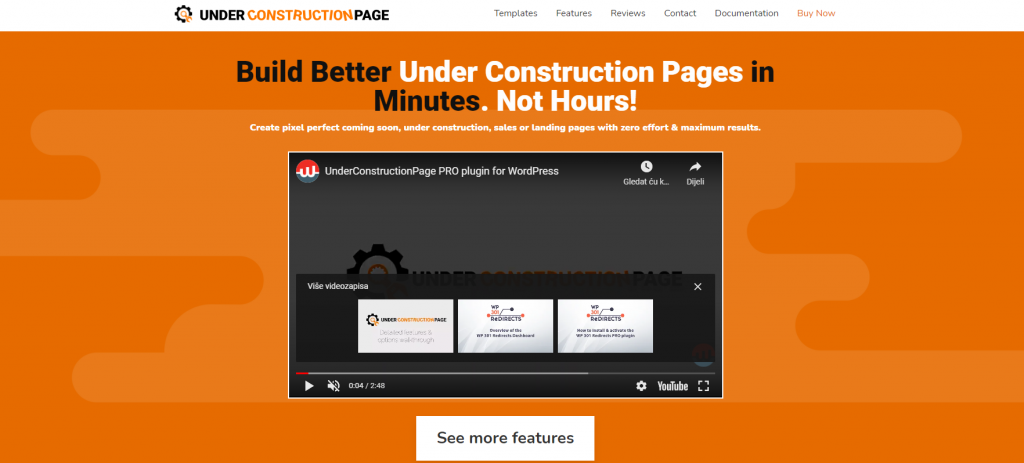 But what if you already have a website, and it just needs some touching up? Well, at that point, while Elementor is still certainly useful, it becomes more work than you need. That's why things such as creating coming soon pages or temporary maintenance pages have their page builders, and in this context, UnderConstructionPage might be of more worth to you. While it isn't a complete standalone page builder, it works wonders for the pages it specializes in.
Mainly those would be for creating pages that show your customers that your website is under maintenance or construction. But you needn't limit yourself to the confines of the plugin's intended purposes. You can use their themes to spread out your newsletter, and with their special countdown themes, you can hype up your visitors by creating tension until the release of your website.
So, in the end, you won't even need to download Elementor since UnderConstructionPage does its job beautifully anyway, and it even has drag & drop building features too.
2. Page Builder by SiteOrigin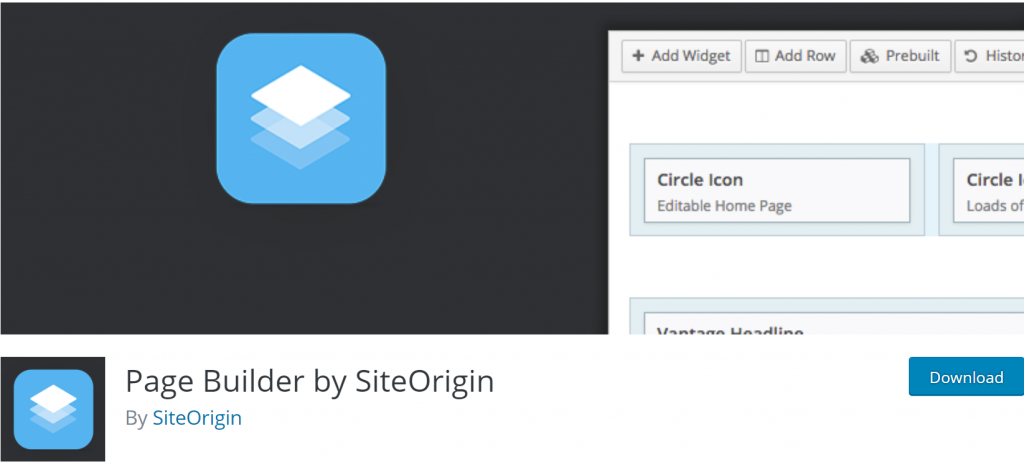 If you need something a bit more grid-based, then perhaps Page Builder by SiteOrigin might be the alternative for you. It's a perfect plugin for newcomers as it lays out everything you need in a simple, easy-to-use fashion. Not only that, but it's also automatically compatible with mobile display systems, so you won't need to worry about how it would look on your viewer's phones.
You won't need to do any coding, and it's compatible with almost any theme imaginable, so it really is a perfect plugin for first-time builders. Just like Elementor, Page Builder also supports live editing, so you'll be able to see your progress in real-time. And if you don't like the default way Page Builder sets up the style of your editing interface, you can change it to however you want it to look.
It even offers plenty of free themes if you're feeling uninspired or need your site to be built as quickly as possible. And the best part of it all, it's completely and utterly free, no payments, nothing. So hop onto the WordPress website and check it out.
3. Brizy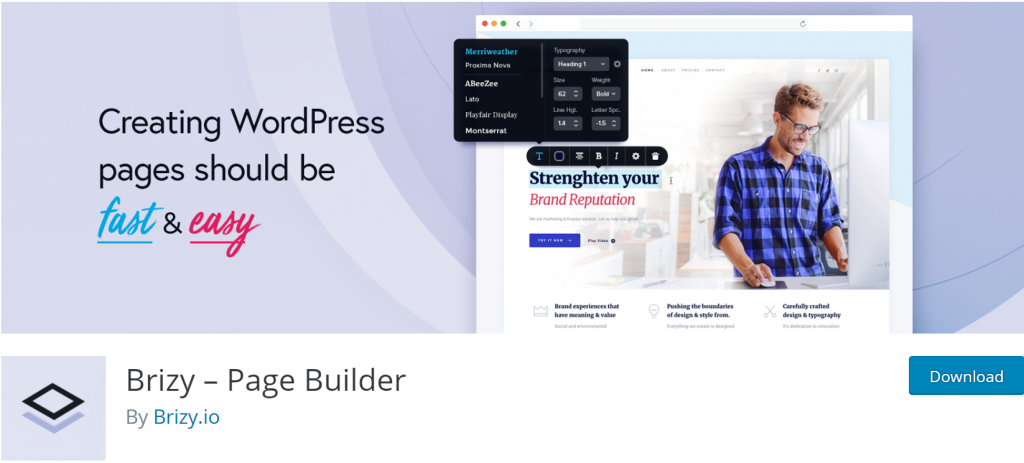 And now for something brand new, the future way of building websites. Brizy is currently skyrocketing in popularity as the next-gen website builder that offers both live and drag & drop features. And with its trendy minimalistic design, your desktop workspace will be completely clear so you can focus entirely on your work. And just like Elementor, Brizy has taken steps to evolve into a better page builder with the introduction of the drag & drop feature.
No longer will you need to be a coding expert to simply build your blog site. With Brizy, anyone can become an expert web developer and personally perfect their website. And you don't lack visual aides either. With over 4000 icons at your disposal, you can really go crazy with customization.
Brizy also offers a global styling feature that allows you to edit similar color patterns on the entirety of your website at the same time.  You won't need to worry about mobile views either, as Brizy has a one-click solution from which you can switch between mobile and web views to check if everything's working as it should.
4. WordPress Page Builder – Beaver Builder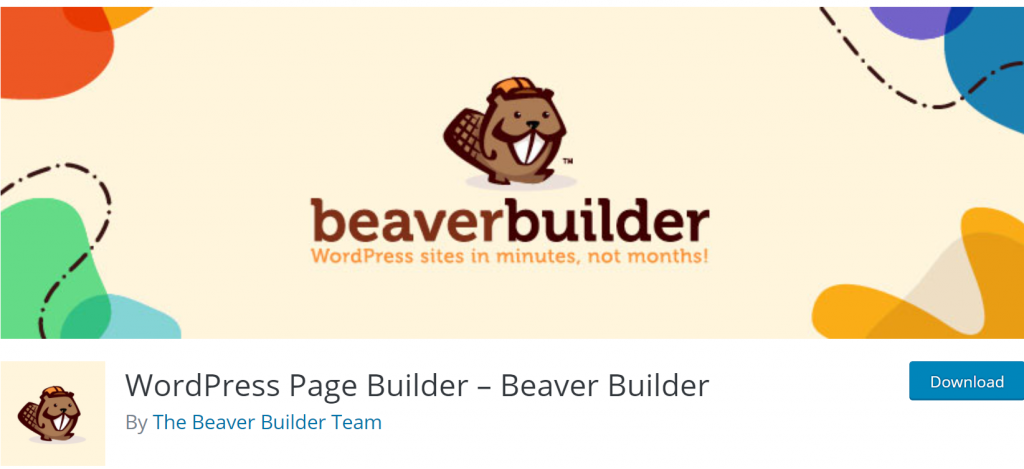 If you are looking for some lightweight building tools, look no further than Beaver Builder. Beaver builder is a frontend drag & drop webpage builder that focuses on providing easy access to website creation to people just starting out their blogs. Its simplicity is the key feature of Beaver Builder, as it provides no-nonsense page building support with column-based layout and general WordPress widget support.
Just like any other modern page builder, it's mobile-friendly and offers extensive text and image editors. The only downside is that it does hide most community support behind a premium paywall, as well as some of its features you might find necessary.
Final Thoughts
When it comes to contemporary website building, there probably are no rivals to Elementor as it sports an all-in-one package that really covers everything. But it's important to note, that doesn't mean Elementor's a necessity; instead, there are plenty of alternatives you could employ that are easier to use, put less weight onto your memory and processing power, and have a  more specialized use. After all, why use a nuclear submarine for a job a canoe can do.