SEM(Search Engine Marketing) is the practice of increasing search exposure via the use of sponsored techniques. Previously, search engine marketing was used to refer to both search engine optimization (SEO) and sponsored search. However, it today almost invariably relates to paid search marketing.
Brands use SEM to purchase for advertisements to display as search results on search engine results pages. They target certain keywords so that when a person searches for such phrases, an ad from the brand appears. The business only pays for the ad if the visitor clicks the link.
Paid search advertisements may be featured on nearly every search results page. They carry an "Ad" label to inform users that it is a sponsored advertisement. SEM software delivers useful information that can assist you in growing your internet presence in an intensely challenging industry.
These tools can be used by website owners to study successful keywords, arrange budgets for online advertising campaigns, and assess online marketing outcomes.
A solid strategy is required to support your marketing efforts, and the best method to construct clever SEM campaigns is to use the correct tools. However, there are several solutions available, all of which are widely obtainable. We are here to assist you in identifying suitable SEM tools for your advertising strategy.
Semrush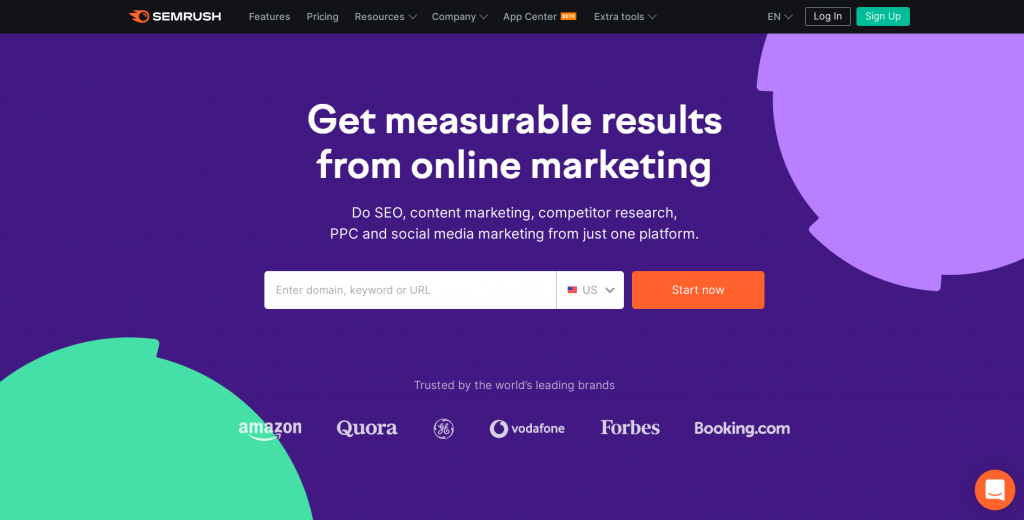 Semrush, being one of the main SEM tools, assists digital marketers in laying a solid basis for their SEM profile. This tool allows you to perform keyword research, keyword rank tracking, competition backlink audits, site audits, traffic analysis, and page analytics, to name a few things.
It provides all-inclusive digital marketing and SEO services. Over 40 tools are available to help you manage PPC, SEO, and SMM operations. You can do rival website analysis, social media conversion evaluation, position analysis, and other tasks with digital marketing tools. In addition, the Guru edition includes a content marketing strategy, customized reports, and statistical data.
Features
Produce between 3,000 and 10,000 reports every day.
Display between 10,000 and 50,000 results per report.
Metrics for keywords
Product listing advertisements
Analyzing past data
Pricing
There are three distinct price bundles available. The Pro edition, which costs $119.95 a month, is appropriate for entrepreneurs, freelancers, and digital marketing gurus on a tight budget. The Guru edition, which costs $229.95 per month and is aimed at small and medium-sized digital marketing businesses.
The Business edition, which is aimed at major marketing firms and e-commerce website owners, costs $449.95 per month. For up to 7 days, you can experience the program for free.
WordStream

WordStream, as an advertising management tool, can assist you in researching, measuring, and optimizing your adverts for performance. It places a major emphasis on assisting you in obtaining rapid victories and reducing the time spent inside your account.
You can activate the "20 Minute Work Week" process, which includes 9 pre-defined tasks, using WordStream Advisor. As the name implies, you can improve your account, complete your reports, and create fresh ad creative in as little as 20 minutes every week. The program will also assess your PPC campaigns and offer suggestions on how to enhance them.
You can also create campaigns, discover good and negative phrases, and change your expenditure. You can also use the system to design optimal landing pages, as well as track and produce reports based on conversion and call statistics.
Features
Ad maker who is astute
Keyword research software
Monitoring the conversion and the source
Technical manual
Pricing
WordStream is offered in a variety of pricing bundles. The WordStream Advisor costs $49 per month and includes features such as website reporting, conversion monitoring, and a landing page builder. WordStream SEM is geared for small enterprises and digital marketing specialists. Individuals and modest blog sites mostly cannot handle the pricing bundles.
Optmyzr

Optmyzr provides significantly more complex capabilities for planning and implementing campaigns in scale for agencies or marketers with higher budgets, an interest in running several PPC ads, or anybody who just wants more automated capabilities.
The application, like WordStream, allows you to start, monitor, and administer PPC ads across several platforms. Optmyzr claims that all of its versions allow customers to automate scripts, alerts, and statistics. Each subscription also includes biennial product training classes with Optmyzr representatives.
The application employs cutting-edge machine learning algorithms to rapidly improve ad campaigns and establish a sound digital marketing plan. You can do keyword research and then identify the good and negative terms that will greatly affect your marketing strategy.
Its 1-click optimization feature, in particular, allows you to import and develop campaigns in volume from datasets like spreadsheets or third-party connections. Once you've uploaded your data, you can utilize specific requirements, such as "branding" or "item," to produce names and other ad components automatically.
Optmyzr, which is used by well-known multinational businesses like Airbnb and Adidas, also allows users to assess their weekly campaign success and determine bid modifications to maximize ROI.
Features
Optimization of digital campaigns
Insights from data
Reports that are customized
Workflows for custom digital marketing
Scripts for the Flexible Rule Engine/PPC
Pricing
Optmyzr offers a variety of paid services beginning at $249 per month.
SpyFu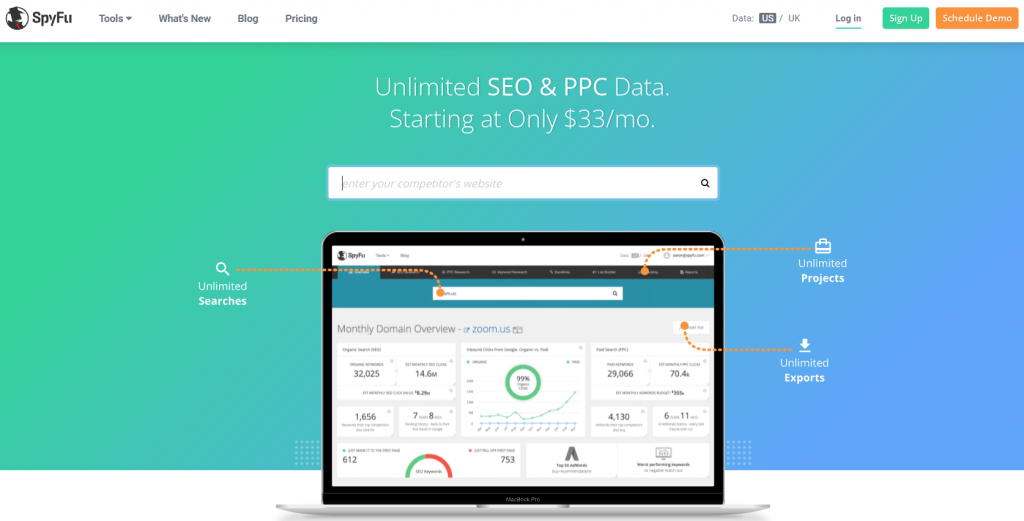 This tool is great for researching rivals' digital marketing activities to uncover effective keywords and advertising. SpyFu will inform you of hundreds of statistics once you explore a domain.
For example, the amount of keywords for which your chosen domain presently ranks on Google, using both SEO and PPC.
You'll also see every Adwords keyword the company has purchased, every organic keyword that they have placed for, and every ad variant they've had in the previous 12 years. SpyFu provides intelligent suggestions that can drive clicks to your SEO or Adwords ads based on the number of inbound links for this domain.
There are various tools available to track SEO and sponsored ranks on search engines like Google, Yahoo, and Bing. Any problematic keywords found are removed, leaving you with the greatest keyword options available. The best thing is that no testing is required for keyword research. You can learn from your rivals' mistakes by studying past successes and failures.
Its software aids in the transformation of Adwords data and Google search outcomes into meaningful responses that disclose new prospects for marketers, allowing them to create effective promotional plans and produce sales.
Features
Examine your competitor's keywords
Take a look at your competitors' digital advertisements and organic search results
Searches are unlimited
Exports are unlimited
Pricing
SpyFu comes in three distinct bundles (annual and monthly plans). The basic plan costs around $39 per month and includes limitless query results, site summary, data processing, domain and marketing lead connections, and weekly keywords. More sales opportunities and keyword results are supported by the Professional and Team editions.
Conclusion
In an extremely competitive economy, search engine marketing, or SEM, is one of the most successful tactics to expand your organization. With thousands of companies battling for the same audiences, internet advertising has never been more vital, and search engine marketing is the most efficient approach to showcase your items and develop your brand.
SEM tools aid in the improvement of the efficacy of digital marketing efforts. There are several sorts of tools, each with its own set of characteristics ranging from simple to advanced.
You should experiment with integrating these SEM technologies into your search engine marketing process. You'll reduce time, improve the efficiency of your sponsored search efforts, and get more accomplished for your customers.