Covid-19 has changed the way businesses collaborate, and demand for video conferencing solutions has increased by 500%. The selection of applications and their costs on the market is so overwhelming that it is challenging to find an ideal solution for a small business. We've put together a selection of the best video conferencing tools that can fulfill all your needs.
How Do Video Conferencing Solutions Differ from Other Tools?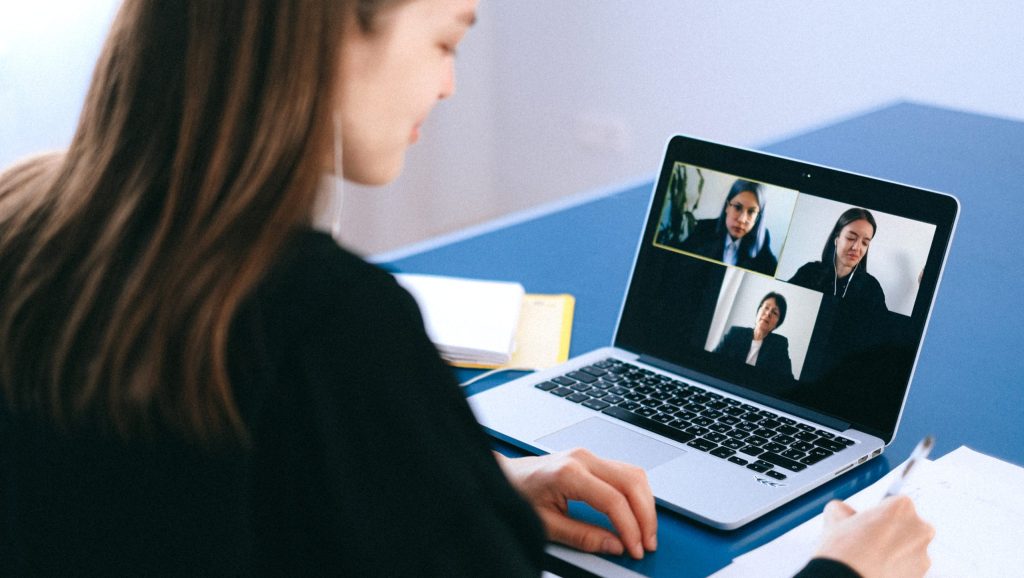 Video conferencing is becoming a universal communication tool for conducting remote meetings in any business environment. Small businesses use it for solving internal corporate tasks and implementing external interactions.
Video conferencing solutions for small business demonstrates their effectiveness during negotiations with partners, personnel training, conducting meetings, brainstorming sessions, focus groups, and collective discussions. It is often used for press conferences and product presentations to potential customers.
This is achieved with more advanced and flexible functionality and features not typically found in an average video-conferencing application. It is more than just a group call with colleagues or friends.
For these purposes, you can just stick to FaceTime or WhatsApp. However, it is more suitable for personal needs and cannot provide professional solutions. In addition, there are strict limitations on the number of people you can interact with via these applications.
Video conferencing solutions for small businesses typically offer:
Voice Over Internet Protocol
High video quality
Screen sharing
Chat
Video recording capability
Brand integration
File sharing
Enhanced security protocols
Various services provide additional features that make video conferencing even more convenient.
Whoosh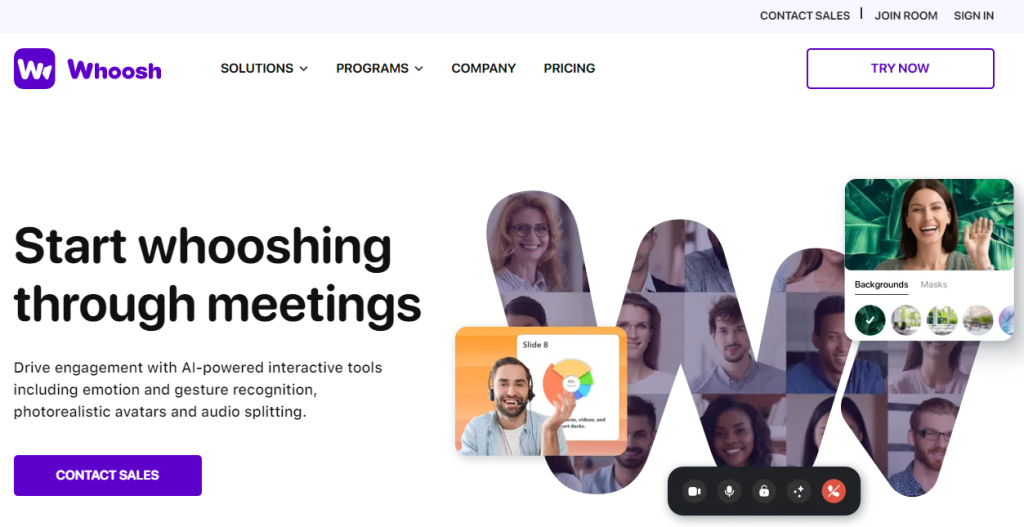 Whoosh is an innovative video conferencing service based on artificial intelligence. It is ideal for small businesses due to multiplatform support, integrations with other applications, and the ability to conduct essential talks, presentations, and business meetings without external instruments.
You no longer need a whiteboard for brainstorming or presentations — the intuitive and user-friendly interface and functionality allow you to conduct everything online with Whoosh. You can eliminate background noise and have productive meetings with your team from any location.
Those who couldn't attend the meeting can always get a recording and a text brief created by the AI. In symbiosis with the text transcription feature, Whoosh offers your colleagues and partners clear notes to ensure they didn't miss anything.
You no longer need to hold a meeting with a notepad — all the mementos will be on your device. The auto splitting feature lets your employees discuss relevant topics without interrupting the keynote speaker and listening to their speech.
Team it up with gesture recognition, 3D virtual backgrounds, weatherman function, avatar creation, and filters, and you're sure to have the perfect video conference solution for small businesses. You can get it for free or enhance your team collaboration for only $12/month.
Zoom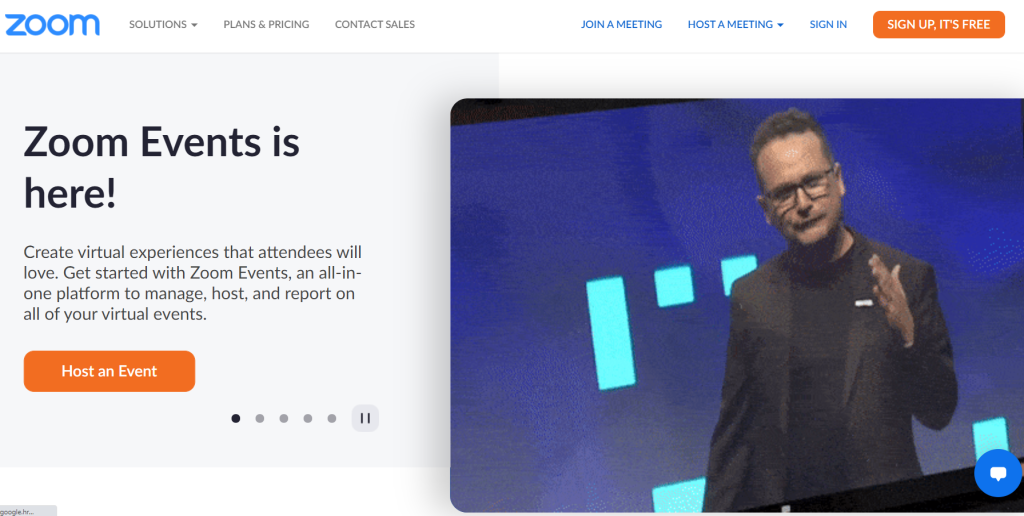 Everyone has been talking about this video conferencing program since the first months of the pandemic. You can meet up with 100 people when you use Zoom for free. However, be ready to hang up after 40 minutes when more than two participants are on a call.
The solution is fast, user-friendly, and focuses on scheduling meetings (an integration with calendars allows you to send invitations automatically to all participants). It's ideal for contacts outside the company as Zoom has the feature of adding people via regular phone numbers if the app is not installed on the device.
Like Whoosh, this video conferencing solution offers the ability to share users' screens and conduct presentations. If the features of the free version are not enough for your small business, you can buy a package at $20 per month.
Webex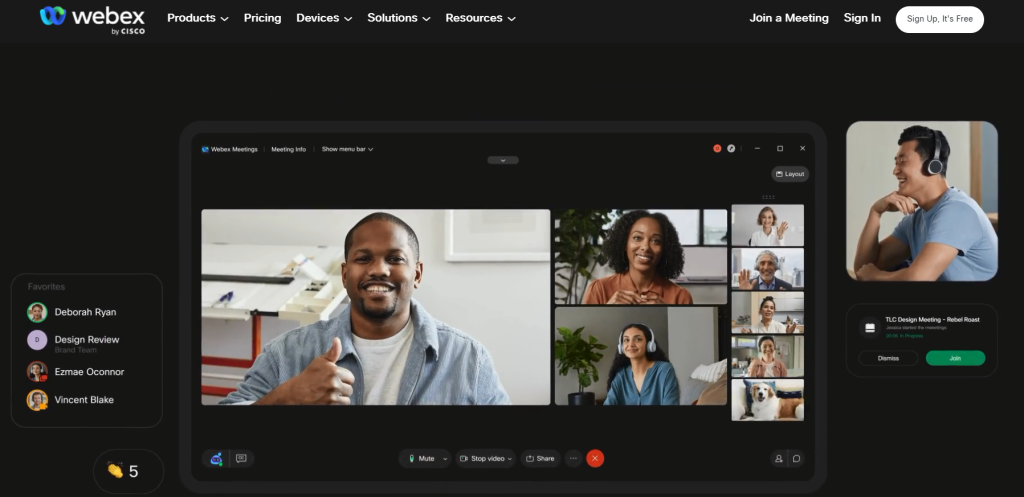 Webex is a cloud-based service for video conferencing, allowing participants to share information anywhere and on any device. With it, you can work together on documents, presentations, and applications in real-time with audio and video streaming from all participants.
Webex also offers a text transcription feature to create a call brief. With calendar integration, you can easily schedule meetings and manage your time efficiently without having to open unnecessary tabs.
Teams can easily brainstorm and generate new ideas on the whiteboard with this solution. Webex has a free version for up to 100 people with limited features, but you can get extended functionality for just $13.5 per month.
Google Meet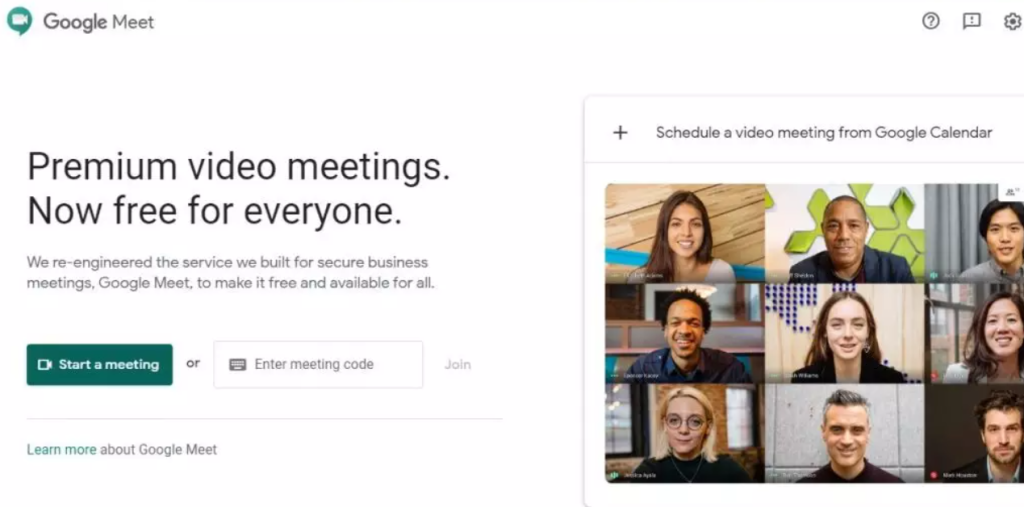 Meet offers a simple and efficient way to video chat with colleagues, provided that everyone has Google accounts. The solution is positioned as an application with a high security and data protection level and focuses specifically on the business segment.
It is possible to organize a meeting, connect up to 250 participants, share the screen, and show presentations. There's also an ability to launch live streaming for up to 100,000 participants. Thanks to the speech recognition function, it is possible to display subtitles on the screen.
You can use the program both from your phone and computer and join a call from a phone number. Do we need to mention that the service integrates all components of Google Workspace? The paid version with extended functionality will cost you $8 per month.
Zoho Meeting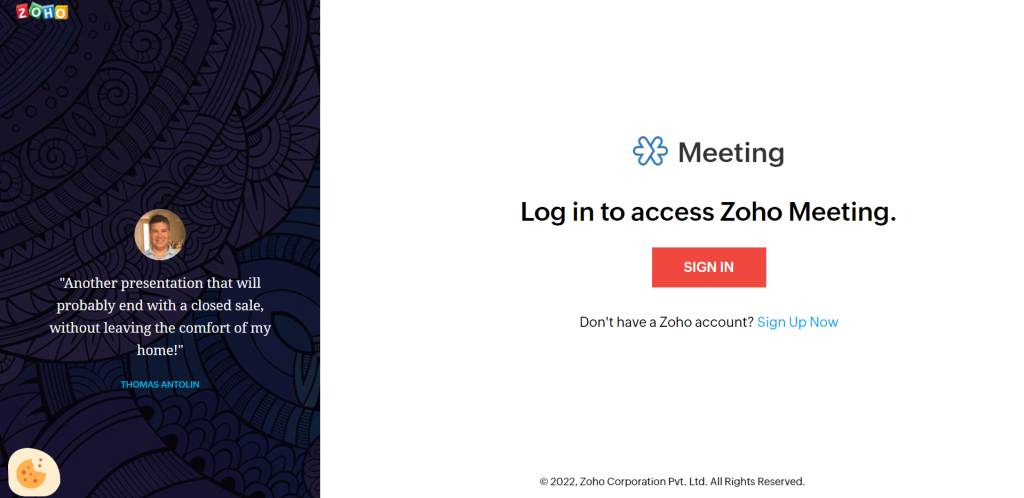 Zoho Meet is a reliable and cost-efficient browser-based solution for online conferences, webinars, and other online events with tools for participant registration, voting and polling, broadcast recording, and audience analytics.
You can use it on iOS and Android devices. Share a screen, chat and interact with your peers with multiple integrations for from just zero to $19 per month. If the number of attendees exceeds 250, Zoho will offer you another plan.
Final Thoughts
We have offered you the top-notch video conferencing services to take your small business interaction to the next level. You can look beyond these services, but these options provide the perfect video conferencing solutions for small businesses regarding price-performance ratio.