Creating and running an eCommerce business has been made a lot easier thanks to platforms such as Shopify and its great App Store. With thousands of apps present there, you have a lot of options when it comes to making your online retail business more manageable and functional.
Adding many apps can be expensive, and if you have a tight budget, you might think that your options are rather limited. However, hundreds of great and useful apps are either entirely free or have useful and usable free plans for you to choose from.
Whether you want to add product reviews, better your engagement with customers, want to grow a dropshipping business, or just want to make your shop have better SEO optimization, here are 5 free options for you.
1. Oberlo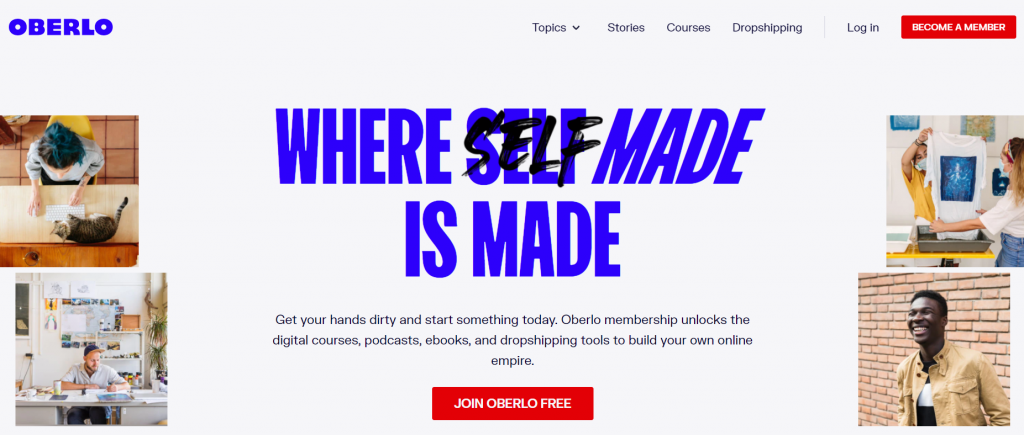 Oberlo is one of the best apps when it comes to dropshipping on Shopify. Are you just starting with dropshipping, or are you an experienced seller who wants a wider array of products to sell? Either way, Oberlo is for you.
Oberlo makes it very easy to search for new, hot, and high-potential products. After you have found your desired products, you have the option of customizing them before adding them directly to your store in a few clicks.
Ever bought a product just for it to sit in your digital warehouse with no buyers? Oberlo can help you with this. You can test how well a product will sell without paying upfront. You sell the product first and only then purchase it, so you don't have to pay the supplier until the customer pays you.
This app also has a beginner-friendly Dropshipping 101 course to help all of the new sellers with their dropshipping business. It will help you get familiar with dropshipping basics and make your first dropshipping store from scratch.
2. Shopify Email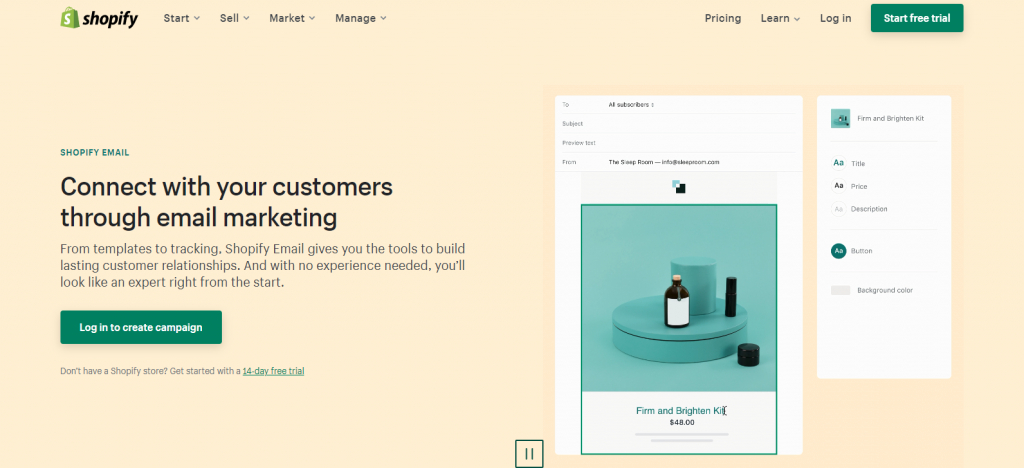 If you would like to use email to promote your business, then this app, Shopify Email, is just for you. The main goal of the app is to help you create an email list and manage your campaigns.
Using Shopify Email, you can send branded emails to thousands of your subscribers for free from your Shopify admin dashboard.
Unsure what design you want for the email? No worries, Shopify Email has a lot of templates that automatically pull your logo, product images, descriptions, pricing, and URLs from your store.
You can also create and send your campaigns and receive valuable data, such as clicks, opens, add-to carts, and purchases, to help you further optimize your store and customer retention. In the free plan, you get 2,500 free emails per month, and after that, it costs 1$ per 1,000 emails.
3. Sales Notification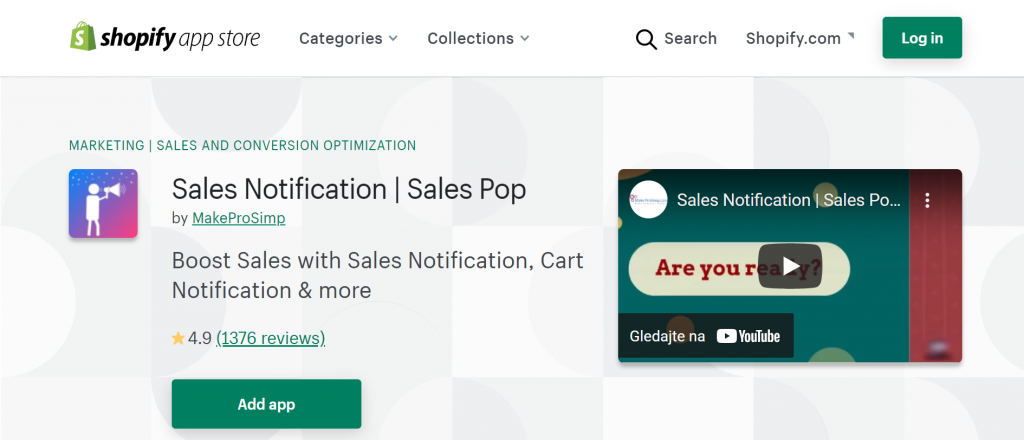 Sales Notification or Sales Pop is one of the best ways to boost your store's sales by displaying sales and offer notifications to all of your visitors. This helps boost trust in your store as the visitors can see what your customers a purchasing, and they will be more likely to trust and buy from your store.
The app allows you to set up and customize many different notifications. You can have a notification when someone adds an item to their cart. This also helps with sites that don't display sales and orders to visitors, as it makes your site look busy and builds social proof.
What if you are running a small shop that doesn't have that high of a sales volume? Do not worry. You can also display visitor notifications to make it look busy and genuine.
This app is all about building trust and a sense of urgency for your visitors. If a visitor is pondering about buying an item from your store and they see a lot of people are ordering it and adding it to their carts, they will want to join in on the deal as well.
4. Product Reviews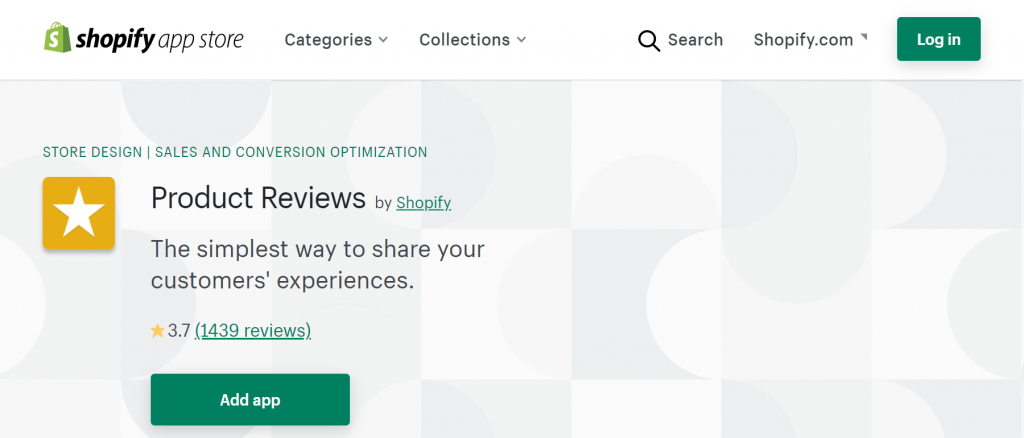 One of the most popular and needed features of any store is the ability for users to see the rating and reviews of the product. This not only helps the potential buyer make a better choice, which in turn will make their purchase more satisfactory, but it also helps you, the seller, as well.
When you have Product Reviews, it helps build trust with potential buyers. They will be able to read many reviews and make an informed decision which in turn leaves a good impression of your store as reliable and trustworthy in times when users are unsure if a store is a fraud or a legit one.
It gives you a lot of options on how to customize the review tab, publish, hide, filter, and manage the reviews. For data purposes, you can also export the reviews as a spreadsheet.
Lastly, this app is SEO-friendly, allowing you to add your product review scores in a Google search. When customers look up a product online, your reviews and scores can encourage click-through to land customers who might have been out of your reach previously.
5. Plug in SEO Optimizer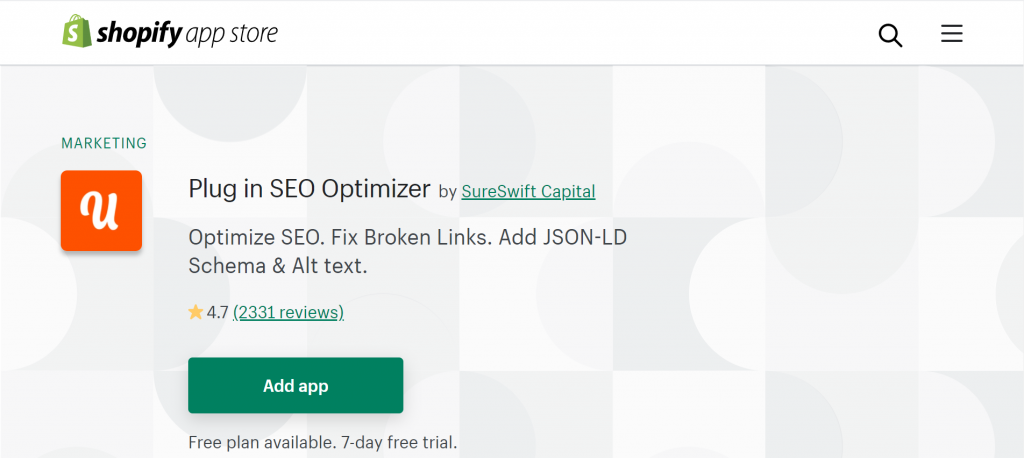 While advertising is a great way of spreading the good word about your online shop and increasing its sales, you also want to grow your shop's traffic organically. What better way to do this than to place yourself higher on the search list. You might wonder, how can I do this with my eCommerce site? It's simple, with the help of our next app, Plug in SEO Optimizer.
With its friendly and easy-to-use interface, this helpful app is one of the best ways to do SEO optimization for your store. With its templating technology, it allows you to quickly bulk edit meta titles and meta descriptions for 100s or 1000s of products in a matter of few minutes.
It also allows you the see keywords that have a high ranking and that drive the users towards your shop. With its integrated Google Search Console, it allows you to track rankings and traffic analytics. Also, it allows you to easily detect and fix broken links and set up 301 permanent redirects in one click.
Conclusion
As you can see, there are many great options when it comes to helpful Shopify apps. Whether you want help with engaging your customers and incentivizing them to make a purchase, displaying useful marketing and visitation data, or an easier way to set up your shop in general, Shopify has an app for that.
All of the apps from this list will help you with that and more, and all of them have great and usable free plans/options to chose from. And remember, if you ever need more options from these apps, you can always check what their paid plans offer.