Whether you're writing an email to someone or creating a travel blog, grammatical and spelling mistakes are out of the question if you want to provide users with quality content. Such mistakes are unacceptable and can damage the entire reputation of your company or website. If your website has a lot of errors, then the visitor's interest can drop drastically.
Grammar is perhaps one of the most critical factors contributing to the quality of your content, and that is why more and more companies are opting to use grammar checks. Why do we need grammar checking tools? Precisely because we are all created to make mistakes, even those who consider themselves the most experienced.
The process of proofreading your texts or articles can often lead to errors because we can all try to be hasty in order to publish something faster. The solution for such and similar cases is a grammar checking tool. We'll present you with a list of the top 5 we could find.
1. Grammarly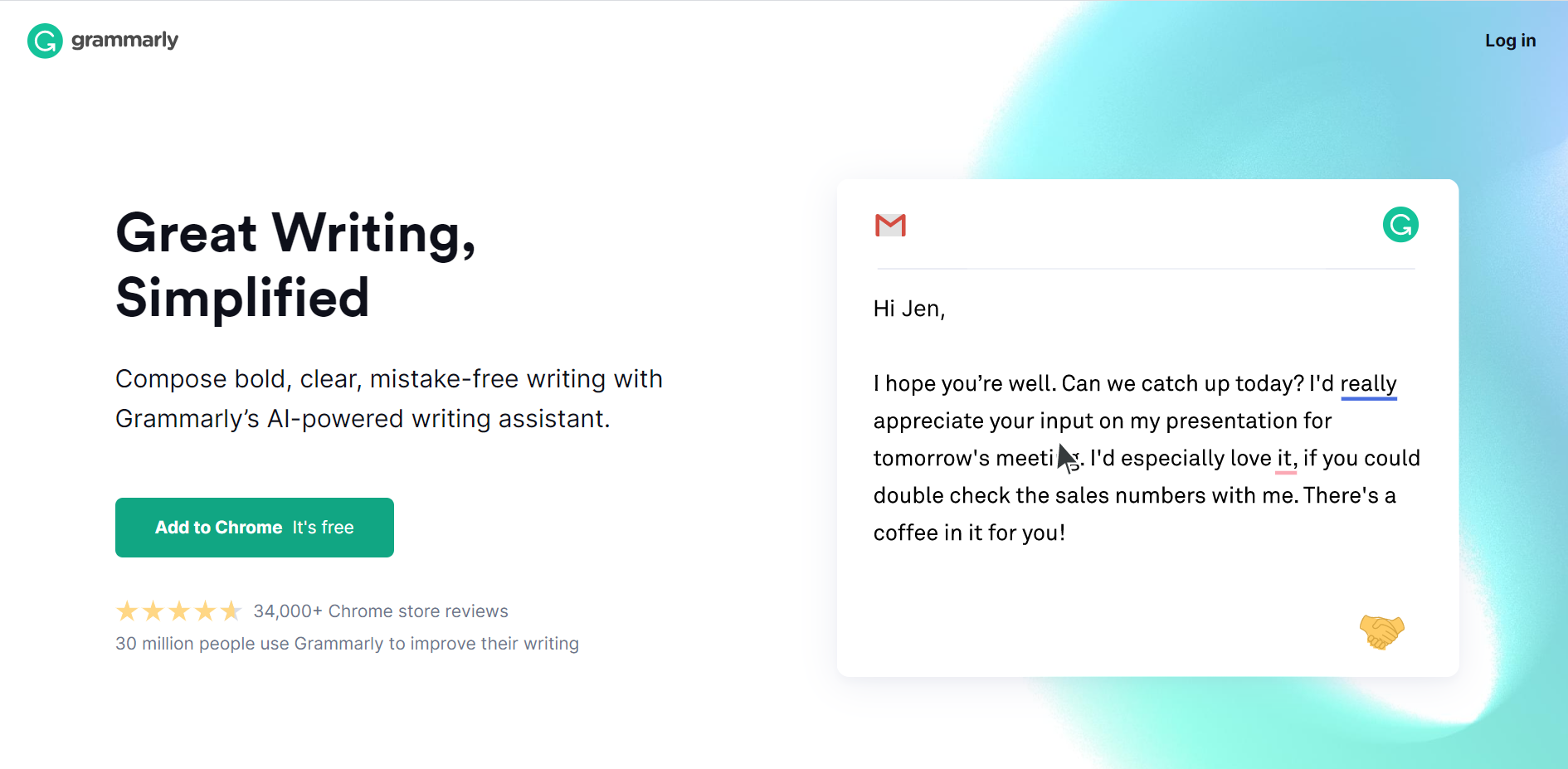 We start from the one that many praise as the best, so let's find out why. Not only is it the most popular and best tool, but it also offers excellent integrations with WordPress and other programs designed for writing. Grammarly is designed to tweak your grammar and spelling based on what you've already written.
It recognizes weak adjectives, misspelled words, missing commas, or commas used in the wrong place, and explains the proposed revision. This way, you can improve your writing and sentence structuring skills. The most important thing to mention is that the Chrome browser extension is free. And it's also possible to download a version that works for Windows and Mac.
If you choose to upgrade from the free version, you'll access many features like advanced context settings, marking the wrong words in red, and even checking for plagiarism. Everything you do with this tool is stored, and you have access to all the files from anywhere. Its excellence is also evident in the fact that more than 15 million people use it.
2. Linguix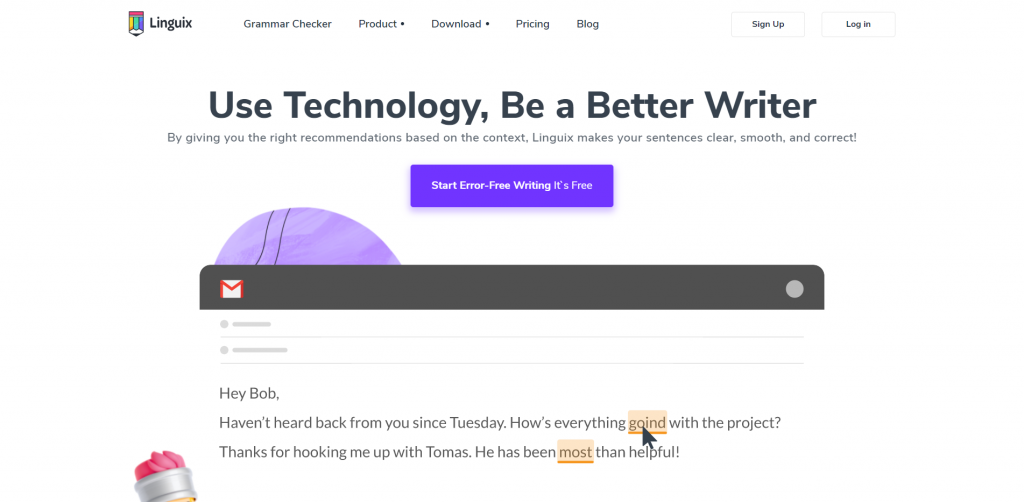 Linguix is a tool that performs simple spell checks and contains advanced corrections that provide a solution to thousands of problems, from grammar to writing style. It offers detailed explanations for frequently repeated mistakes and makes recommendations for them to make your works academically acceptable and enjoyable to read.
When using Linguix, you have the option of using a personal writing assistant, aided by AI technology, which helps you avoid bad spelling and mistakes. The ability to expand for specific search engines enables you to solve problems in real-time on any website. You can also access audience statistics, such as reading time or readability ratings, so that you can better your next text.
If you have sensitive content, you will undoubtedly be able to edit these types of texts with this tool, using the private mode for web applications. It integrates with Gmail, WordPress, Medium, and other applications so you can write on different platforms without worry. It comes in three options – free, premium and business version, according to users' needs.
3. Jetpack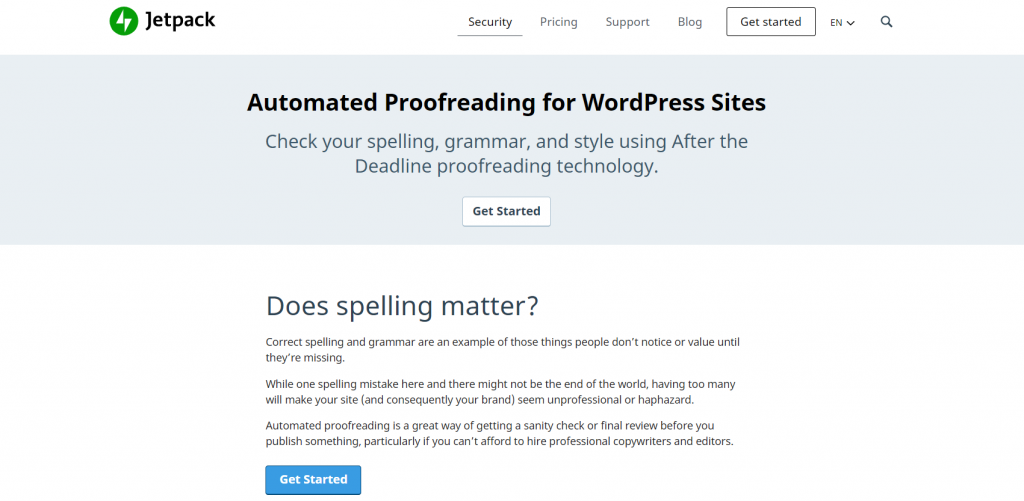 Another more popular tool that can be integrated with WordPress is Jetpack. It offers many modules, such as adding a proofreading option to WordPress's text and post editor. It will instantly recognize the mistakes you made while writing and highlight them in different colors. Red indicates spelling mistakes and green grammatical ones.
You can use it on pretty much anything from social networks all the way to security tools. It uses a technology called After the Deadline that makes checking spelling, style, and grammar much easier. In addition to the primary function of this tool, it is recognizable for its SEO, security, and social media features.
There are two style options; checking phrases and language complexity. Plus, this one can work for you even if English isn't your first language as it supports German, French, Spanish, and Portuguese. In short – Jetpack encompasses everything.
4. Ginger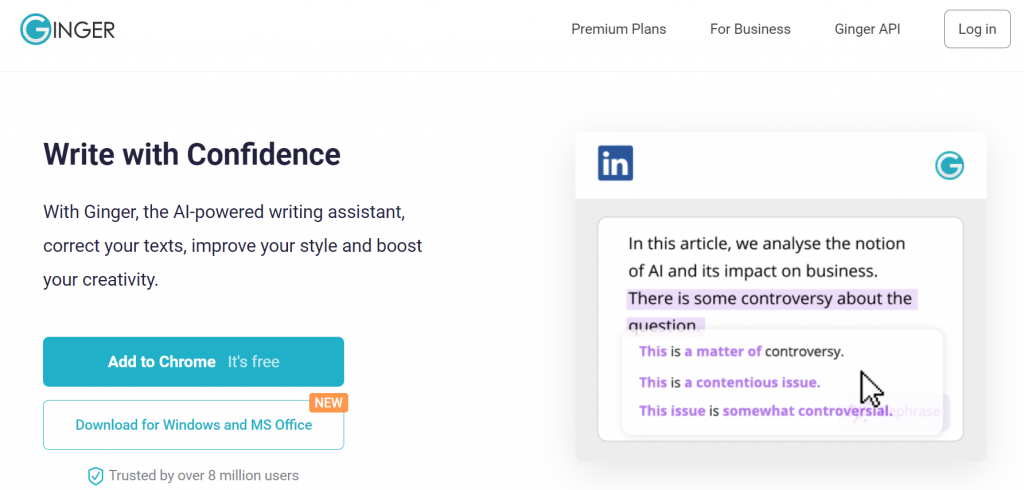 With an exciting name, this tool has arrived on our list. Ginger is an excellent tool for checking the grammar of your texts. It highlights your grammatical errors, poorly used punctuation marks, spelling, and can rewrite sentences and translate them. Once you install it on your browser, a red icon appears when typing a specific text if an error is detected.
When you work with Ginger, every mistake you make will be highlighted in blue. Much like Grammarly, you can see synonymous suggestions for specific words. However, Ginger is compatible exclusively with the WordPress text editor.
It is effortless to use and can, to an extent, serve as a personal trainer that helps you master and improve your English. You can use it on different devices, whether it be from a mobile phone or a computer. It is also ideal for users who are still working on their English, as it can translate your texts into over 50 languages.
5. LanguageTool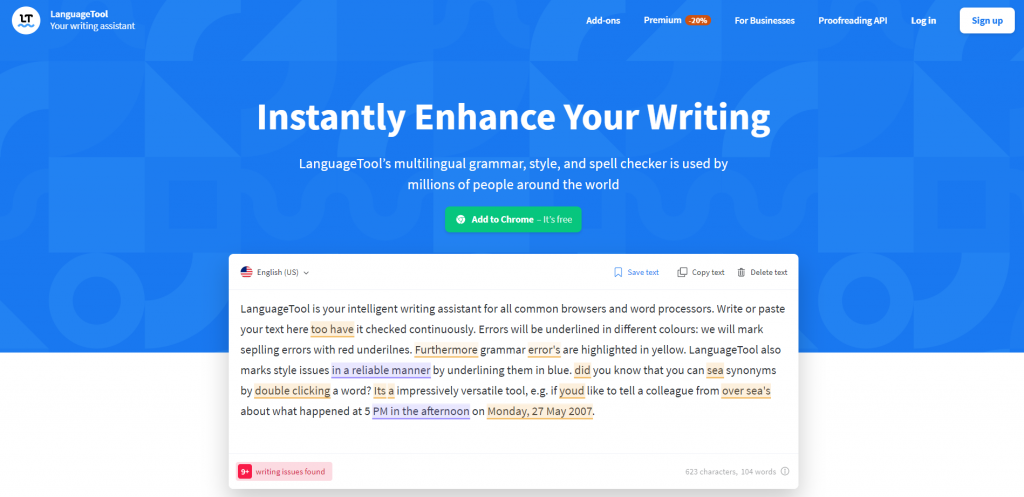 One solution you can use to check for grammatical errors is a handy spell checker called LanguageTool. As its name suggests, this tool is multilingual and supports a massive library of languages, from Greek and Persian to Asturian and Japanese.
It is one of the most powerful tools on the market in terms of language support; it contains online grammar checking if you decide to expand on Chrome. You can access it via your mobile phone or the web, and it integrates easily with Chrome, Firefox, GoogleDocs, and LibreOffice.
It contains the option of proofreading with more than 1000 samples for error detection, with different spelling and grammar checking. You can find all the essential functions in the free version with a limit of 20,000 characters per text, while in the paid version, you have many more options and space for word processing.
Final Thoughts
Writing has always been the art of putting together words and sentences into meaningful wholes, while grammar makes them perfect and universally understood. If you don't know which tool is ideal for you, we'll list a few things to look out for when choosing.
Pay attention to tool compatibility, accuracy, and precision when determining errors, statistical reviews, prices, features offered, and integration options with other programs. In this way, we will point out the Linguix tool, which, judging by its features, occupies the number 1 position in overcoming spelling issues when writing texts.
Keep in mind that no tool can truly replace good-old-fashioned proofreading.