PDFs (Portable Document Files) are predominately used in business, academia, and for other purposes. So, it is crucial to invest in a quality PDF editor with all the right tools.
Good PDF editors let you create, annotate, convert, organize, and sign PDFs. If you were searching for PDF editors, you might have heard of PDF Expert.
What is PDF Expert?
PDF Expert is a tool that helps you create, edit, read and annotate PDF files. It lets you fill out PDF forms and sign contracts with a personal electronic signature.
You can share documents, highlight text, make notes, collaborate with team members, enable comments and protect your data with passwords. You can merge documents into a single PDF file and export pages to create new documents. You can upload, adjust, replace images, add links and convert PDF files to other formats.
However, PDF Expert might not cater to everyone's needs. So, if you are looking for a great alternative, check out UPDF.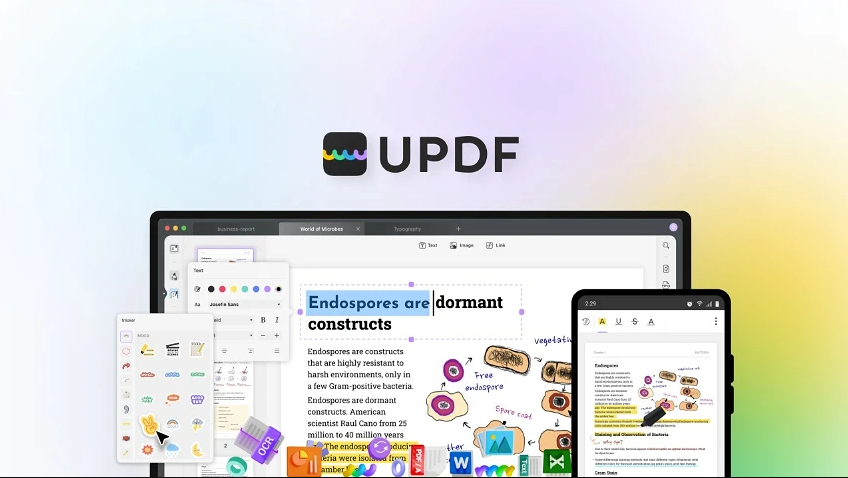 UPDF lets you edit, convert, annotate, and organize PDF files with OCR across iOS, macOS, Windows, and Android devices.
One purchase works for all platforms, so there is no need for separate purchases. You can convert PDFs to Excel, Word, PowerPoint, HTML, CSV, image, text, and more. You get every tool you need and won't lose any formats. You can add, rotate, crop, extract and replace images. You can add text and pick the font, size, and color.
You can also add links, watermarks, and crop pages to the ideal size.
UPDF is integrated with AI-powered OCR technology that can recognize over 30 languages, including English, German, French, Italian, Chinese, Japanese, Spanish, Russian, Swedish, Turkish, and more.
You can protect your PDF by adding open and permission passwords. These passwords can restrict access to the PDF, copying, editing, and printing. If your files are scanned or image-based, OCR will recognize and extract any text.
UPDF makes organization easy. You can flatten PDF files and rearrange, extract, rotate, split, insert, crop, and delete pages.
You can quickly review and annotate documents, highlight, strike out, and underline text and add text boxes, stickers, stamps, shapes, and sticky notes.
If you want to add a signature, you can sign your PDF with a mouse, trackpad, or keyboard.
UPDF is an offline editor, but you need an internet connection to authorize your account. After authorization, you can use it offline whenever and wherever you want.
It works on iOS and is Android device friendly.
It is ideal for small businesses, consultants, and educators and is an alternative to PDF Expert, Adobe Acrobat Pro, ABBYY FineReader, and Adobe Acrobat Reader.
Final Words
If you want professional, fully customizable PDFs that stand out, UPDF is the tool for you. It is intuitive and gives you freedom when editing, converting, annotating, and organizing PDF files.
You can add images, and stickers, pick fonts, colors, and more. Plus, it supports over 30 languages. You can add your signature to any file, password-protect it if necessary, and you get lifetime access to the copy you bought.
If you are looking for a PDF Expert alternative and an overall incredible PDF editor, look no further than UPDF.