Links are a fundamental part of every website; however simple the site is. They are references to the data available on the website, which makes them the foundation of the Internet and a crucial component of website optimization.
The opening speed and safety of links are the pillars of a well-functioning WordPress website that affects its traffic and SEO. Broken and unsafe links will drive the visitors away from the website, and most likely suggest that the website's hosts are either unprofessional or that the page is simply neglected or forgotten about.
WP Links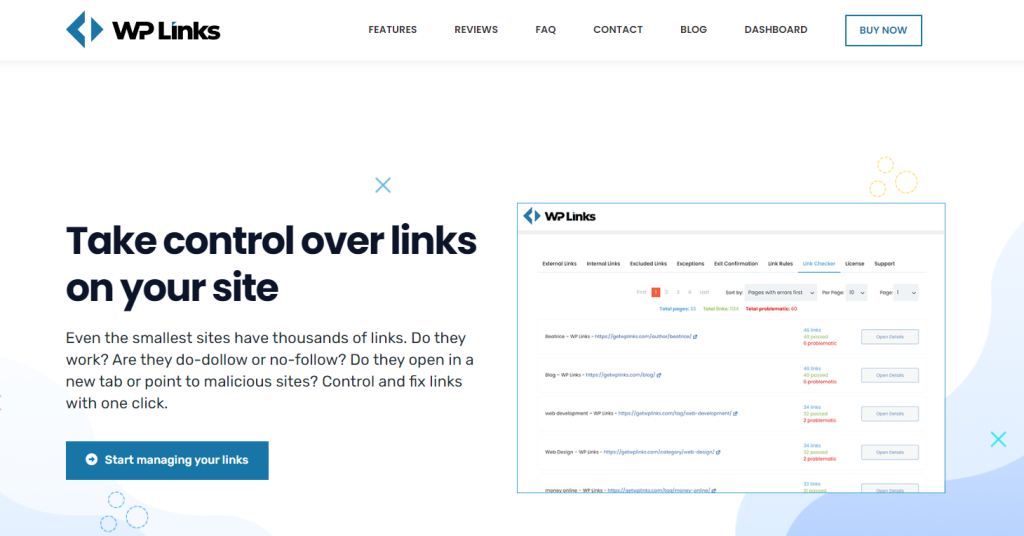 If you are looking for a set of tools that will help you take complete control of your website's links and keep all your traffic in one place, allow you to set and exit confirmation or make a full rebranding, the WP Links plugin is a perfect solution for all the maintenance considering your site's links. Let's take a more detailed look at its highlights.
Know & Control Every Link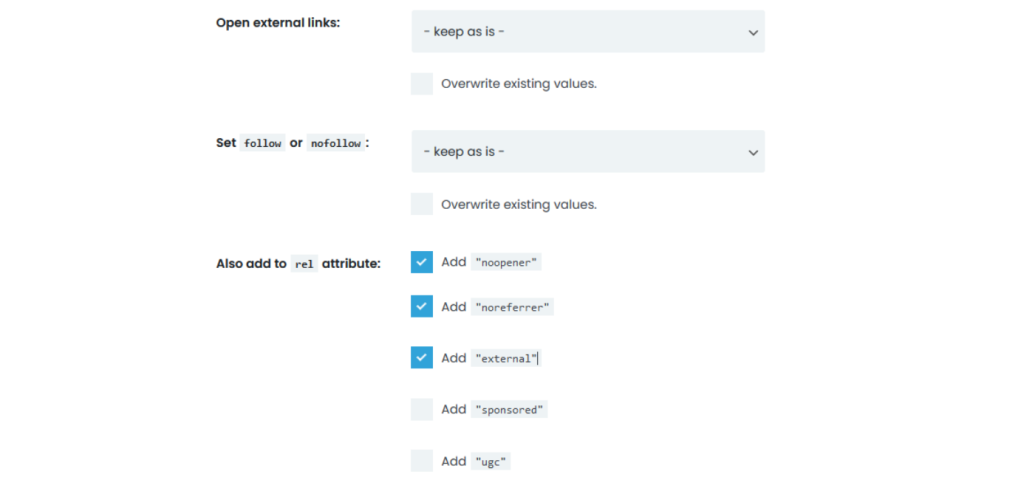 Whether you are managing External (pointing to other websites) or Internal (pointing to other pages on your site) links, WP Links allows you to adjust a number of preferences which will improve your site's functional features.
You can adjust the opening settings of both External and Internal links, whether you want them to open in the same window, tab or frame, each in a separate new window or tab, all in the same window or tab or in the topmost frame.
Keeping in mind your site's SEO and ranking on search engines, within the WP Links you can easily set whether you want the backlinks to be Follow or NoFollow. This option is available in both
External and Internal Links Menus
Another option adjustable for both External and Internal links is the relation attribute. Within the External links menu, you can add noopener – a HTML attribute that makes it impossible for the opening page to access the source page in any way, and noreferrer – a HTML attribute that stops the referrer information from being passed to the target website.
Within the External links menu, you can also add three other relation attributes – external, sponsored and user-generated content – ugc. External attribute notifies the search engines that the link leads to a domain that his not the current website, while sponsored attribute informs the search engine that your link is sponsored.
UGC attribute indicates that the content is generated by users, such as Internet forums, social networks and blogs. Basically, it will result in lowering the amount of spam on those websites.
Lastly, you can edit the link's title or URL, add a CSS class(es) to set HTML elements in order to apply a particular style and formatting, and choose the icon type. These options can be set for both External and Internal links.
Make an exception for every option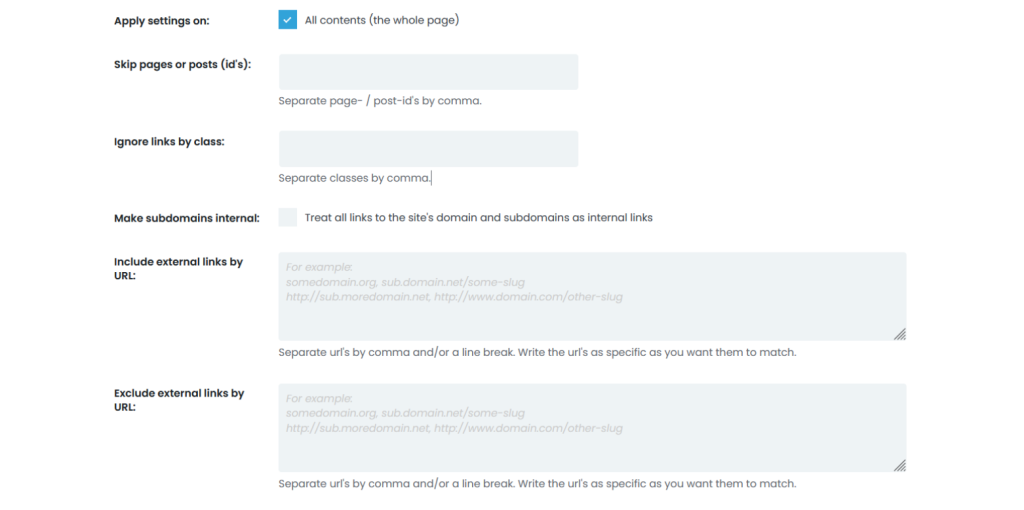 Sometimes it is not convenient for all of the website's links to behave in exact same way. Appropriately, within the Exceptions menu you can control whether you want to apply certain settings to all or only to chosen links. Whether you want to skip certain pages or posts, ignore links by class or make subdomains internal, WP Links makes it possible to adjust all those preferences manually.
You can also exclude individual external links of your choice, by setting pages or post ID, as well as a list of URLs, for which the chosen options will not apply.
Exit Confirmation Feature

Exit Confirmation is a useful popup that will alert visitors when they are about to leave your website after clicking an external link. It is completely customizable – you can set its color, title, text, font, background and even size measurements. Even the button the user clicks on is completely customizable.
Exit Confirmation feature is especially useful for websites generated by users, such as forums or blogs, where the users might want to additionally confirm that they really want to leave the page. It also serves as an additional safety warning, noticing the visitors that they have clicked on an external link and might be leaving the safe space of your website.
Link Rules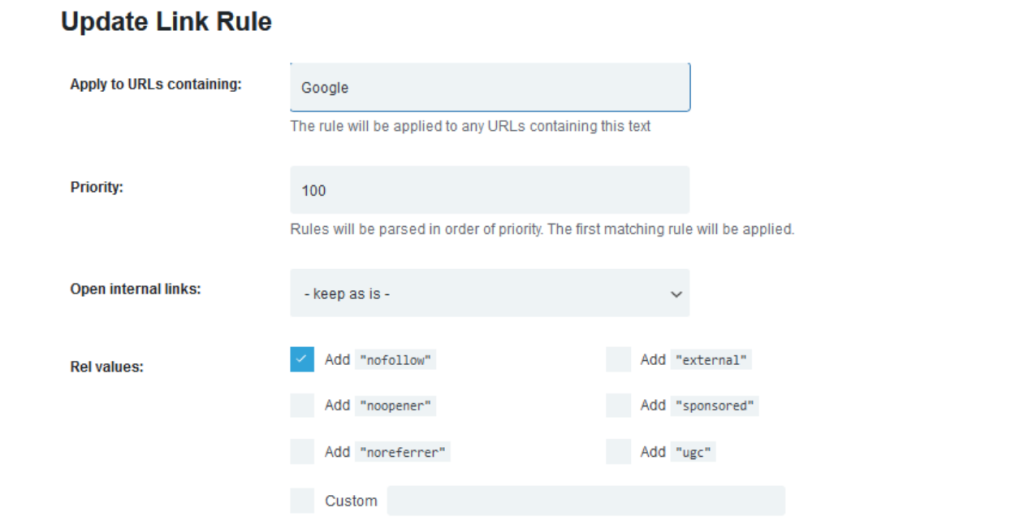 Within WP Links, you can easily set link rules, making the links behave in a certain way according to previously set keywords. Among those rules, you can set an Exit Confirmation Feature, relation values, title, and icons, as well as Follow or NoFollow backlinks feature.
For example, if the URL contains a particular word, it will be recognized and automatically accompanied by the icon that the host had previously set.
Link Checker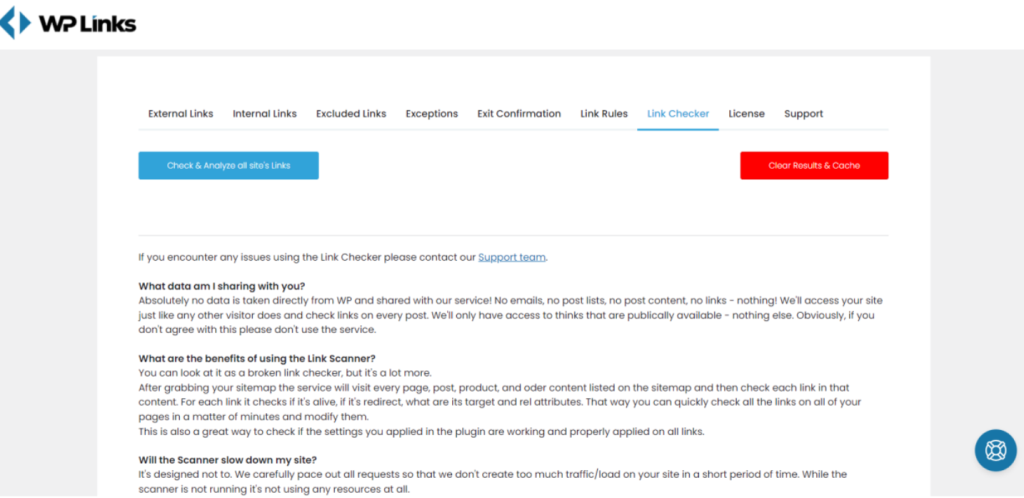 By having broken links that lead to 404 errors, your website might come off as neglected and unsafe, making your company's online presence look unprofessional or outdated. Link Checker is an advantageous feature that will scan your whole website and every single link it contains, subsequently creating a list of all broken or non-existent links, redirected links, and malicious sites.
Invalid links can be edited and fixed right away, putting your website back on track. The whole scan lasts for approximately two minutes and is designed not to slow down your site in any way.
Fast & Friendly Support Team
Have an inquiry regarding the WP Link plugin? Most of our support staff members are developers that have been involved with WP Links from the beginning. They offer prompt, friendly, and valuable support.
Perhaps you are not the first person to have the same question, so make sure to check out the FAQ page for additional information and tips.
Conclusion
According to over 200,000 satisfied users, WP Link is simple to install and use, with a set of well-configured features that will not only improve your website's functionality but also boost its SEO and ranking on search engines.
It is compatible with all themes and plugins and developed as conveniently and straightforwardly as possible, requiring no previous coding knowledge.
Apart from offering a perfect value-for-money, it is covered under a 100% Risk-Free Guarantee. If you, within seven days, decide that choosing the WP Link plugin was not quite the right choice, 100% of your money will be rightfully refunded.