JotForm is a feature-packed and straightforward form builder with hundreds of ready-made conditional forms and many third-party tool integration options. They are posing as a powerful candidate for small business users looking for a free web form builder with their free plan.
However, if you are willing to cash in, it is also a much cheaper option than many competitors in the market. In addition to its desktop version, JotForm has iPhone and Android apps available so that you can create and edit forms on the go.
JotForm is one of the first form builders to appear on the web, and during all this time, they have customized their services and brought them to perfection. They claim to have the most straightforward service, and when you start making the form, you will see why.
JotForm has a fantastic array of templates in its collection, categorized by industry and purpose, so you can easily find what you are looking for. Many of these templates come with complex fitness fields, automatically taking a lot of the burden off your shoulders. All templates are arranged on a page that automatically refreshes as you scroll it.
JotForm gives you many tools to work within a free account, which is perfect for small businesses and inexperienced users. It allows you to integrate third-party applications into their services that you may already be using as a tradesman, such as Dropbox, Paypal, Google Docs, and MailChimp, to name a few.
You can also increase form functionality by adding JotForm widgets, photos, videos, signatures, lists, and tabs to your form. But, if you are not familiar with JotForm or it's just not your thing, you can choose one of these great alternatives.
1. Paperform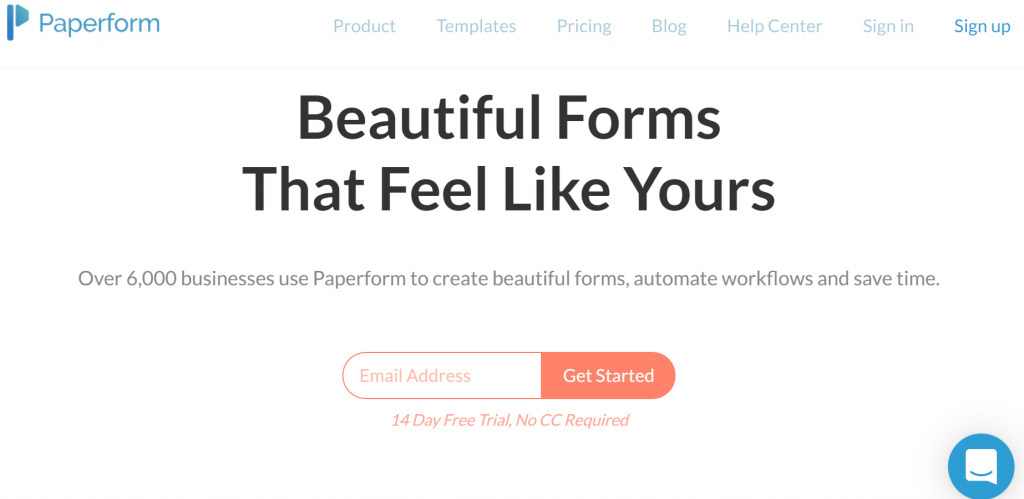 Paperform is more robust than a simple form builder. Designing web forms with Paperform's unique form editor is like creating a document. Anyone can promptly and intuitively make wonderful online forms, payment, or stock pages without any professional experience.
This form builder is not just made for questions and answers. With Paperform, you can easily insert images, videos, and styled text wherever on your website. Paperform has excellent integration with Stripe, Paypal Business, Braintree, and Square. You can make payments, subscriptions, and donations in a second.
Also, with Paperform, you can sell products, online courses, and so much more. Ask the essential questions, and control your customer's activity depending on how they fulfill the form. You need to try it and enjoy it.
2. Wufoo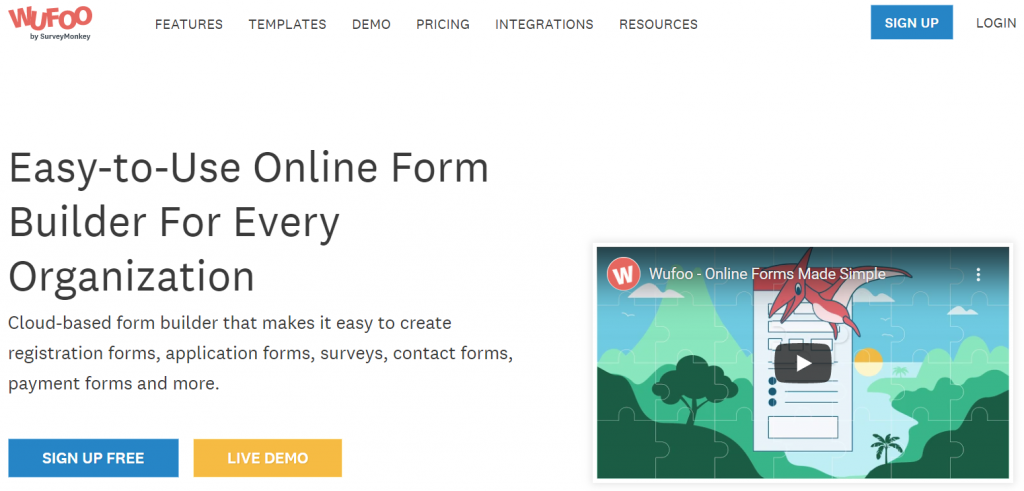 Wufoo deserves a place on this list because of its simple nature, multitude of payment options, and spectrum of third-party tool integration. It solves pattern-making problems with its drag-and-drop design interface – in fact, it is enjoyable to put patterns together with Wufoo.
It has an extensive DIY support section with video tutorials, email support, user forums, as well as a blog so that you can diagnose and solve all problems with the help of an archive of articles and a community of users.
Wufoo is a form creator, launched in 2006. Over the years, Wufoo has built the most straightforward, correct, and most compatible form creation tool. With lots of templates, Wufoo has implemented fun in creating forms and patterns. Forms offer basic features and functions, so you cannot get lost in the middle of hundreds of advanced features and complicated tools.
It is a simple, transparent system that offers seven different form shapes. Wufoo is ideal for beginners too! There are many ways to integrate a form, such as an iframe, popup, or separate HTML files. Also, Wufoo integrates easily with Asana, Facebook, and MailChimp.
3. Microsoft Forms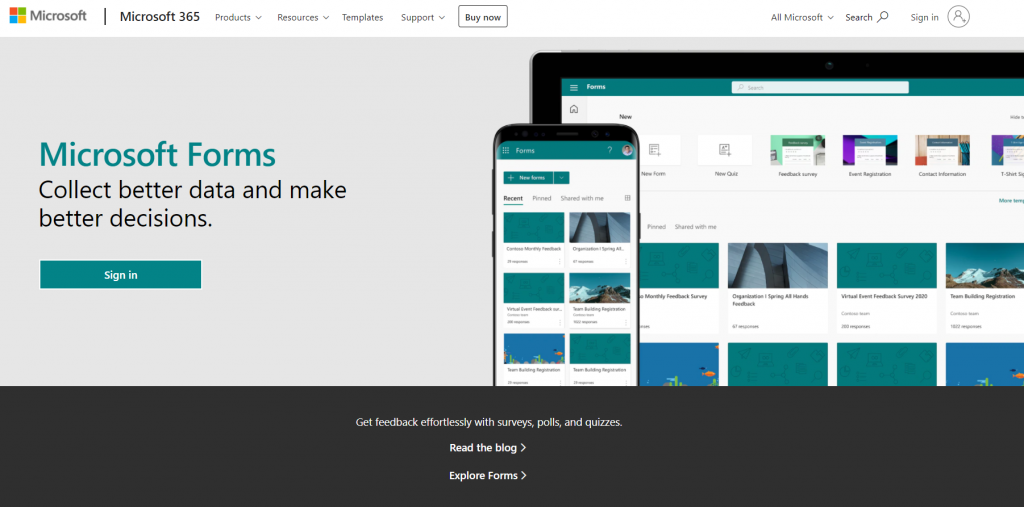 With the coming of the Covid-19 crisis, schools have encountered many problems in implementing their activities. At the beginning of distance learning, there was a need to communicate with students and get their feedback. The Microsoft Forms application is available to teachers at Office365 and has already become an integral tool for teaching around the world.
Making a form or a test is simple and very similar because the same types of tasks are offered. In the test, you can assign points, mark the correct answers, and enter mathematical records into the questions. The test or form design interface consists of two parts: questions and answers.
The number of questions is unlimited. The answers are graphically processed, and you can view them as a whole, check individually for each respondent and download them to your computer as a table in Excel.
4. Formstack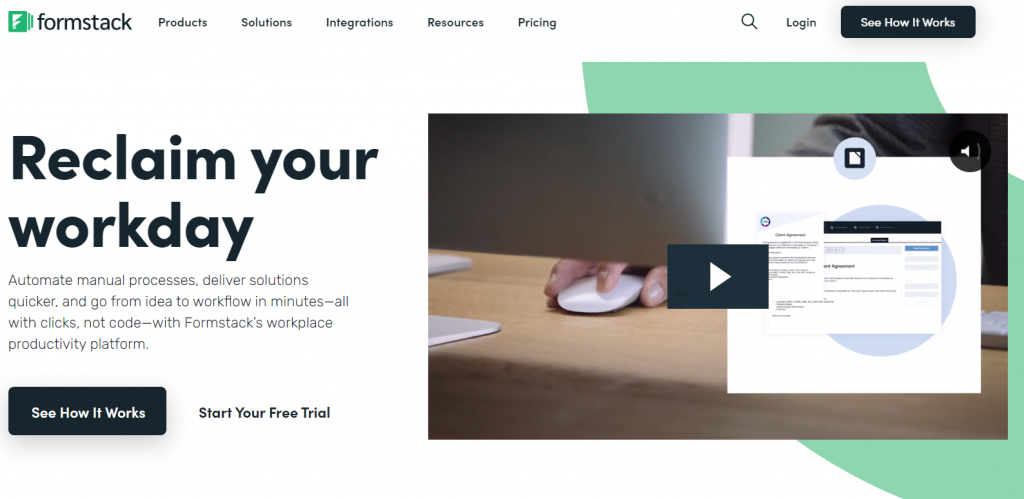 Formstack is easy and fun to use, especially for small businesses or users without any experience. It is possible to use tools to create patterns and even complete stores. The LaunchPad feature allows you to use the drag-and-drop option to create an entire online store on your website.
Formstack offers a user platform that allows new users to create forms using modern and professional templates instantly. Users have a limited free service to get started.
The FormStack platform offers additional services, such as online stores and email tools, view your location, efficient data management via a login form, surveys, order forms, event registrations, and many other features.
5. RackForms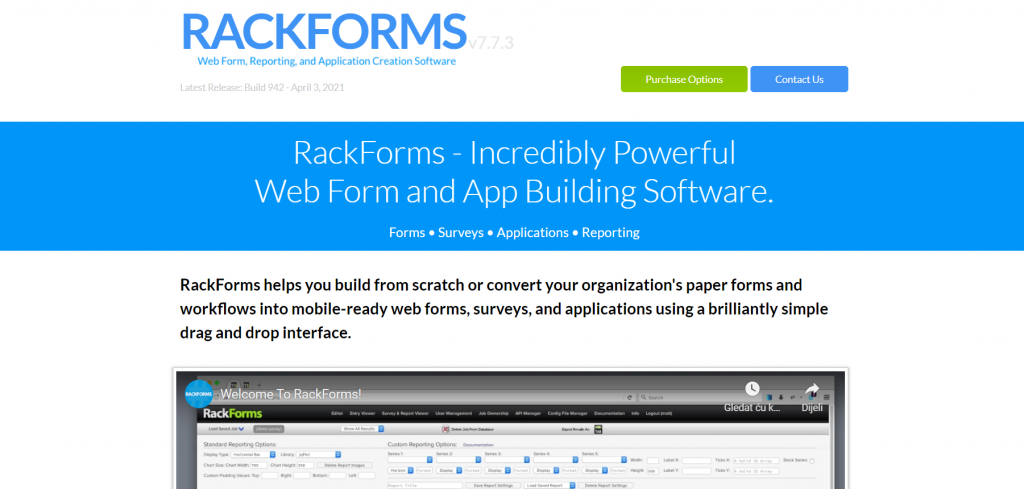 RackForms is recommended for development teams who are just starting and are looking for a professional tool they can get acquainted with. RackForms offers everyone top-notch form creation: beginners get access to a simpler version of the product for less than half the total price, while advanced users have access to a more complex form and other features.
Form Builders focused on both experienced users or beginners who have never encountered something like this before. They offer pre-built and designed forms for beginners, but they also focus on more advanced users looking for features and tools at their fingertips so they can create detailed and comprehensive forms.
To use the full version of RackForms, check if you can install it on your server.
RackForm is full of templates for pro users who know how to work in XML, AJAX, and PHP. RackFroms 'Cloud version includes a host of diverse options that justify their price. RackForms offers several features and is constantly adding some innovations and improvements.
Final Thoughts
Every entrepreneur must set specific goals to achieve remarkable success. But sometimes, there are so many of them that it is challenging to deal with everything. In such situations, it is imperative to be able to focus on solving one problem.
This approach is more productive than trying to deal with everything right away. But as practice shows, most have serious problems with it. Automated systems can significantly simplify workflow and increase overall work efficiency. Thanks to them, you will save a lot of time to spend on more critical tasks. Forms help you in the automation process and make your daily activities easier.