Screen recording is a great way to show off your work to other people. In times like these, where we cannot see each other in person that often or sometimes at all, it is a very useful way to pass information and knowledge to other people. That is why we are talking about screen recording. Screen recording is the ability to record videos of your screen and what is on it at the exact moment.
It is most commonly used in software engineering because it allows the programmers to show their process of achieving results. But, today, it is used in multiple business spheres, like education, for example. Nowadays, professors can show their work by recording their screen during a lecture, so the students will better understand the material in question. It is also useful while working from home because it allows recording meetings and new procedures that employees need to follow.
To sum up, screen recording allows you to explain things to people like you would in person. So, if you fit in one of these descriptions, you should stick around because we are going to name the best screen recording apps on the market.
1. BerryCast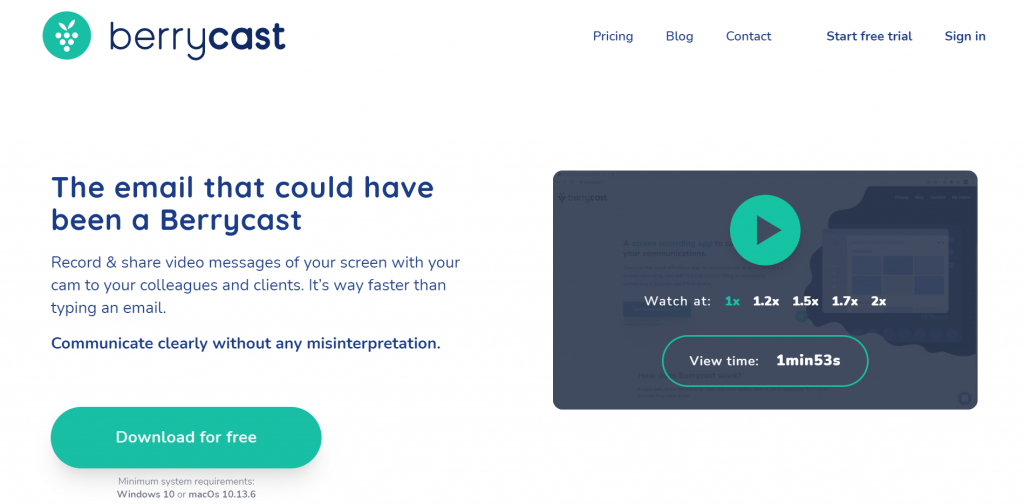 BerryCast is a screen recording app that combines screen recording, internal and external audio recording, and camera recording to simulate in-person communication as much as possible. With BerryCast, you can explain hard-to-understand concepts and ideas, create in-depth tutorials, or even use it to send out emails to your employees and clients.
That way, you will reduce the miscommunication to a minimum because everyone will clearly understand what you wanted to say.
As for tutorials, with BerryCast, you will be able to share detailed explanations to avoid further questions and keep people on track. BerryCast allows you to share the recorded videos via Outlook, Microsoft Teams or create a unique URL to share with people.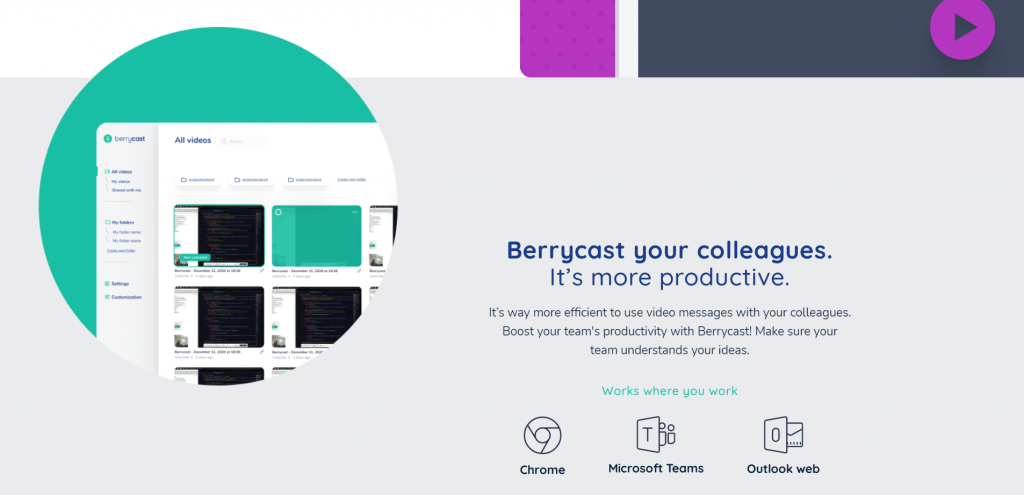 It is also super easy to use. With just a couple of clicks, you will be able to get started in no time. Berrycast is built specifically for screen recording. That is why it can capture two separate images and two separate audio files, all in one video. And for those who don't want their face to be shown, there is an option to turn off the front camera as well.
If you think that BerryCast would be a little bit complicated for you, you can sign up for a training webinar to learn how to use it more easily. There is an Appsumo offer currently on BerryCast. The price is only 129$ for a one-time purchase, with all future plan updates, all features included, and a 60-day money-back guarantee, no questions asked if you decide that BerryCast is not for you.
A great app that you should definitely check out.
2. Loom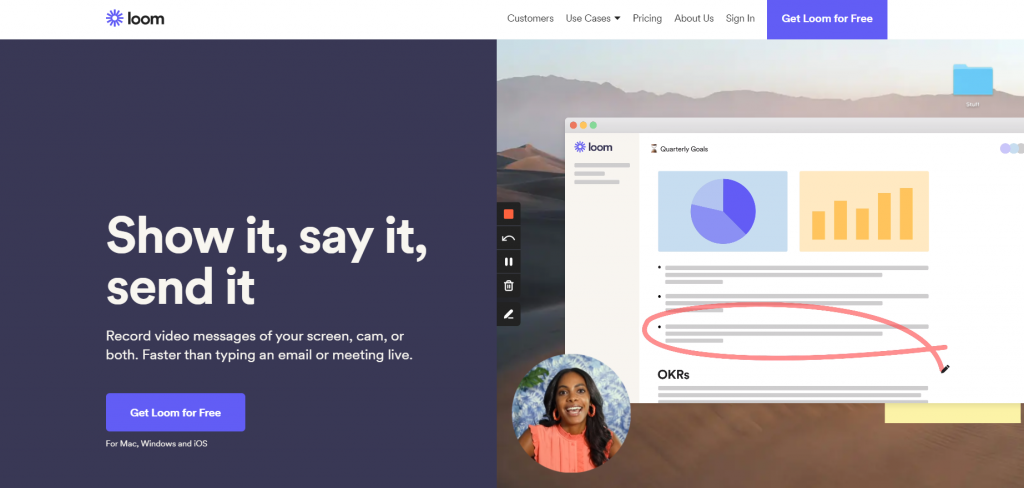 Loom is a screen recording app that allows you to record your screen, yourself, or both. It is an efficient way to communicate with others because it completely replaces emails as a part of communication. It will save you time when you want to say a lot, but you do not have the time to type it all out.
It is a great way to keep the communication with your coworkers, clients, and employees personal and fun. Loom is a freemium app, which means that there is a free version of the app, but with limited features like the length of the recording and the number of videos you can record. With the free app, you can also take screenshots, have a team library and viewer insights.
The Business subscription is 10$ per month per creator, but there is no limit on the number of videos you can record or the length of the video. It also has all the free version features, plus a video drawing tool, calls-to-action, custom branding, and engagement insights.
3. Clipchamp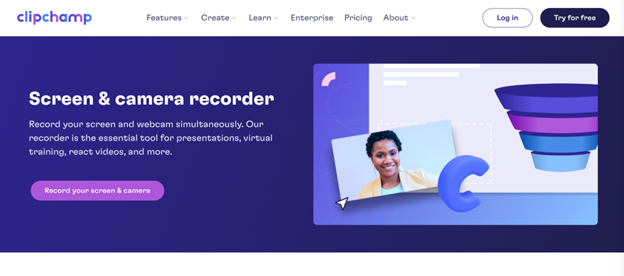 The Clipchamp Screen and Camera Recorder is one of the features of Clipchamp, which is a web-based video editor. This built-in tool lets you record your screen, record your webcam, or both at the same time. It's ideal for creating presentations, tutorials, virtual training videos, reaction videos, and more.
Since this screen recorder is part of an online video editing app, you can easily edit your recordings, trim away unwanted scenes, add and modify titles and captions, and merge different recordings into one. When the recording is ready, you can export it watermark-free in 480p resolution or share it directly on social media platforms.
Clipchamp is a free video editor that offers a wide range of advanced editing features, including the screen and webcam recorder. But if you want to access more features to use with your recordings, like cloud storage and unlimited stock media, you can upgrade to paid plans starting at only $9 per month.
4. CloudApp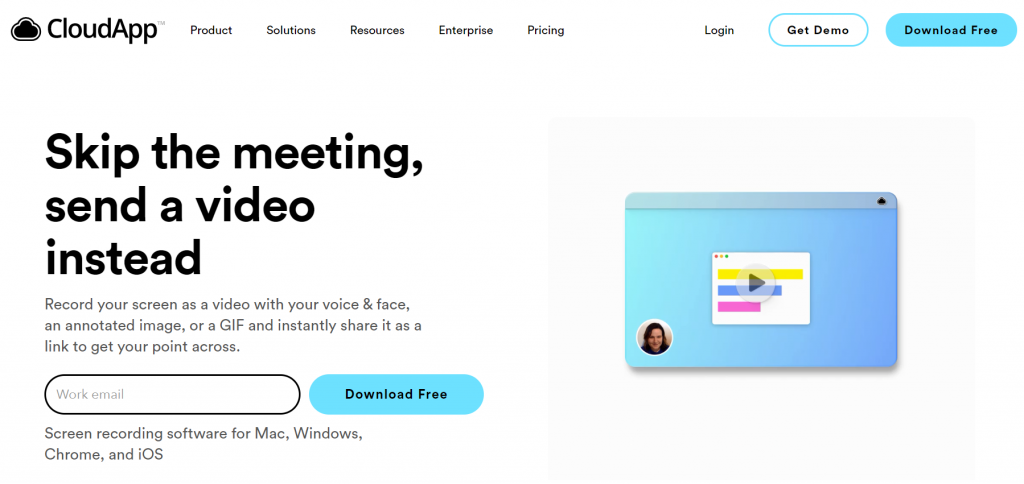 CloudApp is a screen recording app for Mac, but also for Windows, iOS, and Chrome that allows you to record your screen with your face, an annotated image, or a GIF. After finishing the recording, you will get a sharing link that you can send out to other people to avoid miscommunication and to get your point across faster.
CloudApp allows you to take screenshots and add annotations to it for a further and more detailed explanation.
CloudApp is primarily used in four different aspects: sales, customer support, engineering, and product. There are two subscriptions that you can sign up for: Pro and Team. The Pro subscription costs 12.95$ per month and the Team subscription 9$per month per user. CloudApp also has a free version but with fewer features than the paid ones.
5. Hippo Video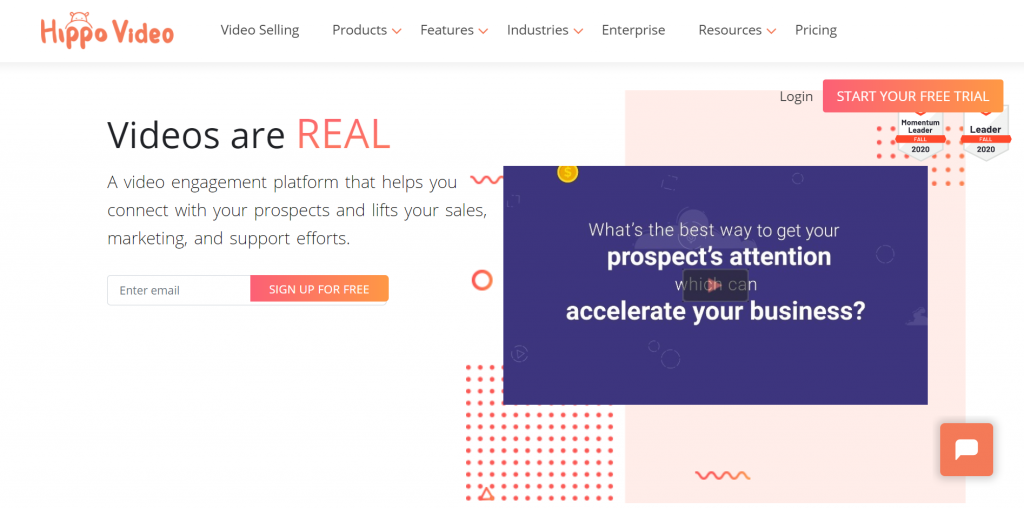 Hippo Video is an app that allows you to edit videos that you record with it, for example, to cut out those awkward pauses in the middle of a sentence, so your video would have a better flow. You can also crop the size and blur the background to keep the focus on the important part. You can also add text and images to your video to make it entertaining as well. Hippo Video does not leave a watermark either, which is always a useful thing to know.
When it comes to pricing, Hippo Video has four subscription plans: Starter, Pro, Growth, Enterprise. It is also a freemium app, which means there is a free version that includes unlimited HD recordings, video branding, notifications, a smartphone app, GIF thumbnail, and trim only. The Starter costs 15$ per month. It has everything from the free version, plus email integration reports via email and default sales pages. The Pro costs 39$ with everything in Starter and also a branded URL, Linkedin and HubSpot integration, pro editing, green screen, etc.
The Growth is 65$ and adds video campaigns, customizable sales pages, advanced video reports, people tab, etc. And lastly, the Enterprise is 79$, including everything else plus 24/7 customer support, virtual background, a dedicated account manager, and a lot more.
6. Vidyard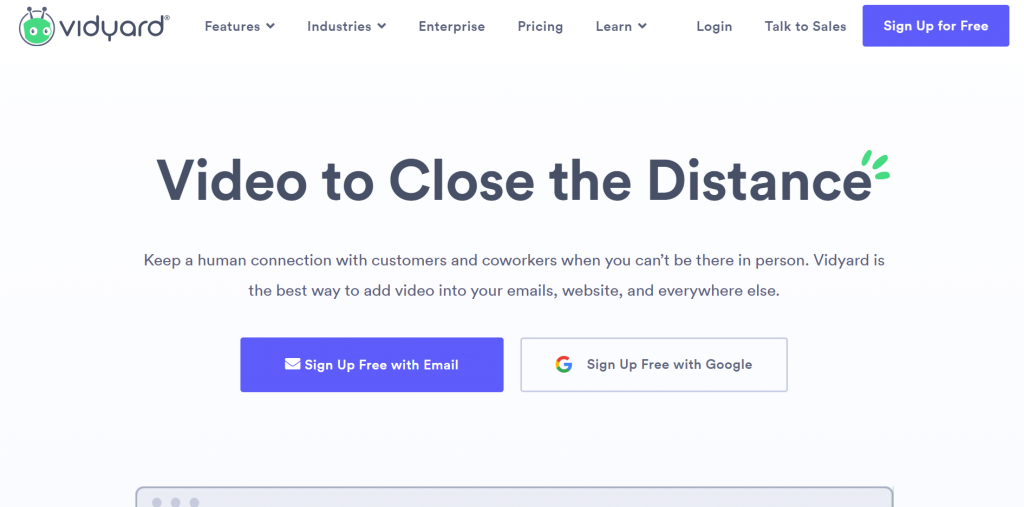 Vidyard is a screen recording tool that is packed with features. It can help you create, personalize and edit videos. It can be protected by assigning a password to the access files and managing permissions. It has an online video player. It allows you to embed and email videos and share them on social media. This tool has an integrated analytics dashboard, individual viewer details, and CRM integrations.
Vidyard is also a freemium app, and with the free app, you get unlimited recording and uploads, as well as sharing via social media and email. The Pro subscription costs 15$ per month, and some of the features are password protection, replies to videos, and more. The Teams costs 300$ per month, and this subscription allows for up to 3 users, custom branding, and full video analytics.
The business plan costs 1250$ per month and comes with up to 5 users, fully customizable video, CRM/MAP integration, and CTAs.
7. Snagit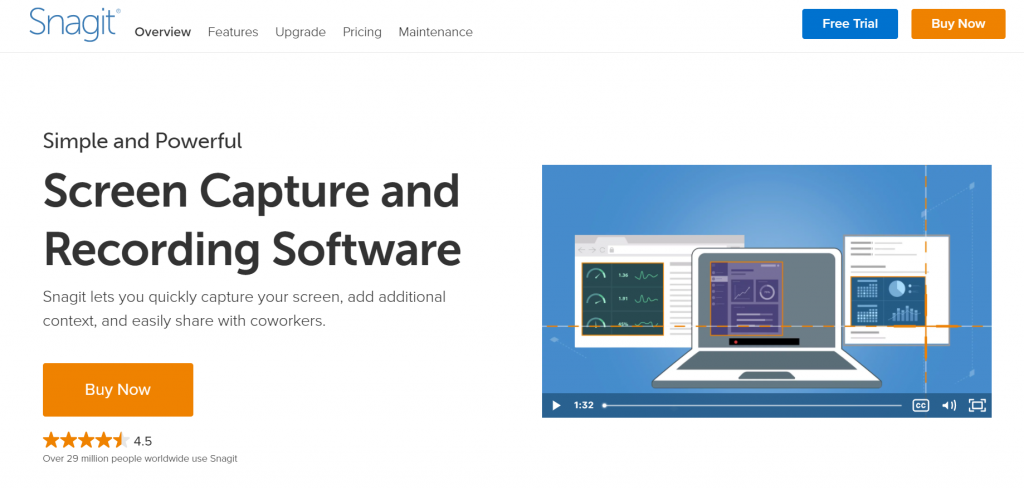 Snagit is a screen capture software that can record and edit videos. It has all in one capture, scrolling screen capture. It can record audio, webcams, screens, and iOS screens. You can add annotations, stickers, edit the text in the screenshots, and organize your tools by putting the ones you use the most in the favorites folder.
Snagit is a one-time purchase software, and multiple prices depend on the included features.
The Individual plan costs 48.90€, the Business plan is for multiple users, and the price drops depending on the number of users, starting at 48.90€ euros as well. The Education plan costs 29.33€, and the price drops for multiple users as well. The same applies to the Non-profit plan, which costs 42.05€. And the 2021 upgrade for users that already have Snagit costs 34.22€.
8. Camtasia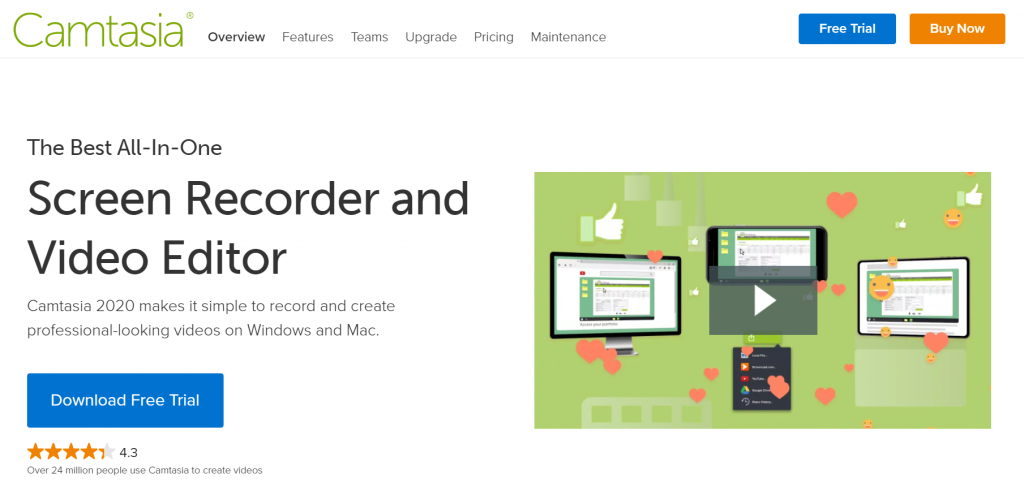 Camtasia is an app that can record and create videos on both Windows and Mac. It is super fast and easy to learn because of the helpful templates included in the app and then the user-friendly interface. Camtasia offers a lot of options when it comes to editing. You can add media, quizzes, annotations. It can be integrated with PowerPoint presentations. You can add animations and a green screen to your videos.
These are only a few of the features that Camtasia offers. There's plenty more listed on their site. Camtasia is also a one-time purchase app with the Business plan at a price of 244.53€, the Education plan of 166.27€, and the Non-profit plan of 219.09€. The 2021 upgrade for current users is 136.93€.
9. BombBomb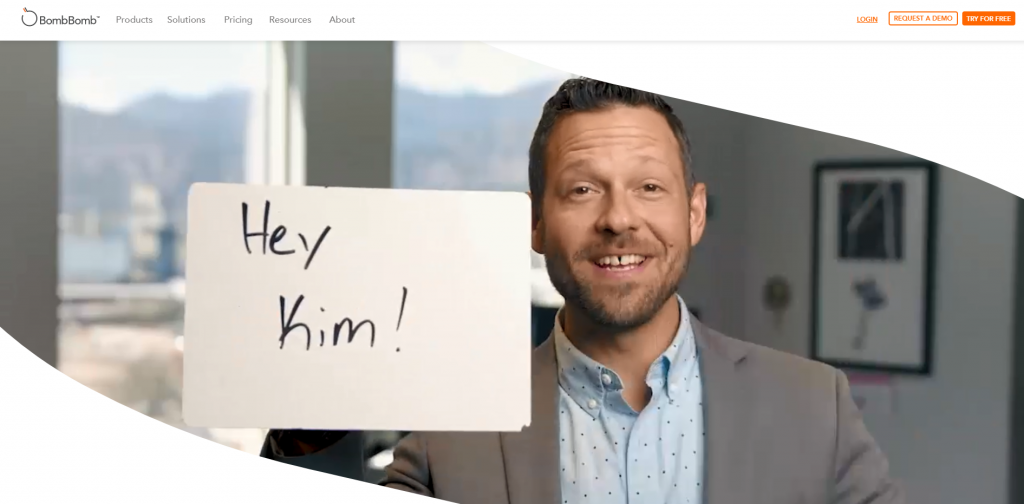 BombBomb is a video messaging app that allows you to record your screen, front camera, or both. BombBomb can send out videos recorded with the app via email. You will get to see who played your video and when. Sharing your videos will not be a problem because you can share the link for your videos anywhere.
There are two price plans for this app, the Essentials plan costs 29$ per month, and the Plus plan costs 49$ dollars. BombBomb also offers a free 14 day trial for any plan, so you can truly decide if you want to buy the app or not.
10. Droplr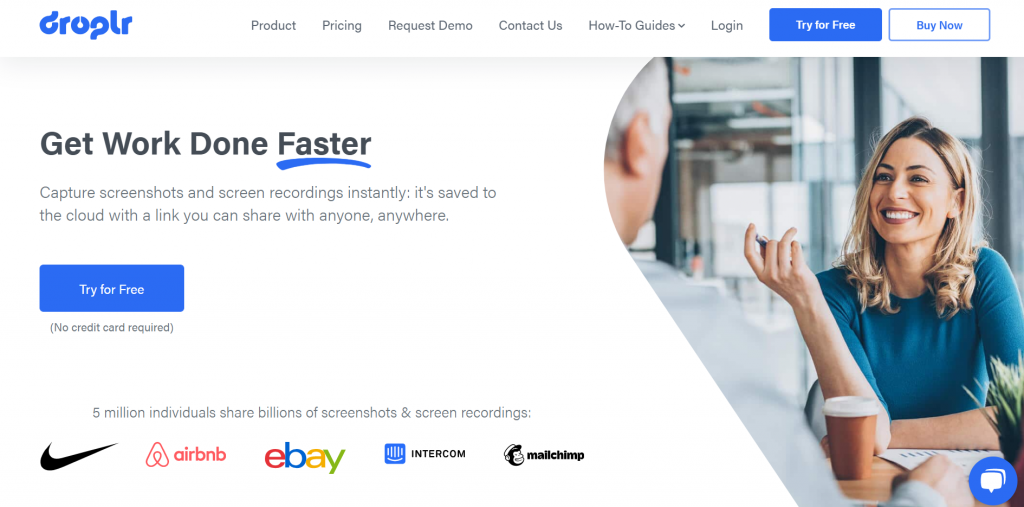 Droplr is a screen recording app that is available in all forms: for Windows, Mac, Chrome Extention, etc. With Droplr, you can make a screenshot of a part of the whole screen, annotate the same screenshots by adding text or highlighting a part of it and use the image editor to add shapes to your screenshots.
When it comes to capturing videos, you can save them as an HD video or a GIF, make a full-screen recording or a partial screen recording, add the front cam in the video to add a personal touch, and a lot more.
Droplr has an integrated cloud where all of your recordings and screenshots are saved. You can share the recorded videos with a download link and download them as PNG, WebM, or MPEG-4. There are two pricing plans for this app, Pro Plus ad Team. Pro Plus is for individual users, it costs 10$ per month, and the Team is for up to 15 members, and it costs 9$ per user per month.
11. Screencastify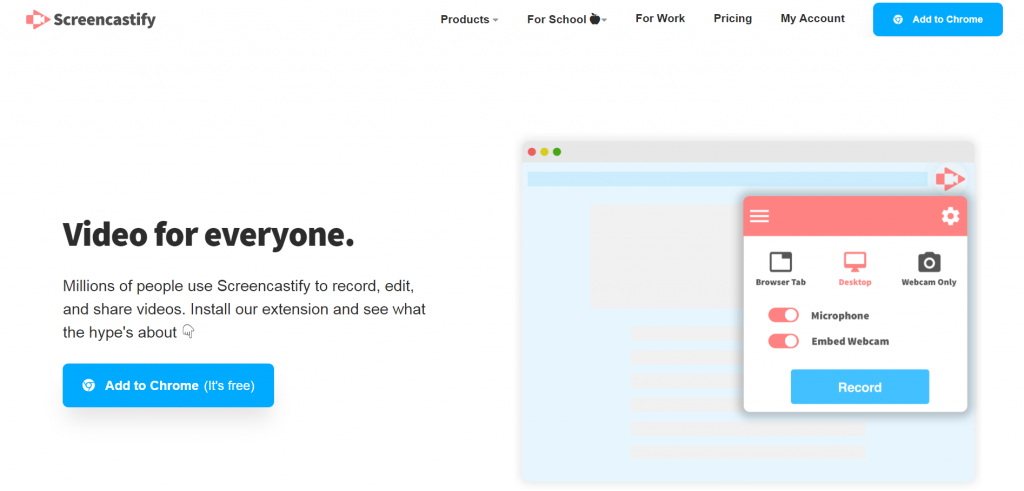 Screencastify is an app used for recording, editing, and sharing videos. It allows you to record your tab, the whole screen, or your webcam. You can embed your webcam anywhere in the recording, so it doesn't get in the way of the important information in the video, and you can record it offline, which is very useful.
With the editor, you can merge videos, cut, rearrange, delete, and crop your videos. Also, you can add overlays and zoom in and out smoothly. The Screencastify Chrome extension is free, but the recording can be 5 minutes tops. If you want unlimited recording time, the price of an unlimited subscription is 49% per year.
Conclusion
And, there you have it. Ten best screen recording apps with different qualities and perks. But, for us, one app stands out the most, and that is BerryCast. With all the features this app has, you get your money's worth.
Plus, BerryCast is the only app that offers a 60-day money-back guarantee, no questions asked. You have more than enough time to decide if you want to make such a commitment. Do not sleep on these offers, and be sure to check out the other apps as well.