First things first, social media advertising is a way of providing a type of digital advertising to a specific target group via online platforms such as Facebook, Twitter, Instagram, LinkedIn, etc.
In less than ten years, social media has expanded and became an essential part of our everyday activities and lives.
The number of social media users is expected to be over 3 billion by the end of 2021. Nearly 40% of the whole population is active and has some type of online business through social media, so if we want to optimize our online business or website, we have to carefully manage, measure and make a clear strategy in order to reach that.
One of the most effective advertisement methods is utilizing famous pop-ups! Advertisement pop up can be an effective way to grab a user's attention and increase brand visibility.
To deliver on the strategic vision you want, you have to be up-to-date with the latest trends and tools. If you're looking to better your online presence and have competitive social media advertising, the following list of tools is for you.
1. ADYOUNEED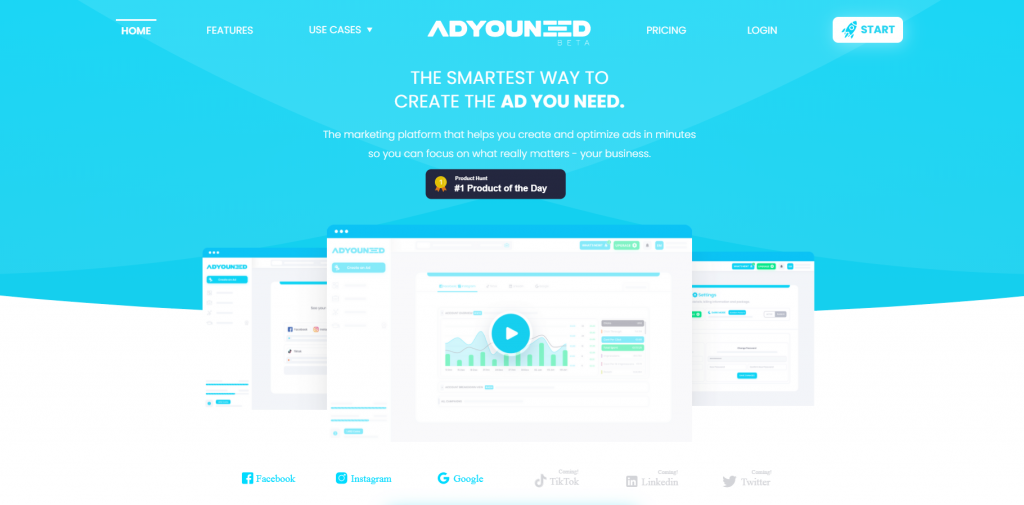 ADYOUNEED is an online marketing platform that is used to create and optimize ads within minutes. This powerful software offers many features and tools to create and test ads on new platforms to discover new advertising opportunities. In addition, it helps you automate your services and create high-performing ads that boost your advertising performance.
This software simplifies the whole process of creating ads which gives you more time to focus on growth. You're able to engage with customers on several social media platforms such as Facebook, Instagram, and LinkedIn. ADYOUNEED automatically tests 15 audiences using AI tools, finding you the best match within 5 days, and your perfect audience is here. Pretty cool, right?
Besides that, you get an option to do split tests. What that means is this software combines 10 different ads and 10 audiences, and creates up to 100 split tests with a single campaign, and identifies a winner. After that, you get better insight into your clients, and they'll love the result you provide them.
This powerful tool comes in three paid plans – Single (priced at $50), Double (priced at $138), and Multiple (priced at $207). However, if you want to find out more information, check their website.
2. WordStream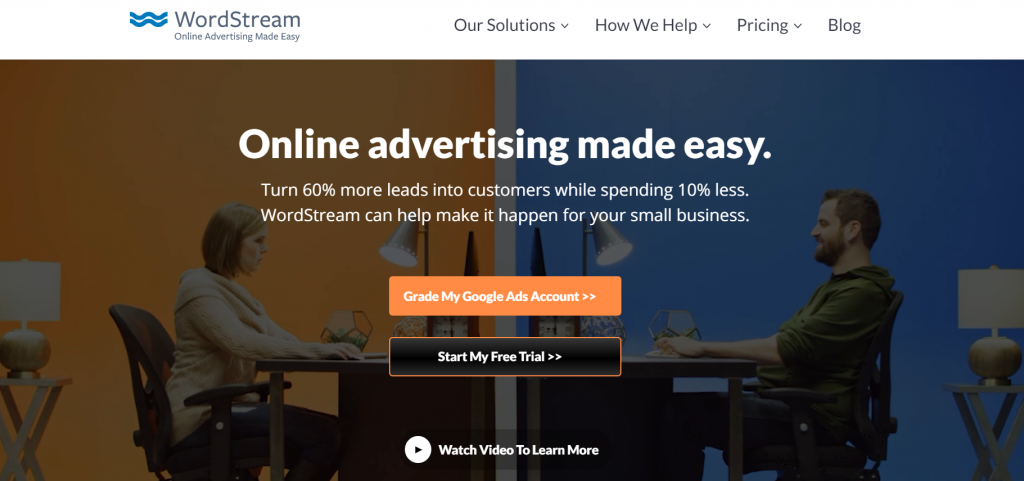 This is an online advertising management tool that gives you options to manage Google AdWords, Bing Ads as well as Facebook Ads campaigns all from one dashboard. Recently, WordStream was named a leader in the Search Advertising category based on customer reviews. This is also the only tool that offers solutions for both PPC and paid social management.
This software solution aims to simplify the process of online advertising. Furthermore, features this tool has will help you manage geotargeting, create dynamic keyword implementation, as well as give you detailed performance reporting and landing pages.
If you decide on an additional fee, you get premier consulting services through a dedicated account manager and managed service program where you get full management and customization of PPC account and campaigns.
Some of the features you get are:
AB Testing
Channel Analytics
Client Portal
Event-triggered actions,
Campaign analytics, management, and planning
In addition, WordStream offers a wide range of tools for marketers which enable quick evaluation regarding the strengths and weaknesses of AdWords. This software offers three paid plans – WordStream Advisor (priced at $49/month), Advisor for Agencies (priced at $49/month), and Marketing Services (the price depends on the features you want to be included).
3. Smartly.io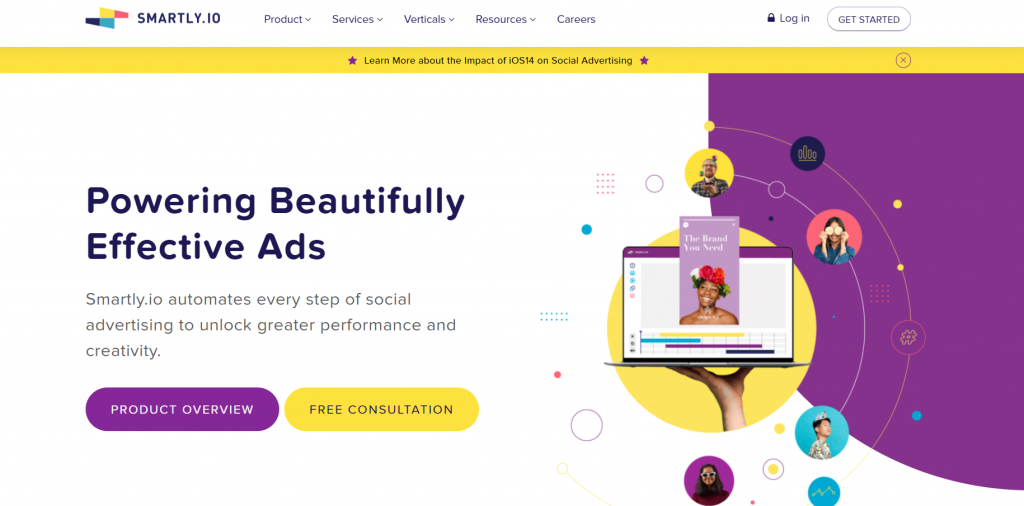 This is a Facebook and Instagram performance marketing tool that is mostly used by brands to easily automate every step of social media advertising. Some of the best features Smartly offers are AI optimization, A/B testing, creation of workflows, etc. Users get an option to generate personalized videos that will easily fit all Facebook and Instagram ad formats.
Furthermore, users can quickly edit, launch and create ads. You're also able to instantly publish ads across different social channels while the algorithm automatically targets an audience, budget and ensures the highest conversion rates.
The great thing about this tool is that you can request a free demo and, after that, based on your needs, decide whether you want full access to the platform and get a quote for that.
4. AdEspresso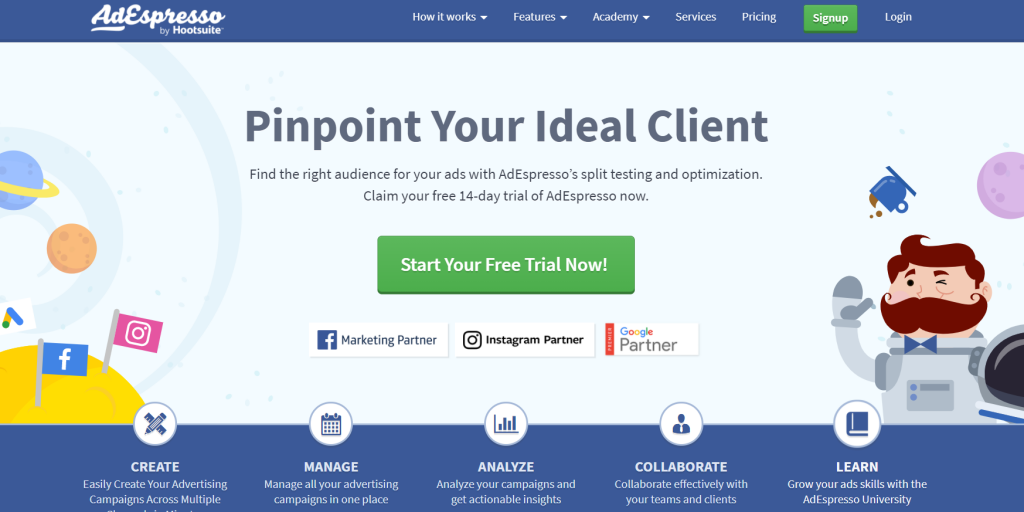 If you're looking for a way to gather your Facebook, Google, and Instagram ads in one central place, then AdEspresso is just the right tool for you. With this platform, you can easily create, manage and optimize your ads, advertising campaigns with split tests all in one.
It doesn't matter if you're a beginner in this type of online presence; AdEspresso got you covered with training courses and one on one tuitions.
If you want to start with this tool, there's a 14-day free trial, and after that, the cost starts at $49/month. This entry paid plan allows you to manage combined Facebook and Google ad budget of $1k/month. However, if you're looking for an unlimited advertising budget, then a $99/month plan is what you need.
5. Biteable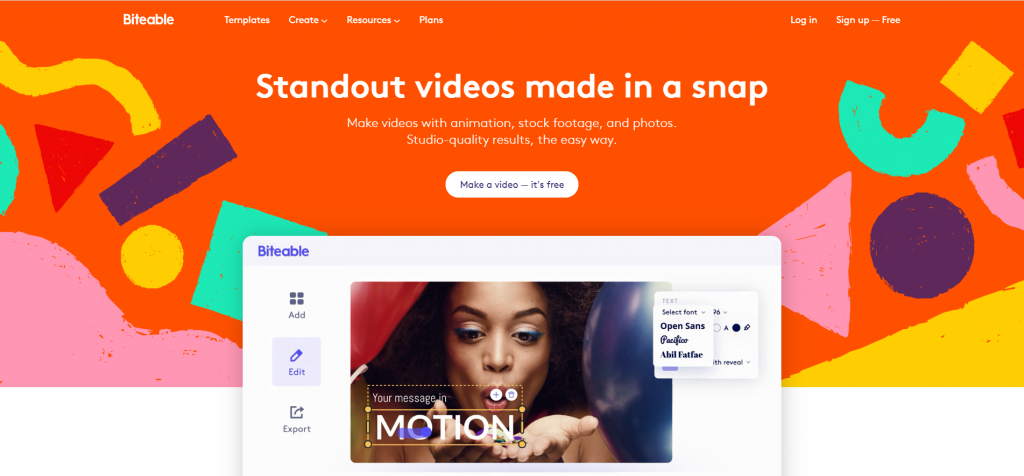 Biteable is an easy advertisement tool that will allow you to create engaging, entertaining, and informative content or short videos to share on your social media. The fact is, visual content gets up to three times more engagement on Twitter than plain text, so this tool will take your visual content to the next level.
The features you get are free video templates, background music, animated scenes, etc. Most features are available with a free account, and if you want to upgrade to the Plus plan, it is priced as low as $19/month.
6. Buffer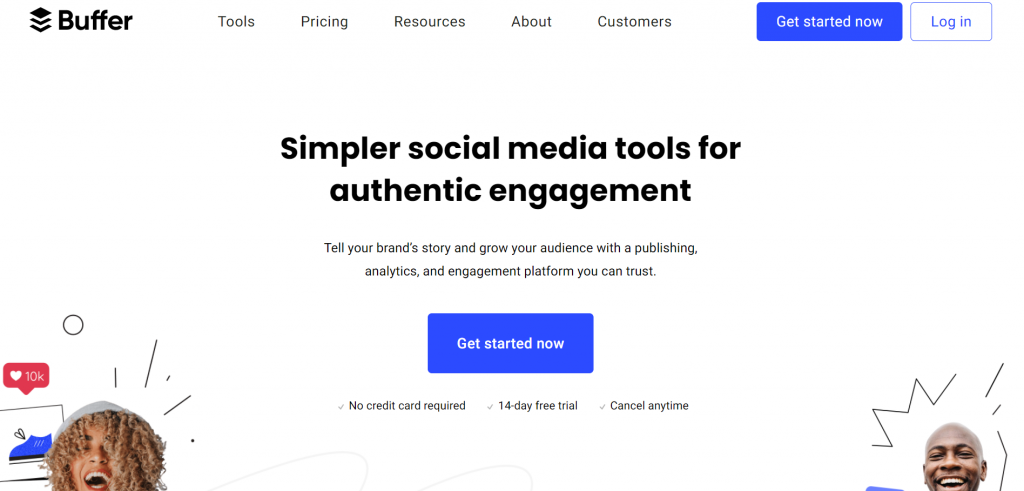 Buffer is primarily aimed at advertising for Twitter. However, today it supports leading social media platforms such as Facebook, Instagram, LinkedIn, Google +, and Pinterest.
Some of the best features you get by using this tool are:
It uses a Chrome extension for adding articles and content from the web to your Buffer queue
Automatically shortens links you share
Complex analytics that tracks your content's performance
Reply to posts from inside Buffer
The great thing is that you get to specifically choose your plan. If you want to have publishing tools, you can choose a Free plan, Pro plan ($15/month), a Premium plan ($65/month), and a Business plan ($99/month). However, if you decide to go with analytics tools, you can choose from the Pro plan ($35/month) or Premium plan ($50/month).
7. MOJOMOX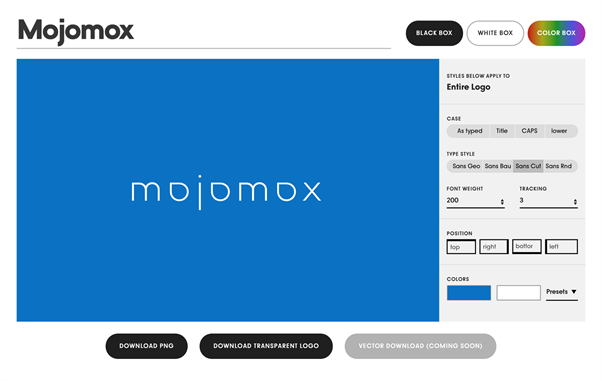 Mojomox is a free logo maker that lets you create stylish, modern, and professional-quality wordmark logos and color palettes tailored to your brand. Its simple user interface makes it easy to experiment with different designs. For as long as you like, you can test your designed logo in your pitch deck, on your website, and inside your app. Small businesses on a budget will appreciate this tool because it simplifies creating a logo into three steps.
The service is entirely free. There are only fees for high-resolution files that can be used on the web and in print. The files are provided in a package with logos customized to your industry for social media and sample applications.
Conclusion
To achieve a better online presence and build better marketing strategies, you'll probably need some advertising tools that will make your job easy. In fact, some of these tools will allow you to blast your competition and grow your business.