If you are not familiar with it, Artlist is a platform that offers royalty-free music and SFX for your videos. They track down different musicians and curate their music into one platform where every content creator can find what they are looking for. Visually, it is modern and clean, and it has many different filters that make searching for the right track that much easier.
When you download the music, you get a universal license, and the downloads are yours forever. The only downside to it is that it can get a bit pricey, but no worries, we have a list of perfect alternatives right here.
1. Filmstro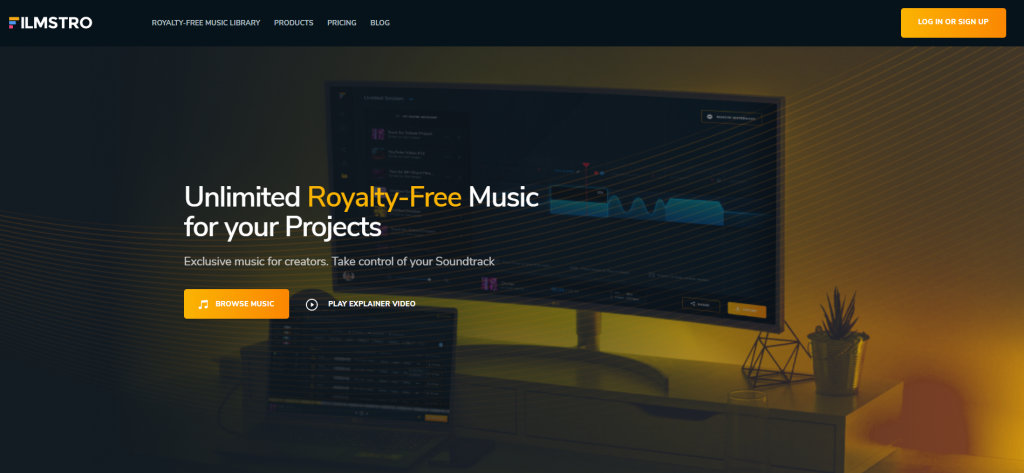 First on our list of alternatives is Filmstro, a tool that allows you to create your custom and royalty-free soundtracks. It's the choice to pick when you just can't find the right music for your projects. With Filmstro, you can create the perfect soundtrack and edit the music yourself.
Filmstro provides you with more than 60 albums of soundtracks. You can browse through different music genres, moods, trailers, and more. All of the tracks are high-quality and can be used worldwide. When you pick out a track you want to test, you can use the sliders to explore the range of emotions the music can cause.
In addition, there are three parameters you can control, and you can see the music through visual transitions. Doing so allows you to create a soundtrack that is unique to your needs. If you are using an NLE in your creative endeavors, you can import Filmstro's audio technology into your software and manage everything from one platform. You can even integrate it with Adobe Premiere Pro CC and Apple Final Cut Pro X. Furthermore, Filmstro works excellent with both Mac and Windows.
In the app, you can customize each track by adjusting the momentum, depth, and power. Add complexity with the momentum slider, thickness with the depth slider, and increase the music's intensity with the power slider. Filmstro has everything you need to get the most out of your soundtracks.
Similarly, you can adjust the parameters as mentioned earlier in each frame of your video, as well as move, trim, and edit the beat of each track. Once you invest in Filmstro, you will be asking yourself how you didn't discover it sooner!
2. Epidemic Sound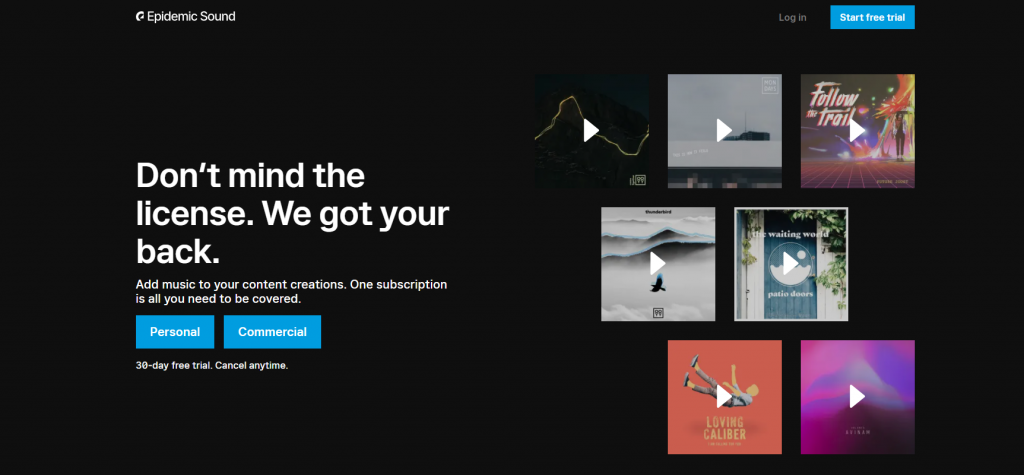 Epidemic Sound is a platform that features an extensive music library with tons of tracks you can choose from. It is aimed toward single-track licensing but also has few tiers for YouTubers. They provide you with music made by world-class musicians and professionals who know what they are doing.
You can listen to different tracks, test out and experiment with what works best for you and download it. If you are worried about copyright and royalties, don't be because they own their tracks. If you are a musician who wants to be featured on Epidemic Sounds, you will be pleased to hear they pay the artists immediately rather than based on licensing performance.
The platform's music library is packed with quality music and sound effects where you are sure to find something for yourself. The lowest monthly tier for YouTubers is $15, which is a great start.
3. Uppbeat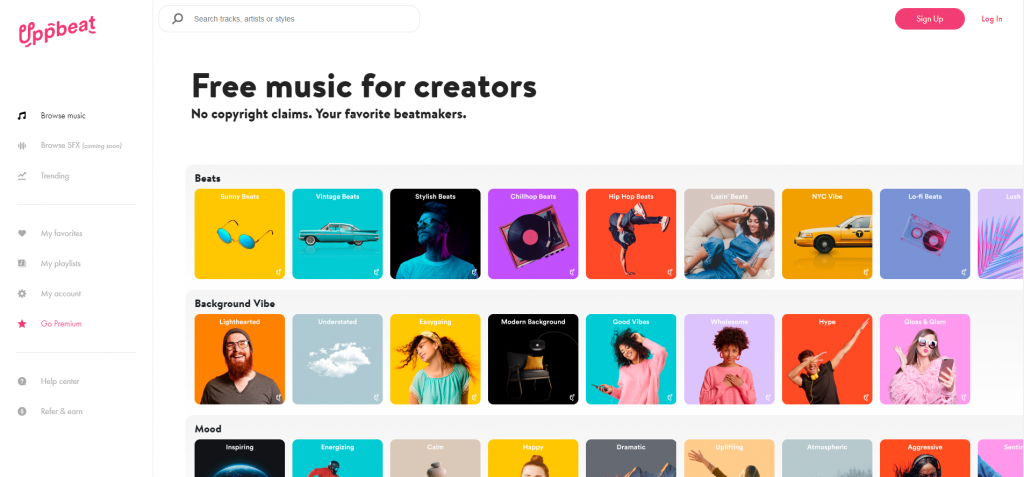 The next platform we are talking about is Uppbeat, created with creators in mind. It's geared toward different kinds of content, including podcasts, YouTube videos, streams, and more. You can add Uppbeat's tracks in sponsored, affiliate, and monetized content.
You can have ten tracks per month available for use on any social or video platform upon signing up. If you want or need more, you can upgrade to a premium plan of $6.99 per month. The best thing about this platform is, of course, the music; it's well-curated and organized. You can filter the library by duration, vocals, or energy on a simple and straightforward interface.
You don't need a license for using their music, but rather a Uppbeat Credit that will be linked to your account to avoid any copyright claims or royalties. The great thing is, even if you download music for free from the platform, the artists are still compensated.
4. Soundstripe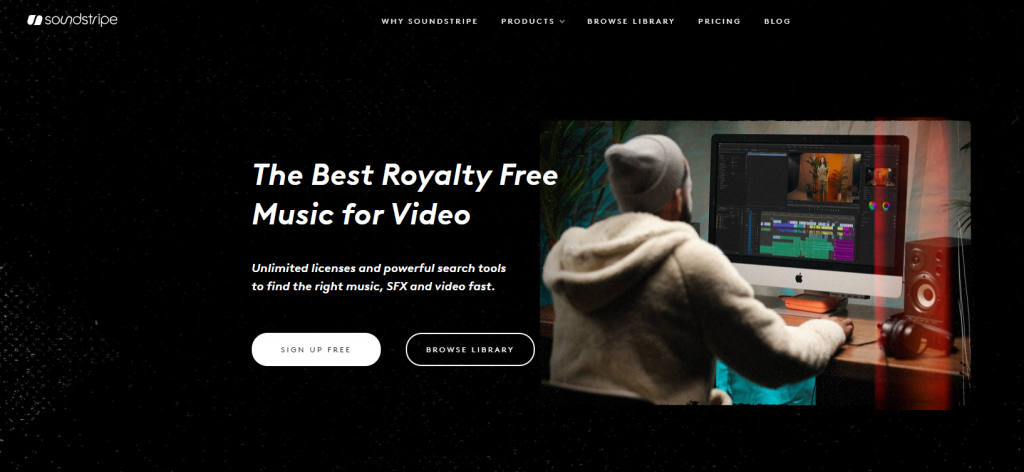 Soundstripe is the platform for you if you are on a tighter budget but still want to enjoy unlimited yearly music access. For $135 a year, you get all of the tracks you want, wherever you want them.
Musicians founded the platform, so you know the tracks they offer are top-notch.
Moreover, new music is added every week, so there is always something that fits your project. When you sign up for the membership, it covers the license costs, so you don't have to worry about that. You just download the track you want and get a custom license.
You can integrate Soundstripe with Adobe Premiere Pro and Frame.io to ensure a seamless workflow. When you choose the perfect track for your content, you can filter by theme, mood, genre, artist, and more. Also, there are a plethora of sound effects to implement into your project.
Now, if you want to have a bit more, you can purchase a membership for $245 a year and have an all-in-one music and sound effect solution. In addition, second-tier members can download and edit stems on individual tracks.
5. Audiio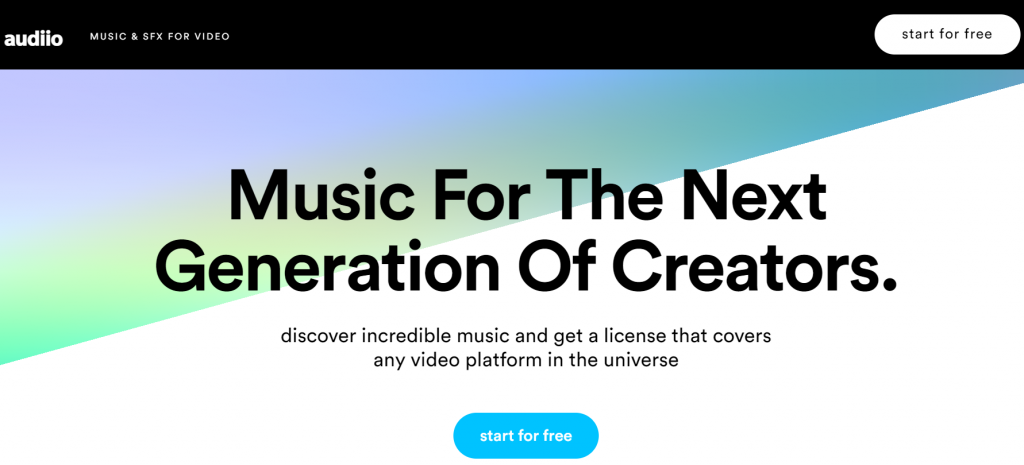 Next up is Audiio, a platform that offers something not many others do, a lifetime deal. They offer both a Lifetime Music and Lifetime SFX deal, where you only have to pay once and can enjoy the benefits forever. The platform offers excellent high-quality music and sound effects to add to your videos and other content.
If you would like to have access to a universal license covering every video platform, they also have Audiio Pro as one of the offers. If you plan on producing content that needs music for at least a few years, we say go for it!
Final Thoughts
Audio is something that can spice up the content and take it to the next level. However, sometimes it's hard to find the right music for your content. Artlist is a great way to go about it, but it's not for every budget. To help you find other options, we have compiled a list of Artlist alternatives that are equally good, if not better. If there is one you will try, we recommend it be Filmstro, a platform with music for any need!