Digital tools evolved to the point that even a complete beginner could create amazing products and digital services. The key terms are no-code tools. No-code tools are digital tools that allow users to create, design, add functionalities and publish native iOS and Android apps without sophisticated coding knowledge or prior experience.
But there are a lot of them, and a large number promise to deliver great app-building results, but not many of them enjoy widespread trust. For that reason, this article discusses the top 6 no-code tools for 2023 you can use to bring your ideas to the real world in the form of an app.
1. Frontly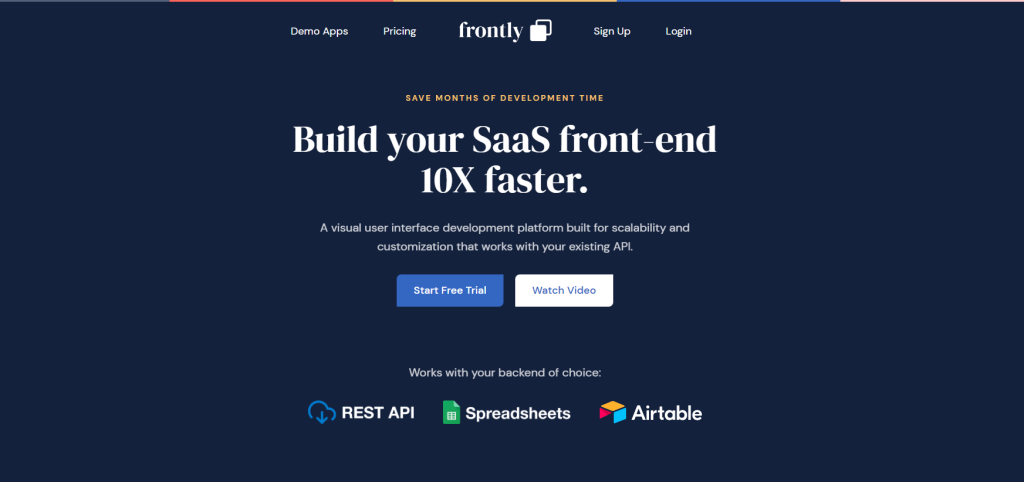 Frontly will make your dreams come true when it comes to creating a fully customized Marketplace app or SaaS product without typing a single line of code. It is an excellent solution for building a unique startup web app using Airtable, Google Sheets, or even a custom API.
The features let you launch a fully functional application in just a few hours. For instance, a client portal can be made in less than an hour without a single line of code written. The choice is yours: forms, graphs, chats, and many other things can easily be placed on your app's pages.
It also integrates well with other platforms and is a great alternative to Bubble. It's also worth noting that full support for multiple app management by one single account will be provided soon, as well as multi-app plans.
2. Stacks
Stacks is one of the best tools for building native iOS and Android apps without coding knowledge. Shortening the whole process to only a few minutes, Stacks lets you have control over all the aspects of the app. Unlike its competition, this no-code tool provides perhaps the smoothest experience when building apps by simplifying tasks and processes.
You will be able to organize and configure your app from top to bottom, and guess what – once you are done, you are only one click away from uploading to app stores. The idea behind Stacks was to make the app-building process as smooth as possible.
Having that in mind, all the tools and features that you might need are right there for you, easily accessible. If you are looking for the simplest and the fastest way of making an app for the complex needs of your business, you won't go wrong with Stacks.
3. Conektto API SDLC Platform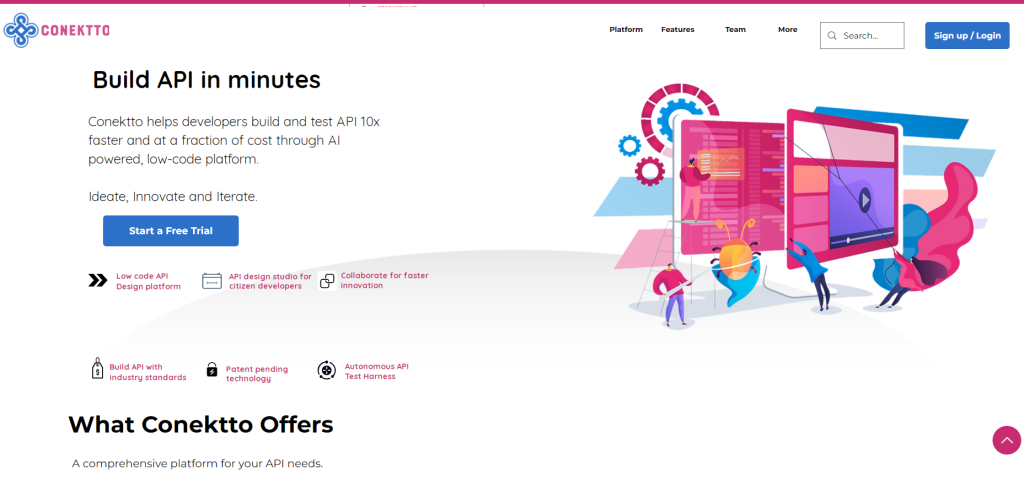 Before introducing this powerful tool mainly designed for developers, one must understand that API development isn't that simple and often requires a lot of time and financial resources. However, one of the greatest tools designed to help developers quickly build and test APIs is Conektto.
Conektto will let you publish an API easily by connecting it to the database of your choice using point-click and drag-and-drop. To enhance user experience, you can visualize your API and build System APIs. It is a nifty AI-powered and low-code platform that will ensure you set up and test APIs faster than ever before.
It's great for developers, product managers, and QA professionals. Also, a great alternative to AppSheet, Apify, etc. The integration options include MySQL, PostgreSQL, or any other custom API. No wonder many appreciate the ability to create innovative APIs because it's proven that it helps meet clients' needs more effectively.
4. Appy Pie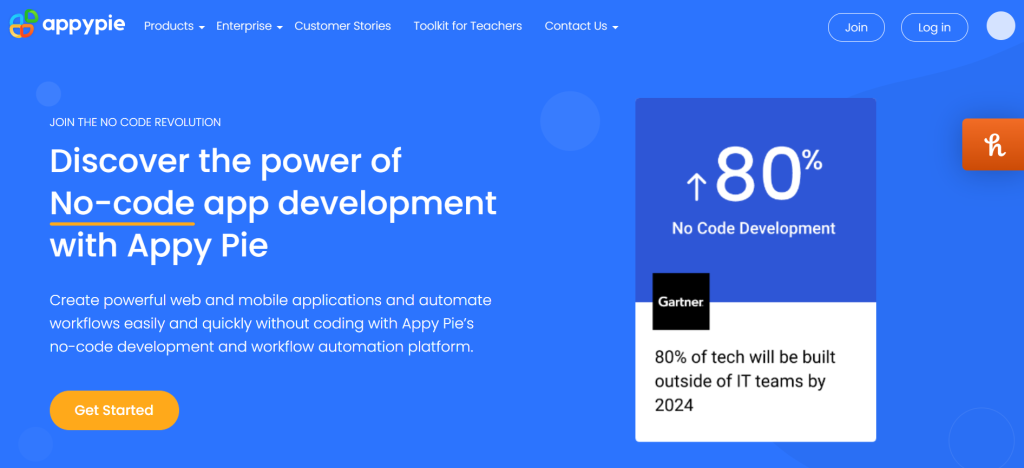 Appy Pie is a tool for building apps, webs, and chatbots and is a well-known name in the industry. Its drag-and-drop nature lets a beginner create attractive and multi-functional native apps by applying some pre-defined designs.
Additionally, Appy Pie allows real-time editing of the interface, as well as a built-in tool for testing and publishing. Feel free to customize any theme you choose and make adjustments that best fit your idea. Generally speaking, Appy Pie makes customization of all pages of the app pretty easy.
5. Adalo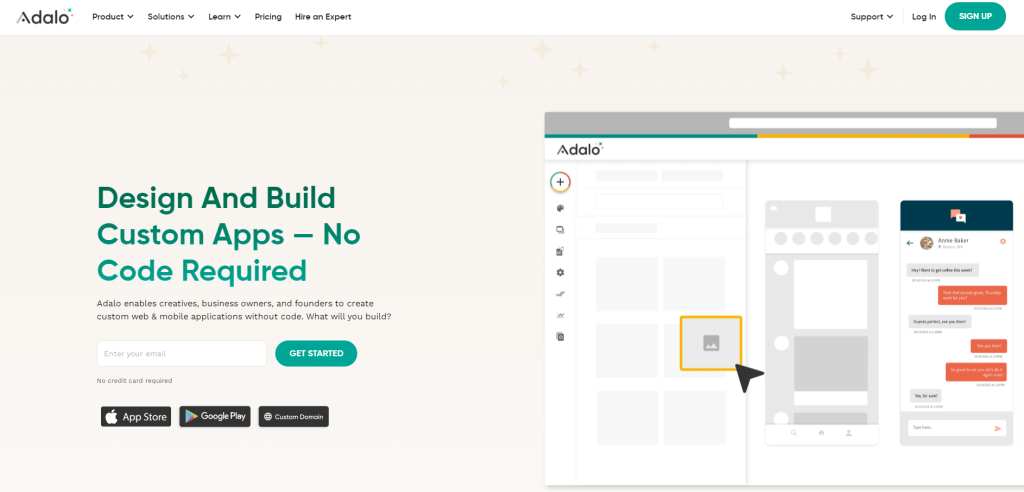 The easiest way to start designing apps from scratch without programming or coding knowledge is to go with Adalo. Adalo is highly user-friendly and lets you move and manipulate different components with a simple drag-and-drop editor. Dynamic charts, actions, link pages, forms – you name it.
Another important aspect of work within this platform is the automatic adding of interaction and configuration of the database, again, without a single line of code. If you are the type to start building from zero and have great ideas, Adalo will happily give you all the assistance you need.
6. Glide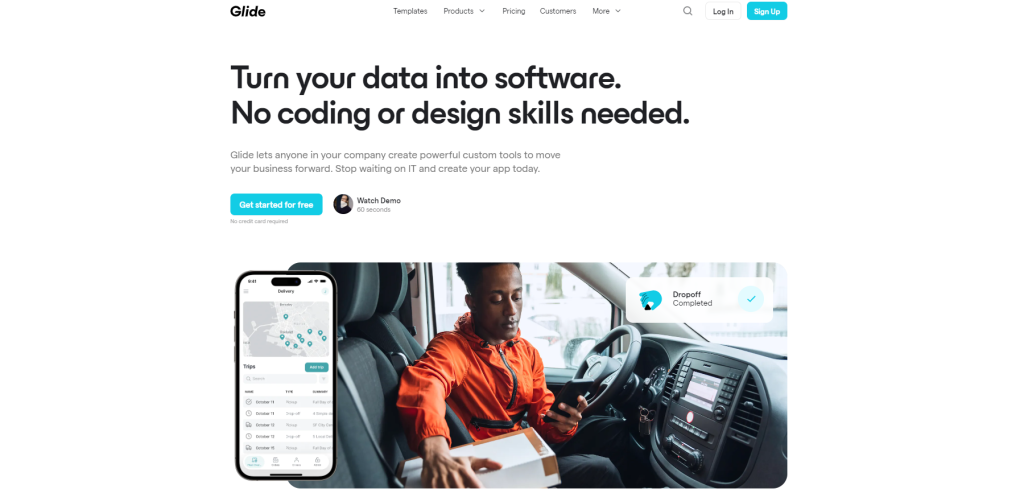 If you want to turn spreadsheets into apps just by importing the data and customizing the appearance, then Glide is a great solution for you. There is a lot to choose from in the template store, and it doesn't take much to make a copy of the one that attracts you the most.
Glide offers an easy way of sharing the app you made via QR code, which will help reach out to new users. It is very suitable as a sales monitoring tool or inventory management but can also serve as a great automated answering service.
Conclusion
There are plenty of benefits that come with no-code app-building tools. With the right tools, we can transform an idea into a native application, and the best ones in the game are listed above. For the best results and user experience, we recommend Frontly, which stands out from the competition.
Simple data like Google Sheets or Airtables can now easily become a custom SaaS or Marketplace app with Frontly. That is probably why so many users regard it as one of the greatest no-code app-builders available, bringing some innovative features that give it an edge over the competition.