Youtube is definitely the most famous service among video portals. This platform is used by over a billion users, almost one-third of the Internet users in the world. Lately, YouTube has been a very well-known video marketing tool.
However, there are many good and less known video hosting platforms. Some are much older than YouTube but have not reached its popularity. Below we will mention some of the most popular video hosting sites other than YouTube.
1. Dailymotion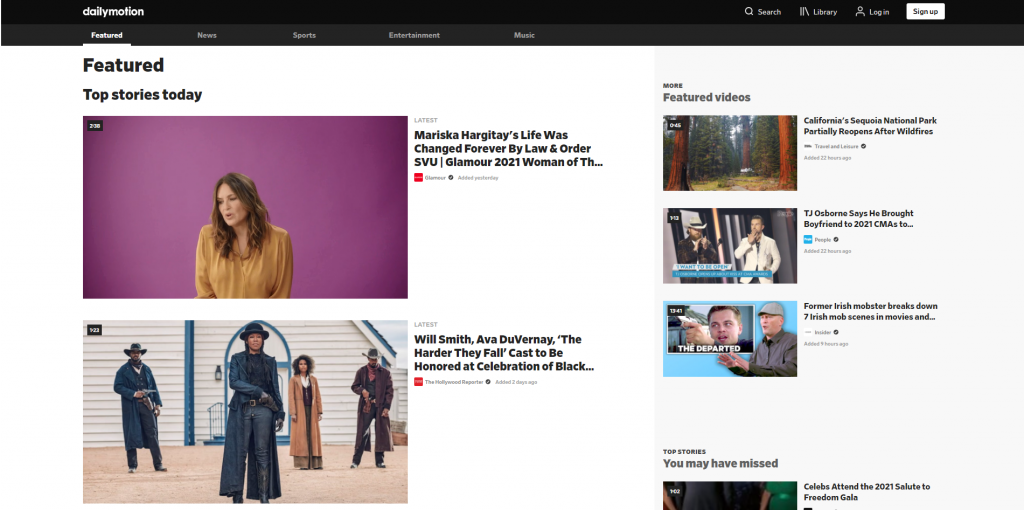 Dailymotion is a video service that originated in France and has the most users there. The company has estimated that the number of its users is just over 300 million. Nearly 4 billion videos are posted on this platform every month.
Like YouTube, DailyMotion has an elaborate revenue service. You can add videos up to 60 minutes long and up to 2 GB in size on this platform. Many bloggers use this service to publish their videos and use unique algorithms to track earnings and video views.
You can use Dailymotion on a very large number of devices. They have apps that can be installed on many smart TVs, on consoles like the Sony PlayStation, and they also have apps for iOS and Android operating systems.
2. Vimeo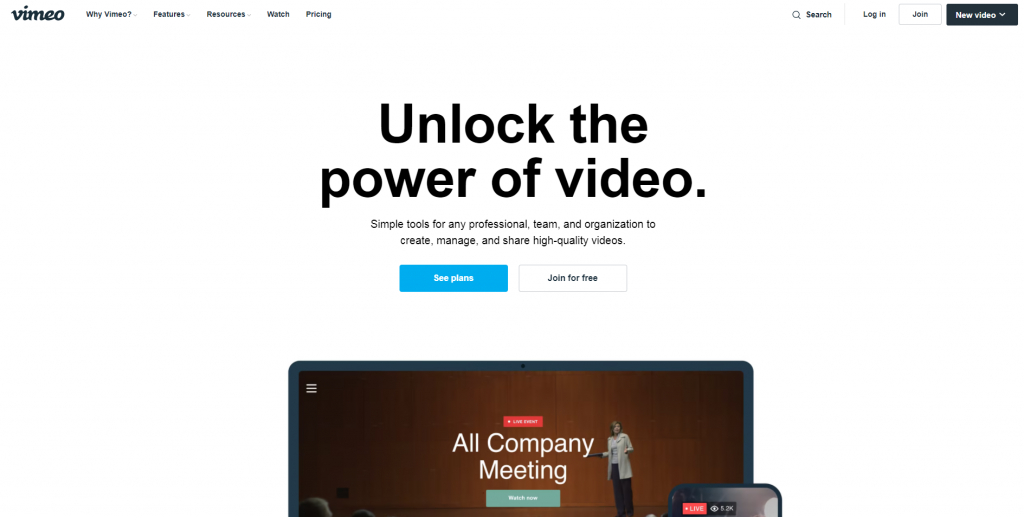 Vimeo is a very good video service that was created in 2004 in the USA. It was founded by art and movie lovers. Their idea was to have their own platform to present their work. On Vimeo, you can find a lot of quality materials, documentaries, and videos. Many famous sites like gap.com use this service.
Vimeo has formed membership packages. The basic version is completely free, and it is possible to upload up to 500 MB of content within one week. The second package is Vimeo plus, which provides the ability to upload 5 GB of video material per week.
The Vimeo Pro package offers 20 GB of data setup per week, and this package offers the ability to publish movies in 4K ultra-HD resolution. In the Pro version, you can add three team members to your account. You have the ability to customize the player and sell videos on demand.
Vimeo has a very good help center, and it contains many video tutorials that will teach you how to use the platform. It also offers apps for Android and iOS. Many smart TVs have Vimeo applications pre-installed, and you can find Vimeo devices on Chromecast, Apple TV, Xbox 360.
3. Twitch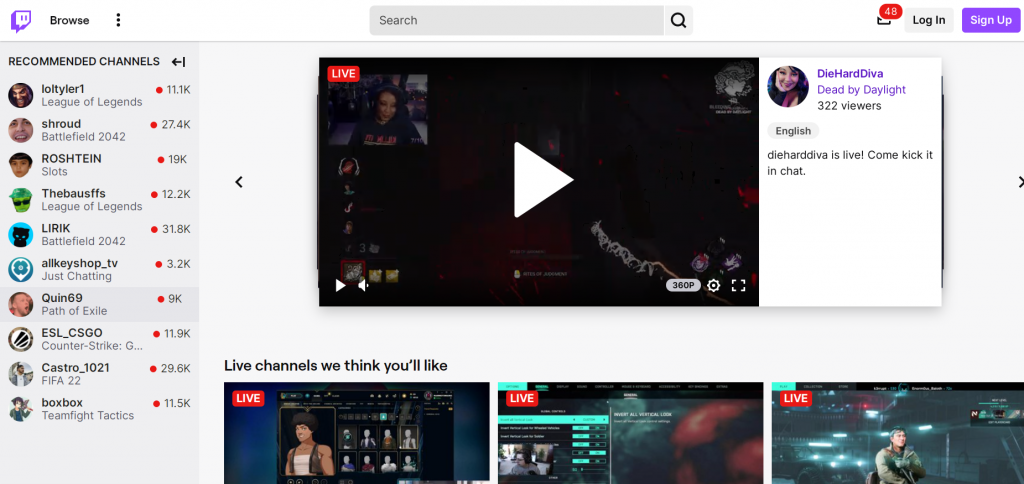 Twitch is a top-rated video service and is vastly popular among gamers. Gamers use Twitch to broadcast live playthroughs of various games. This service was created in 2001 and has more than 50 million users.
The company was bought by Amazon in 2015 for 970 million dollars. The basic principle is very similar to YouTube. Content is essentially free for all users. If you register for free, then you can access some additional features such as chat, the ability to add friends and follow certain channels or members.
All registered users have the ability to broadcast content. If you are playing from one of the game consoles, such as PlayStation, then you need special software to broadcast the content.
Users who broadcast content have the opportunity to create subscription packages and thus make money. The biggest difference between this service and YouTube is that only live recordings are posted on Twitch, and recorded videos do not exist.
4. VideosHub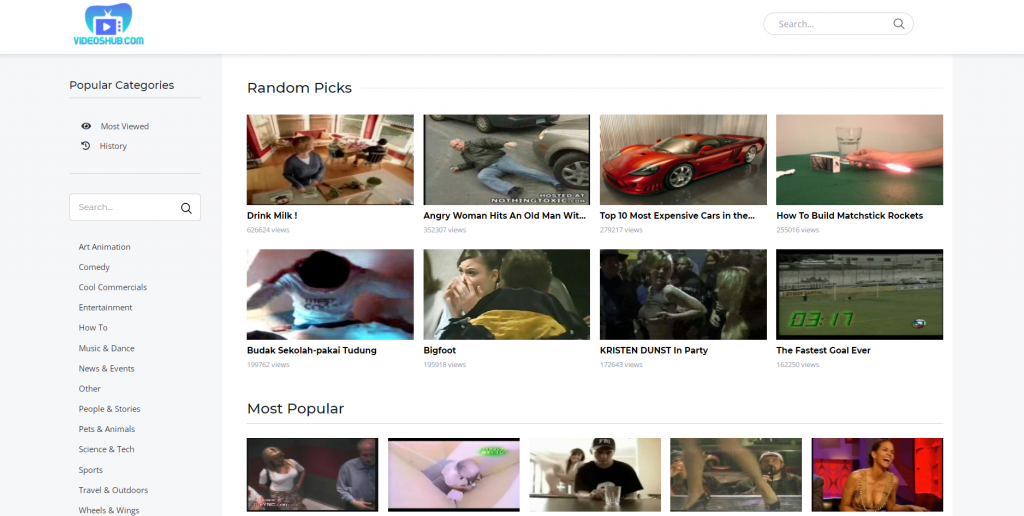 VideosHub is a very popular video platform founded in 2012. The author's idea was to make this service an alternative to YouTube. However, the concept has changed over time, so it mainly contains short videos with entertaining content now.
According to the statistics of this service, they have about 40 million users worldwide. This service is funded by advertising and offers user-generated content. Also, the content of professional partners is offered.
By creating short and entertaining videos, users can present their brands or services. VideosHub offers unlimited video upload and stands out from other platforms. Membership is completely free.
5. DTube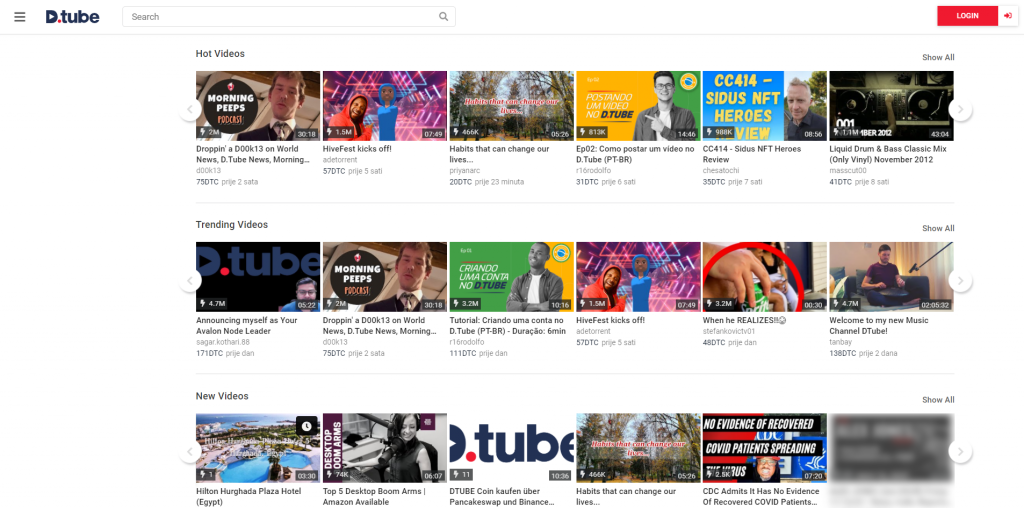 DTube is a very popular video service that works on a different principle than other video services. That principle is blockchaining. Using the IPFS protocol, all videos from this platform are uploaded to the various devices included in the blockchain. Other video services like YouTube or DailyMotion upload videos mainly to their servers.
For posting videos and activities on this service, all registered users can receive a reward in the form of cryptocurrency. The advantage of this platform over other platforms is that DTube is completely ad-free.
Since DTube is based on technologies such as blockchaining, in the beginning, it can be difficult to navigate and use this service. To make it easier to use, the developers have made it look very much like YouTube.
Users of this service have three ways to upload videos, and they are:
Peer to peer – post content anonymously using BTFS, Skynet, or IPFS protocols
Third-party URL – uploading video materials from other services such as YouTube, Facebook, Instagram …
Data upload – upload your own small videos.
DTube is still in the early stages of development, with just over 2 million users per month.
Final Thoughts
Although YouTube is by far the most popular video sharing service there are many alternatives. We have listed some of the best and most famous video services in this text. Out of all of them,  Dailymotion is most similar to YouTube.
They all have their own different target groups, have their own visitors and have slightly different business principles. What all services have in common is fast growth and availability on almost all operating systems and smart devices.